Stella McCartney's Uplifting Fall Show Doubled As a Model Dance Party (Again)
The designer's latest presentation concluded with a choreographed tribute to George Michael.
Few (if any) designers fuse the worlds of music and fashion quite like Stella McCartney. This is to be expected, of course: McCartney, who launched her own line in 2001 after succeeding Karl Lagerfeld at Chloé, is the daughter of a Beatle, and music — much like her lifelong passion for animal rights — factors into pretty much every creative venture she takes on. In the last year, she's hosted a pre-fall party at Hollywood's iconic Amoeba Music record store and closed out her Spring 2017 show with a model conga line and dance-off. The latter was such a delight, it seems, that she did it again for fall. 
At the end of McCartney's Fall 2017 show at the Opéra Garnier in Paris on Monday, the designer switched out the traditional finale walk for a choreographed dance in the center of the runway. Models — including industry starlets Alanna Arrington, McKenna Hellam, Grace Elizabeth and Lineisy Montero — circled up to sing along to George Michael's "Faith" for a joyful tribute to the late pop icon that had attendees dancing in their seats. 
In light of what have been a rainy past few days in Paris, McCartney's dance party went over quite well. It wasn't so much of a gimmick as it was a genuine mood-booster, but what's more, a touching salute to a good friend and source of inspiration.
Like McCartney and Michael, the clothes (with 39 looks in total) were undeniably British themselves. Tight plaids took the form of blazers and overcoats, as well as an army of textures that included fuzzy checks, lace overlays and light, luxurious knits. Meanwhile, equestrian motifs — a favorite of McCartney's — came into play this season, most literally on a horse-printed sweater. And much to what would have been Michael's delight, the '80s trend came out in full force with a series of high-waisted, wide-legged trousers — a far cry from those Bruce Springsteen-esque skinny jeans he wore in "Faith"'s original 1987 music video.
See McCartney's full Winter 2017 collection in the gallery below.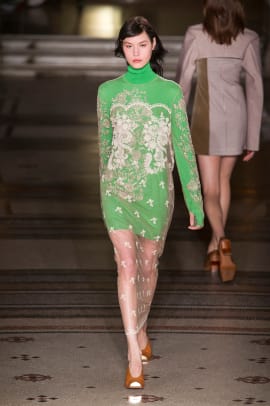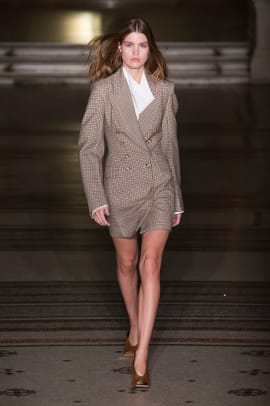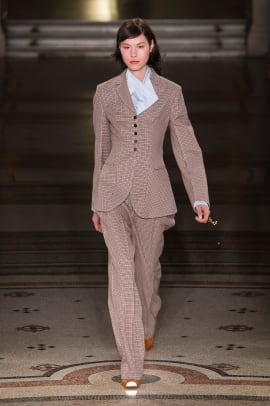 Never miss the latest fashion industry news. Sign up for the Fashionista daily newsletter.