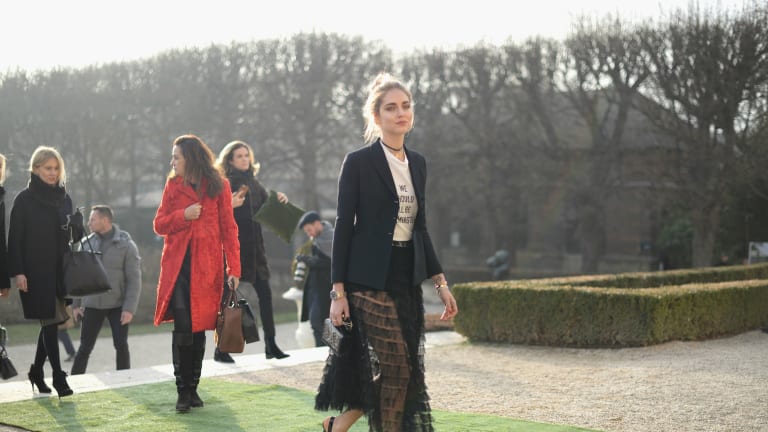 Why Are Fashion Bloggers Suddenly Getting Into Vlogging?
Are YouTube subscribers the new Instagram followers?
Having conquered Instagram feeds, six-figure ad campaigns, and the once-skeptical industry establishment, fashion's most powerful influencers are turning to a new frontier: YouTube.
Over the past few months, many big-name bloggers have ramped up their efforts on the video platform, directing resources towards producing shopping hauls, travel diaries, intimate day-to-day vlogs, and beauty tutorials, in response to what experts say is the beginning of a shift in what both brands and audiences want from content creators.
In December, Chiara Ferragni — who has topped Fashionista's list of the most influential personal bloggers for two years running — launched a new series called "Chiara Doing Things" on her eponymous channel. It shows the 29-year-old galavanting across the world, staying in five-star hotels, shooting magazine cover stories and giving tours of her capacious walk-in closets — in other words, staying true to her signature hashtag, #TheBlondeSaladNeverStops. Unlike the videos on her other channel, The Blonde Salad, which skew more towards professionally produced editorial and advertorial content, the three episodes uploaded so far appear to be spliced together from iPhone and GoPro footage and overlap at times with content previously posted to Ferragni's Instagram Stories, the disappearing photo and video feature that launched in August.
Danielle Bernstein of We Wore What started working with a pair of her videographer friends a few months ago to start producing regular YouTube content, the most successful of which so far have been a shopping haul and a video of her everyday makeup routine. In the past, she says, "I always stayed away from doing a YouTube channel because I really wanted it to be something that was clean and beautiful and well done, and I just wasn't ready to devote time to it in the past few years." After noticing the uptick in engagement these sorts of behind-the-scenes videos got on Snapchat and Instagram Stories, however, she was encouraged to take the leap.
Even with professional help, she says the videos take a long time to produce — one to two hours of shooting, plus planning, writing and editing, for videos that mostly run about five to eight minutes. But the opportunities they present make it worth the extra resources.
"I think I'm much better on video than I am behind a still photo," she says. "I have so much more personality to show that I don't think my followers always get to see — and obviously Snapchat and Instagram Stories have allowed that a lot more, but this is just another way to show that."
According to James Nord, founder of influencer-marketing platform Fohr Card, YouTube can be a lucrative platform for content creators, and while the beauty space is already super-crowded with vloggers who have millions of subscribers and command top dollar for product reviews and placements (not to mention those that have scored campaigns with brands like Maybelline and CoverGirl), fashion is still an area that's ripe for fresh personalities and one where brands are increasingly looking to spend their marketing budgets.
While video campaigns may not be hugely prevalent in the fashion space yet, he reasons: "If you look at the nature of how these things grow, that was the same position brands were in three or four years ago with influencers — they were a small part of a much larger campaign. But now the influencers' part of campaigns is quite large, or it's the main part of these brands' campaigns. So I think in a year or two, it will be a much different conversation. I think those fashion bloggers who are investing time and energy now into their YouTube channels now will be very well positioned to stay relevant in the future."
Reesa Lake, senior vice president of brand partnerships at Digital Brand Architects, a talent-management firm for digital influencers, agrees that the opportunities for bloggers to expand beyond their initial scope are only growing. "I think back to six years ago when we first started representing talent, and brands and talent mostly stayed in their lanes: fashion brands wanted to work with fashion influencers, beauty brands wanted to work with more traditional beauty bloggers," she says. "But those lines have definitely blurred. I think the way that brands are working with talent has really shifted, and they're looking to reach different audiences through that type of content. It all goes back to the storytelling: How are these influencers creating meaningful stories and being able to do it on YouTube?"
While the list isn't long, there are a few in the fashion space who have been producing videos for years, and who thus have a head start in terms of audience size and loyalty. Chriselle Lim of The Chriselle Factor has over 700,000 subscribers, and her top-performing videos, including "My 7 Skin Care Secrets" and "10 Ways to Look Taller," have racked up over one million views. Wendy Nguyen of Wendy's Lookbook, meanwhile, boasts over 650,000 subscribers and a few certifiably viral videos to her name; "25 Ways to Tie a Scarf in 4.5 Minutes" has been viewed more than 38 million times. Since YouTube audiences tend to be much more engaged with content than either Instagram followers or blog readers, Lake notes, these numbers can translate to lucrative deals.
For newer entrants, the trick is finding a niche that's true to their brand while giving fans the opportunity to discover new facets of their personalities. Jenny Cipoletti of Margo and Me launched her channel in earnest in 2016 and committed to posting at least one video per week to take advantage of the platform's algorithm. Unlike more off-the-cuff content, her videos have an editorial feel, with regular series — Deskside Diaries, The Beauty Edit, My Style and her recently launched behind-the-scenes Vlogs — and stylized imagery (much of it produced, she tells me, in the makeshift studio she and videographer Tim & Co have created in her dining room thanks to its floor-to-ceiling windows).
"I think it's so important as an influencer to keep your finger on the pulse of what's next," she says of why she commits so much time each week to the channel. "You want to be forward-thinking. Instagram has a special place in all of our hearts, but what we're realizing more and more is that our readers want to get to know us on a more personal level, and that's being achieved through video."
This adaptability will likely be a deciding factor in which bloggers are able to forge a lasting career, especially as digital behemoths increasingly control the type of media the public consumes. "Facebook has a massive amount of power in terms of the way that people consume content," explains Nord. "So if they are going to push video, then you're talking about hundreds of millions of people every day for whom video is becoming a larger part of their life, and photos are becoming less a part of their life, and reading is becoming even less a part of their lives. Then, as an influencer, you need to ride the wave of that trend and understand that, OK, it could be a potential that in five years the idea of reading a blog post will be crazy. So I need to move into video just because the world of long-form written content and photos is quickly disappearing. It's grow or die, essentially."
Listening to reader feedback is also key, and highly  produced YouTube content may not always be the best fit for every audience. "We've quickly realized that readers prefer the raw, real-time video on Instagram Stories and Snapchat," says Arielle Charnas of Something Navy, who began posting "SNTube" videos to her channel last month. "We're hoping to find a good balance and be able to deliver more vlogs that allow people to follow in on the day in the life." Openness and candor play extremely well on YouTube — just look at the tens of millions of views garnered by beauty vloggers who have revealed chronic acne or spoken about the struggle of living with a disability — but they may be a difficult adjustment for an influencer who has built a career on crafting perfectly composed outfit photos and projecting an accessible-yet-aspirational image.
But, says Nord, the discomfort may lead to broader success. "It's really easy to look at the fashion influencer and feel like: you don't live in reality. You're just getting all this stuff for free, you traveling around the world, staying in five-star hotels. It's easy for resentment to start building. But I do think that YouTube is a chance for fashion influencers to humanize themselves a little bit and talk about their past, talk about their current struggles, and just be more of a 'person.' There's a business reason to be more vulnerable and honest and open."
Homepage photo: Victor Boyko/Getty Images for Fenty Puma
Never miss the latest fashion industry news. Sign up for the Fashionista daily newsletter.