Valentino Gets Loose and Graphic for Fall 2017
See Pierpaolo Piccioli's second solo main-season collection for the house.
On Sunday, Pierpaolo Piccioli debuted his first solo fall outing for Valentino since Maria Grazia Chiuri left for Dior, leaving us to further dissect his singular vision for the Roman house and the direction in which he hopes to take it on his own. And, so far at least, his Valentino seems slightly less intimidating — and less reliant on a strong theme or time period.
While the brand's aesthetic might now be slightly less dreamy or thematic than it's been in the past, the show itself is no less a civilized and romantic affair. Held in the grand Hotel Salomon de Rothschild, models walked through various rooms — even making a jaunt outside where some guests were seated — to a classical soundtrack that included part of Nicholas Britell's beautiful original score for the movie Oscar-winning film "Moonlight."
The show notes, which were slightly more challenging to decipher than most, listed a smattering of ideas, including romanticism, time as "elastic matter," "lightness and spirit of synthesis" and "fashion as a dialogue with time." More information could be found in the clothes themselves: There was a general ease and looseness that pervaded the collection; billowing dresses were ankle-length and nightgown-like in shape and often paired with flat lace-up boots. However, Valentino's signature conservative slant was still very much there, perhaps even more than usual; necklines were high and most sleeves long, if not covered by a statement coat. Graphics, while certainly employed by the designers over the years, never felt quite as prominent as they did in this collection. The most interesting examples featured large, simple math problems in varying fonts and colors, sometimes including a hand displaying a certain number with fingers, rather than the numbers themselves. Smaller hands, florals, abstract shapes and tribal-like symbols were used as motifs throughout the collection. Only a few looks were completely solid, and as usual, the show concluded with a smattering of stunning eveningwear. The final gown, made of what appeared to be pink velvet, was a highlight.
See the full Valentino Fall 2017 Collection in the gallery below.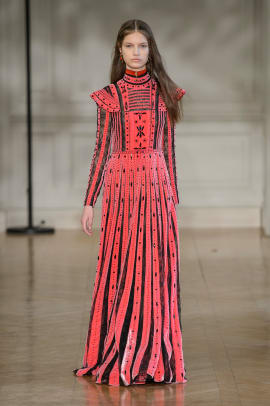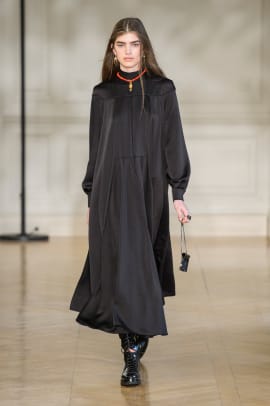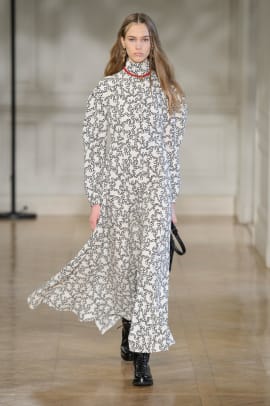 Want the latest fashion industry news first? Sign up for our daily newsletter.