Get to Know Vaquera, the Art Project Masquerading as a Fashion Line
The indie label has won over the underground and the establishment. Can it keep both happy?
Sending a human-sized Tiffany and Co. bag down the runway attached to a model by nothing but a thong may leave some fashion week attendees scratching their heads, but that doesn't really bother Patric DiCaprio, Bryn Taubensee, Claire Sully or David Moses, the four 20-somethings behind up-and-coming label Vaquera. That's because the very things that turn most people off delight them and their cool-kid following, which includes Petra Collins, Hari Nef and Michael Bailey Gates.
While the brand has been considered an underground, "anti-fashion" label since its founding in 2013, the presence of a critic like the Washington Post's Robin Givhan in the front row this past season proved that Vaquera is officially on the radar of the fashion establishment. So how did Vaquera go from saying "fuck the fashion calendar" to being included in Vogue editorials alongside brands like Marc Jacobs, Altuzarra and The Row?
"I think we called ourselves 'anti-fashion' before, but we want to infiltrate the fashion industry," Taubensee tells me when I pose the question in David Moses's apartment a few weeks after their February show. "We want to make a change in the industry, but to make a change, you have to be part of it first."
It was this desire to make a change — some change, any change — that prompted DiCaprio, the founding designer, to drunkenly buy a sewing machine on his phone one night in an impulsive move that birthed the brand. "I was a stylist and was kind of sick of the clothes I could get my hands on," he says. With very little sewing experience, he taught himself how to make things by watching YouTube cosplay tutorials. Soon he had drummed up enough interest in his work to stage shows, which he proceeded to do in a subway station and a church.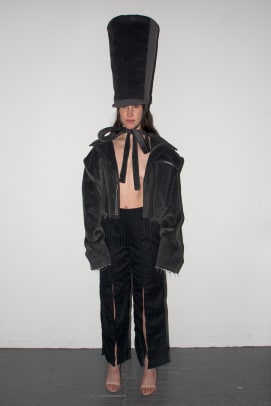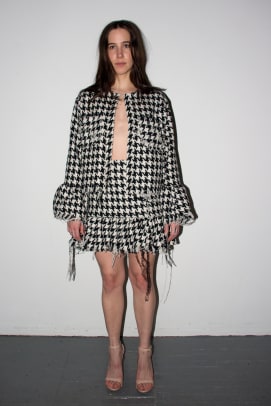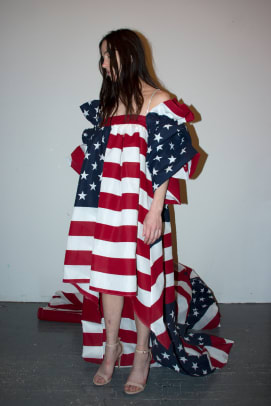 Much like the clothing, these early outings were very DIY, and that was part of the appeal. At the subway show, DiCaprio paid off a busker who was trying to use the same platform so that they wouldn't be competing for attention; in the first lookbooks, you can see strings hanging off the hems — and not in a "this was intentionally frayed" kind of way. For the crew of artists and downtown kids that loved DiCaprio's work, these bits of unplanned imperfection offered a welcome change from the meticulous polish of the fashion mainstream. "Not being afraid to look gross is what's sexy [to me]," DiCaprio declares.
In the early days, making stuff he found intellectually interesting was pretty much all that mattered. "I was kind of just making clothes as an art project," DiCaprio explains. "The final product was meant to be the photos of the clothes," he says, rather than the clothes themselves. That attitude afforded DiCaprio the freedom to make clothing that emphasized concept over commercial viability, and while that attitude has positioned the brand to catch the eye of fashion's favorite art-school dropouts in the past, it's landed the designers in a tricky place in terms of expansion.
Following their breakout Fall 2017 show, the designers bear the signs of people trying to toe the line between outsider cool and insider success. Their commitment to a DIY aesthetic shows in the mostly thrifted garments they wear, some of which presumably come from the Buffalo Exchange, where two of them still work one day a week. If anything, they seem eager to distance themselves from insider status and want Vaquera to be considered on nothing but its own merit: Sully downplays having interned with critically acclaimed brand Eckhaus Latta; Moses barely mentions his role as a founding member of unconventional label Moses Gauntlett Cheng (now called Gauntlett Cheng in his absence). All four are quick to assert that the only reason they inspire comparisons to another extremely successful design collective, Vetements, is because the two labels are listed next to one another on Vogue.com. "They both start with a V," DiCaprio says matter-of-factly.
But this desire to stay true to their outsider-ish, art-kid origins at times seems to be in conflict with their impulse to grow their brand. When asked how they finance the label, the designers talk vaguely about bootstrapping and dipping into their own pockets to buy fabric without addressing the not-small costs involved in producing a runway show. (Other signs of apparent financial stability? Vaquera made the switch from street and Instagram casting to using an agency this season and is now working with PR firm Black Frame, which counts Nike, Opening Ceremony and Rodarte among its high-profile clientele.) 
There is no shame, of course, in receiving outside funding or casting through an agent, but the underlying question remains: Is Vaquera "selling out" in order to make sales? The designers' resounding answer, even as they talk about meeting with stockists from Opening Ceremony and the excitement of starting to make more money off the label, is "No." Yes, they're aware that many of their "starving artist" fans can't afford their clothes, but they're trying to involve those people in the "experience" of Vaquera by casting or inviting them to shows, as well as making the spectacle of it all accessible online. "That's what this brand is about," DiCaprio says. "It's about the show, it's about the showpieces. Clothing sales are just there to fund that."
As they talk through the collection — this season was inspired by the "stratification of incomes in America," among other things — I deeply want to believe them. I'll admit, I would have no idea how to approach Vaquera as a buyer for a department store, but as an art project, I'm all for it. The clothes are confusing and funny and weird and sometimes beautiful, the way much thought-provoking modern art is. The designers use their work to ask questions about the American dream and sex and politics in a way that speaks the language of creative 20-somethings in New York and beyond.
"We've been thinking a lot about how making clothes is such a frivolous activity to be able to do, and we're privileged to do that," says Sully. "So it's important to always be sending a message." Using their social media reach to encourage attendance at protests and donating some profits to the ACLU have also become a priority for the designers as they look for ways to get involved in politics beyond the statements they make on the runway. Their emphasis on gender fluidity and ethical production also feel "right" for a brand representing youth culture, and the designers' articulation of Vaquera as both "anti-fashion" and "fashion fan fiction" communicates an ambivalence that resonates widely: Fashion as it exists now represents things we both love and loathe, but either way, it's something we're always engaging with.
As Vaquera readies to move into the next stage of its development — the stage where it's a regular on Vogue.com and a New York Fashion Week hot ticket — one hopes that it is able to reach commercial and critical success without compromising the gritty, charmingly off-putting, devil-may-care attitude that made it special from the start. In other words, that it will remain essentially an art project, even as it gains more legitimacy as a fashion line.
"Fashion is something that everyone is involved in every single day, and I don't think there's anything else quite like that," Taubensee says. "It's a really dark time, but we like to provide things that we think encourage play and give people hope." If Vaquera can continue to do that while making a living for its designers and a name for itself in the industry, we'll all be better for it.
Never miss the latest fashion industry news. Sign up for the Fashionista daily newsletter.