Vivienne Westwood Modeled in Her Own Show
So did a little dog!
Fashion month can feel like a grind, but every now and then, a show has the power to jolt you back to life and remind you how excited you should be about the fact that going to fashion shows in Paris is your job. On Saturday, that was accomplished by Andreas Kronthaler for Vivienne Westwood. Unsurprisingly, the OG purveyors of punk delivered a show that was full of surprises.
In lieu of a runway, models traversed a big circle in the middle of the Intercontinental Hotel's gilded ballroom. Pamela Anderson sat front row. In their hair, women wore literal trash: to-go cups, wrappers, soda cans, etc. One male model carried a puppy in one hand, but the biggest crowd-pleaser involved Westwood herself: The designer, who recently renamed the line from Gold Label to Andreas Kronthaler for Vivienne Westwood to reflect her husband and design partner's role in the brand, made two surprise runway appearances as a model, drawing a rabid applause the moment she emerged. 
And then there were the clothes, of course: I can't say there was a clear link between each look, but that made the show more interesting, if anything. Each one was loud and over the top but never in the same way. Cuts were raw and proportions surprising. One model wore a hat with spikes that were likely three-feet long; a metallic quilted purple coat was a definite head-turner; a pair of skintight overalls on a man had a large penis drawing... well, on the penis.
Kronthaler said he was inspired by a personal homecoming to Vienna and the city's rich history. "The realisation at the end was that I see myself as an Austrian designer. It was about acknowledging my nationality and giving shape to my identity; the landscapes, the people, their costumes, they are my roots," he wrote in the show notes, in which he also mentioned a preference for covering up the body and a lack of interest in body shape. "I like the eyes and the face and I love hands and feet," he wrote, adding, "I think it's cool to be out of place or awkward."
There was a charming awkwardness to the collection, and the way in which Westwood had fun during her runway jaunts despite clearly feeling a bit out of place. We left smiling, and curious what Pam Anderson thought about the whole thing.
See the full Andreas Kronthaler for Vivienne Westwood Fall 2017 collection in the gallery below.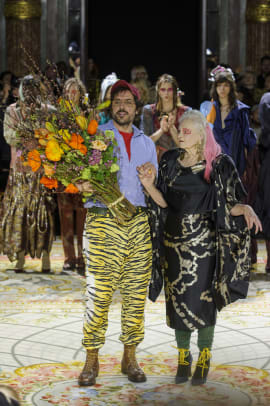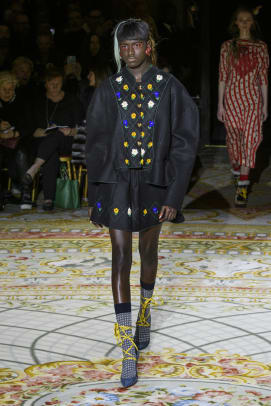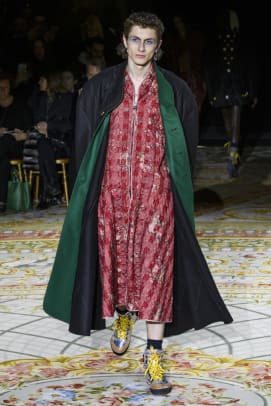 Never miss the latest fashion industry news. Sign up for the Fashionista daily newsletter.