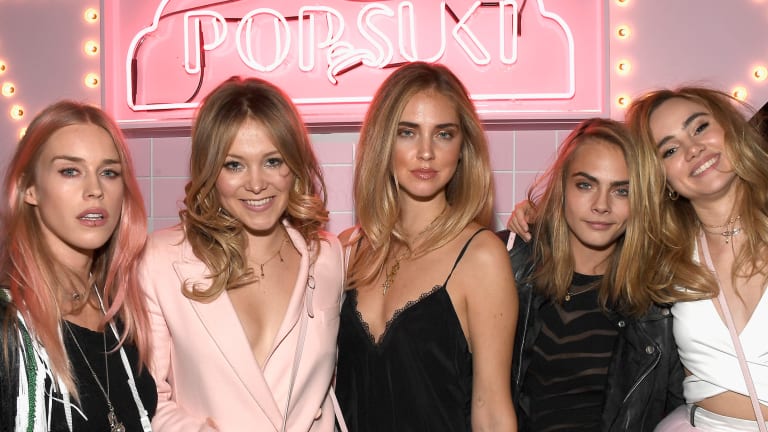 An A-to-Z Guide to Influencer Jargon
Our definitive index of social media insider terms to know in 2017.
Are you fluent in influencer-speak? Sure, you're probably glued to your phone and an avid user of Instagram, Twitter, Facebook and Snapchat (like the rest of us). But social media is clearly no longer just a hobby — it's a business. And there's a whole new vocabulary associated with brands and individuals making (and spending) money on #content. We spoke with Jess Phillips, the founder of Social Standard, a social media marketing agency that acts like a matchmaker connecting brands with influencers, about some of the essential terms and buzzwords to know, which we've turned into a handy A-Z glossary below. It's 2017 — time to get schooled, people.
A IS FOR: Authenticity 
It's always important, as the Genie in "Aladdin" says, to "be yourself" — especially on social media. Most often, your most personal posts are among the most well-received. So when an influencer is deciding whether to align with a brand, the product should feel like something they would already use IRL. "Millennials can sniff out anything phony," explains Phillips. "If a fashion influencer is all of a sudden talking about the new Playstation, that's not authentic. Clearly everyone knows you were paid to talk about it."
B IS FOR: Brand Awareness
The goal for all social media marketing is to make your brand or product part of the conversation, increasing the likeliness consumers recognize whatever it is you're trying to promote. 
C IS FOR: Content
In today's oversaturated, rapid-cycling attention market, getting your message out there as often as possible — and on as many different platforms as possible — is imperative. "If I was an influencer, I would think about being a mini publishing hub," says Phillips. "It comes down to: How many ways can I hit my audience with my ideas?"
D IS FOR: Deliverables
Brands often hire social media marketing agencies to handle their influencer partnerships. "Deliverables" is a term for the quantifiable goods or services the agency will provide upon completion of a particular project, which could mean anything from setting up a new website or Facebook page, to creating a content calendar, to overseeing an activation-based project — like sending an influencer to the Cannes Film Festival to take over a brand's Snapchat account. According to Phillips, a standard influencer package often includes a three post minimum on Instagram (or another platform). "It allows the influencer to call out the partnership, which they're really excited about, then post about the product in a few different ways," she says.
E IS FOR: Engagement
Being successful on social media isn't necessarily about having the most followers. It's about having the most followers who are really invested in what you're saying and interacting with them. "You could have someone with one million followers who gets one thousand likes on a photo, but that's not interesting. What's more interesting is a person who has 100k followers and is getting 10k likes on a photo," says Phillips. "We look at likes and views as the truest forms of engagement because even comments can be misleading."
F IS FOR: Facebook Live
The future is unfiltered and spontaneous. Live streaming has forever changed the way we watch videos, and since debuting in summer 2015, Facebook Live's Google search popularity has risen over 330 percent. Brands and influencers using the platform have witnessed a huge increase in audience participation (more comments than ever), signaling that the new formula for success is ditching the script, letting go and embracing conversation.  
G IS FOR: Google Analytics
One of the primary tools used for tracking social media presence, Google Analytics allows companies or individuals to see what percentage of their website traffic is coming from social media and how people are talking about about their content on each platform. Additionally, Google's conversion rates quantify how much money a company has made via social media mentions and which particular mentions are sending business their way. 
H IS FOR: Hashtag
Everyone knows what a hashtag is, but the politics of hashtags have gotten a lot more #complicated. Last year, the Kardashian Klan came under fire for promoting products on Instagram without clearly indicating they were paid to do so, which resulted in adding #ad or #spon to their posts. "When you're up front about a partnership with your audience, they tend to support it," says Phillips. "Whereas if you try to sneak it in, that's when they're like, 'Hey, what is this?'" 
I IS FOR: Influencers
Individuals who have the ability to sway the thoughts or actions of their community are now known as the all-powerful influencers. "This is a term that's getting abused fairly often these days. I think people are all influencers within their own networks, but it depends on how big that network ultimately is," says Phillips. "The way we define an influencer at Social Standard is someone who has actual reach; if you've got 50k followers, that's pretty good, but realistically we'd like you to be at 100k followers on any one given platform."  
J IS FOR: Jargon
We've been using acronyms like LOL, OMG, BRB and TTYL since the golden days of AOL Instant Messenger. Social media has ushered FOMO, IRL, WTF, YOLO and AF into the pantheon of social media phrases we use conversationally (alongside lit, fam, and bae). Much more slang has entered the online lexicon recently: LB/FB (like/follow back), FR (for real), TD (to die), TBH (to be honest) and SUS (a personal favorite = suspect). Brush up on these asap if you'd like to be able to easily converse with the Cool Teens.
K IS FOR: Klout
An online service that measures someone's aggregate social influence across multiple platforms (including "real-world" influence), assigning them a score between 1 and 100. You might be surprised by some of the rankings: Britney Spears has 16 million Instagram followers, which is just a fraction of Kim Kardashian's 97 million. However, Spears's Klout score is 94 compared to Kardashian's 88, which is due to Spears's highly active Twitter and Facebook accounts. 
L IS FOR: Lifestyle
"It's not really enough to just be a fashion influencer. People aren't buying into #OOTDs anymore. They want to follow a girl who has what basically looks like a Pinterest board on her Instagram feed," explains Phillips. People want to know where an influencer is going, what she's doing, what she's eating, what her bedroom looks like and what she's wearing. To get to the top of the social media game, you truly need the full package.
M IS FOR: Micro
Is smaller better? One trend generating a lot of hype is brands working with "micro" influencers who have between 10k and 90k followers. In addition to charging much less than social media stars with millions of followers, micro influencers often have niche audiences, a more personal connection with their followers and can tap into the exact demographic a product is trying to reach. Kind of like cult films, micro influencers aren't for everyone, but the people who are into their message are really into it. 
N IS FOR: Native
Advertising exists on pretty much every social platform now. For ads to be considered "native," they have to match the form, feel and function of non-paid content on that medium. And, of course, they must be disclosed.
O IS FOR: Organic
This term designates activity across social networks that isn't paid advertising. In other words, it's something you'd post about naturally. 
P IS FOR: Periscope
Similar to Facebook Live, this is another newish (as in less than two years old) live streaming video app, hosted by Twitter, that brands are really pushing these days. In January, Louis Vuitton became the first fashion brand to share its men's runway show in Live 360 video with a Periscope stream viewed by hundreds of thousands of viewers, who were able to change their point of view by moving their phone or tapping the screen. Now that's immersive.  
Q IS FOR: Quuu
Now here's something interesting we'd never even heard of before having to come up with a term for the letter Q. This is a service that allows you to pick various categories of interest (Fashion! Photography! Sports! Semiotics! Etc.), and then Quuu will effortlessly make you look in-the-know by "handpicking" articles curated to your tastes. Instant relevance — if not a little bit scary in a bots-are-taking-over-the-world way.  
R IS FOR: Reach
Simply put, this is the total number of people who can see your content. And, generally, the bigger the reach, the bigger the paycheck.  
S IS FOR: Stories, Snapchat and/or Instagram
The biggest thing to hit social media since Instagram, Snapchat has become part of our daily lives, and is a major push for many high fashion and luxury brands. It's so important, in fact, that many publishing and apparel companies have hired their own Snapchat editors in recent years. (This includes Vogue.) The smartphone-only networking app is known for its easy-to-post "Stories" — a feature subsequently adopted by Instagram and Facebook — that have a raw, unedited feel as compared to more curated mediums. For fashion labels, engaging with followers on Snapchat is less about selling product (Instagram remains king for that purpose) and more about building brand equity. Just before Snapchat's parent company, Snap, broke records with its IPO in March, the app rolled out a slew of new updates, including improved search functionality and a global Stories feature.  
T IS FOR: Trendjacking
This is a term used when people or companies latch onto a viral or buzzworthy topic to repackage their message and make it seem more culturally relevant. It could be as straightforward as a fashion retailer promoting a sale during #NYFW, or a more nuanced example — designers building off the momentum of the Women's March with Insta-worthy graphic tees featuring buzzy slogans like "Feminist AF," for instance. A couple of timely examples of trendjacking gone wrong? Pepsi's now-infamous, redacted "protest" campaign starring Kendall Jenner, which aimed to harness the political resistance in the air and put a Pepsi stamp on it, but that "clearly missed the mark," as the company later explained. In addition, Tory Burch caught flak for her ad campaign co-opting the viral "Juju on That Beat" clip, which has since been wiped from the internet.
U IS FOR: User Generated Content
Pretty much exactly what it sounds like, user-generated content (aka UGC) taps into a brand's existing customer base for free promotional assets. A perfect example of this is Glossier, which regrams select posts by fans on its social channels, encouraging others to do so, too. 
V IS FOR: Viral
Another widely overused term signifying a topic or post that has been organically shared many times across many platforms, often picked up by news outlets. There's no formula for creating content that will go viral; in fact, beauty Vlogger-turned-entrepreneur Michelle Pham thinks the term is passé. "Those days are over. Viral was 'Gangnam Style,'" she recently told Racked. "When I meet with people trying to sell me things like, 'Yeah, we're gonna make it viral!' It's like, cringe, dude. No, you're not going to make it viral. Viral chooses you."
W IS FOR: Weibo
Asia remains one of the world's fastest-growing luxury markets, and social media is key for Western brands trying to gain a foothold there. With 313 million active users, Weibo is a popular microblogging site that's the Chinese equivalent of Twitter. Some of the most-followed users are fashion influencers, including actress-slash-front row fixture Fan Bingbing, as well as models Liu Wen and Xiao Wen Ju.  
X IS FOR: X (Cross) Platform
Directing followers from one platform to another. "I think what we're seeing from fashion and beauty influencers on Snapchat is people will snap them to say, 'Hey what was that eye shadow you were wearing?' And they'll reply, 'For everyone [on Snapchat] who wanted to know the details, I just posted an Instagram with all the credits,'" says Phillips. 
Y IS FOR: Youtube
Out of all the popular social platforms, this video behemoth — now boasting a click-to-shop feature — has remained relatively untapped by the fashion world, though many bloggers have hopped on the vlogging train as of late. "I think it's harder to do fashion on YouTube because nobody really wants to watch a video about someone's outfit," says Phillips. "People would rather just look at a photo." Of course, there are counterexamples to this, like the incredible success of a video by Wendy's Lookbook, "25 Ways to Wear a Scarf in 4.5 Minutes," which has nearly 40 million views. But the takeaway here is that fashion videos need to offer a lesson, service, or something interesting that a picture can't convey on its own. 
Z IS FOR: Generation Z
Move over, millennials. This is the next big demographic marketers are focusing on, defined by kids born between the mid-90sand early aughts (you'd be surprised just how many household names fall into this category), who grew up with the internet and had a smartphone before well they hit puberty. They're straight-up savage when it comes to social media, valuing speed and authenticity (no filter, please) above all. Many are eschewing traditional platforms altogether and picking up new ones, like Houseparty, which is essentially a video chat room app. Estimated to make up 20 percent of the workforce by 2019, Generation Z will be setting the pace for social innovation from here on out. 
Homepage Photo: Frazer Harrison/Getty Images for POP & SUKI
Sign up for our daily newsletter and get the latest industry news in your inbox every day.