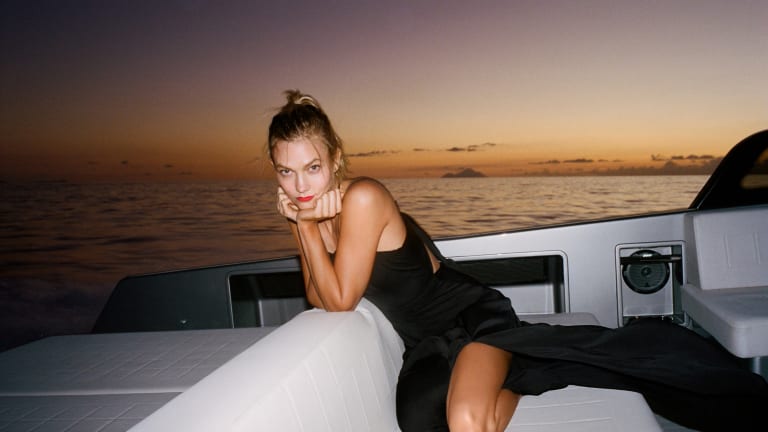 Karlie Kloss Put on an Emotional Homecoming Runway Show with Express
We flew to St. Louis for the supermodel's debut collaboration with the retailer.
St. Louis is home to the Cardinals baseball team, Andy Cohen and plenty of great barbecue. But the pride and joy of the Midwest capital is clearly supermodel Karlie Kloss, who at just 24 years old has made an indelible mark on the fashion industry, as well as her hometown. And if St. Louis loves Kloss, she loves it right back: When it came time for her collaboration with retailer Express to make its debut, she decided to eschew the fashion capitals and put on a runway show right where it all began for her.
"There's no better place for it — there's no place like home!" she said backstage before the show Thursday. "All of my friends, family, family friends and teachers, classmates, everybody — all of St. Louis is coming out tonight, and they're so proud. I'm so proud to share this with them."
It was all the more emotional because the venue Kloss chose for the show — The Pageant — is where she walked her very first runway for a family friend's charity show. It was her first time coming back since that day over 12 years ago. "The last time I was here, when I walked down that runway, I would have never dreamt that all that was ahead was in my stars," she says. "The fact that I'm back here designing this collection and giving this experience to other girls to experience that and to feel like a million bucks walking down that runway, and just to bring it back home, it's a dream come true."
The conversation with Express started over a year ago. Kloss had been appearing in ads for the brand and serving as a kind of creative consultant for the past two years, but when the idea was floated to work together on a capsule, Kloss found herself in unknown fashion territory. "I learned a lot," Kloss said with a laugh. "It's been so interesting to be on the other side of the table, to be involved in actually all of the design details. There's so much that I have taken for granted, throughout fittings and working in fashion: I show up at a photo shoot, and first of all, all of the logistics to make that photo shoot happen are long done, and the design of a collection when we're shooting that has been in the works for a year."
While Kloss and Express flew out a number of VIPs and industry insiders, the night wasn't really about them. Fellow St. Louisian Derek Blasberg and Este Haim might have made the trip to St. Louis, and Hannah Bronfman might have been on DJ duty, but the night was really about Kloss's hometown roots. The VIP section was full of her family and friends; one woman, bursting with pride, stopped several people to tell them that she had been Kloss's babysitter. In the pit at the center of the runway were loads of teen girls, a mix of fans of Kloss and former Kode with Klossy students who squealed with excitement when they saw how close they would be to their idol.
"I'm so grateful for [my fan base]. I really take it to heart, and I take responsibility for that," Kloss said of the girls who follow her every move. "I want to share as much as I can with anybody who cares to listen. It's important to me to use my social media platforms, and to use my voice, to stand for the things I care about, to stand up for the people and things I care about, to make a meaningful impact in a positive way."
Kloss's sister Kim opened the show — if anyone understands the importance of an opening slot, it's Kloss — with local influencers and Kode with Klossy girls rounding out the lineup. It's clear that of her many (many!) projects, Kode with Klossy is truly her baby. "It has been such a great journey and I've met so many amazing girls and helped bring so many like-minded, passionate, curious girls together to create this community of badass, smart girls with all different interests and passions," she said. She plans on offering another round of coding camps this summer; many of the girls from last summer's camps, with whom she remains in touch, were on hand for the runway show.
"Each of the classes became so close, learned very valuable skills, went on to win big scholarships, have gone on to build really awesome things and gone on to change their career dreams and paths, and college paths," she said. "Watching this self-realization happen in someone else's life and help create an opportunity for somebody else to realize their own potential is just priceless, and something that I feel very, very passionate about and want to keep going."
Kloss applied that same dedication to her collaboration with Express. The looks on the runway were all styled by Karla Welch, who also helped Kloss design the collection: 17 pieces Kloss refers to as her wardrobe staples that can be mixed and matched. Particularly appealing were the wide-legged, high-waisted pants Kloss wore throughout the day of press, sometimes with a matching jacket; there were also sophisticated flowing maxi dresses that buttoned up the front, a leather crop top and mini skirt set, and denim (natch). "I was inspired by my sisters who are in college, and by my friends who are just out of college entering a professional life, and I wanted to create pieces that could be dressed up or dressed down," Kloss said. "It's really a small selection of my favorite things that I can't live without to help bring those pieces to every girl's wardrobe."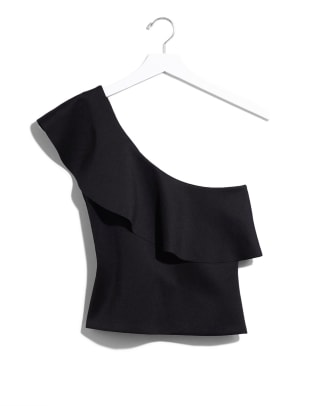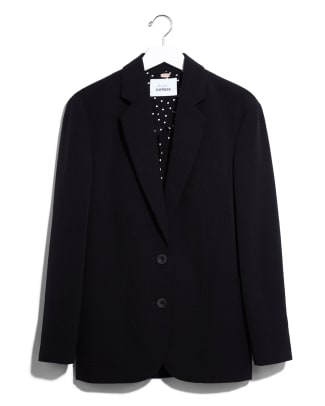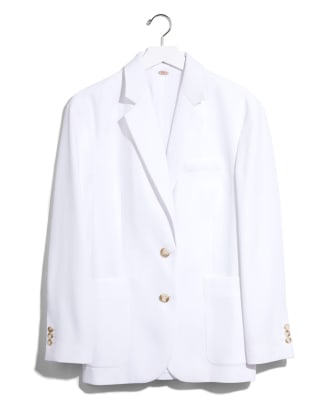 The show ended, and Kloss gave a heartfelt speech about making her return to the venue that started it all; Charli XCX was on hand for a mini-performance, which got the crowd jumping and singing along. But there was no question that these girls were here for Kloss. Their excitement doubled when Kloss joined her family in the VIP section and sang along to "Boom Clap" and "Fancy": half the phones in the room were aimed at Charli, and the other half were aimed at Kloss watching Charli. When the night ended, many of the girls who came out to see Kloss waited by the back door for one more glimpse of their hometown hero. With the poise and self-confidence of someone twice her age, it seems crazy to think that Kloss has already been working for a decade — "I'm waiting for my Rolex to show up in the mail," she jokes — but her fans needn't worry: She's not planning on slowing down any time soon.
"Reflecting on all the things that have happened since the first time I walked the runway show here, I feel like I've lived a lifetime — so many moments with some of my best friends I've made along the way, a lot of experiences that I don't think I ever could have imagined. I'm very grateful for all of that," she said. "I don't know what the 10 years ahead are going to bring, but I hope it will be just as interesting and exciting."
See every look from the Karlie Kloss x Express runway below.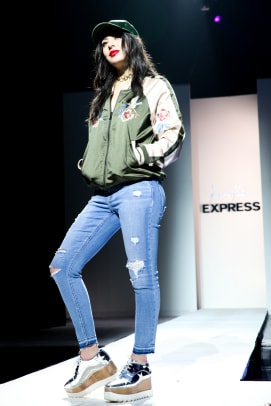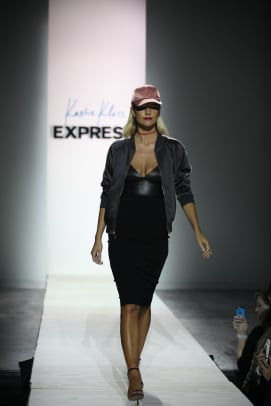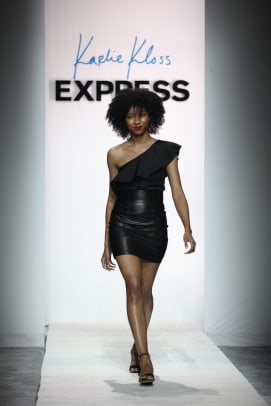 Disclosure: Express covered Fashionista's travel and accommodations.
Want the latest fashion industry news first? Sign up for our daily newsletter.