Why Creative Director Marcelo Burlon Isn't Impressed by 'It' Girls
The County of Milan creative director cares more about showing his friends a good time.
Marcelo Burlon likes his friends so much that he married them. The ceremony, far from legally binding, took place at Burlon's 40th birthday party and is depicted in the trailer for an upcoming documentary about his life as a globe-trotting DJ and creative director of the five year-old clothing label Marcelo Burlon County of Milan. Burlon happily pulls up a preview on one of two MacBooks that sit atop his desk alongside Seletti candles, Supreme paraphernalia, and various champagne bottles in the office near Milan's Indro Montanelli Public Gardens that he's occupied for the past three years.
"It was a proper wedding," he says. The clip shows him tearfully embracing a line of loved ones — a group that includes friends from his native Argentina and from Italy, his adopted home since he was a teenager. The video then cuts to later in the night, after Burlon climbed behind a set of turntables. "Me, super high, DJing," he shrugs.
It's easy to see why Burlon's friends are willing to indulge in this faux marriage ceremony. In person, he's charming and animated and appears unguarded. After he mentions a not-yet-announced "dream" collaboration that's brewing for next year's NBA All-Star Game, well aware there's a tape recorder recording, he playfully covers his mouth and shakes his head, jangling his two hoop earrings. After revealing he's going to be starring on an upcoming Italian reality TV show, he adds, "I've said too much" with a smile. (It should be noted that before launching County of Milan, Burlon worked as, among other things, a publicist.) The effect — that he's revealing a secret, just between you and me — is endlessly engaging; it probably makes him a great guest to have at a dinner party.
He also has money and weed. "All my fortune, I like to share with my people," he says. "Renting a house in Ibiza for my friends, with four cars outside. Big thing full of weed for everyone." Burlon says he only drinks champagne, and the aforementioned bottles in his office are all that's left of his personal supply from his 2015 collaboration with Moët & Chandon. "I already opened so many," he sighs. He's recently resumed throwing monthly parties and has been DJing four to six-hour sets. "It's crazy, but it's so beautiful. It's like a journey," he says of the extended performances. "I'm back on track."
Partying has been at the heart of County of Milan since its inception. It's hard to imagine an environment better suited to the brand's tribal goth aesthetic — prints, ponchos, moody graphics and liberal feather motifs — than music festivals, underground raves or wherever the young and beautiful go to lose themselves to the night.
Just as party planners shift venues and adjust guest lists, but know to leave the basic elements that make up a successful event unchanged — good music, plenty of booze — Burlon understands what his customer wants from County of Milan enough that he's been able to grow the label from a handful of T-shirts into a full-fledged assortment of men's and womenswear that he says is sold in 380 doors worldwide. And what they want is apparently not too far removed from what other designers have done. The influence of Versace and Riccardo Tisci's Givenchy is not hard to see, although Burlon's work is infused with symbols taken from his youth in Patagonia.
"The brand is a reflection of me and what I like and my tastes," he explains. "I'm not a designer. I'm a creative director. I'm driving my people." At County of Milan, he employs a team of roughly 25 employees, including two full-time designers and three people dedicated solely to collaborations, of which there are many — Reebok, Kappa, Alpha Industries, G-Shock, Lamborghini. A wall in his office showcases upcoming co-branded projects; if all come to fruition, County of Milan and its collaborators will release products that touch upon everything from soft drinks to safe sex. "Usually, they call us," he says of his creative partners.
Part of Burlon's appeal for collaborators, customers and his friends may be the proximity to his expansive network of the famous and influential and the halo effect that provides, amassed from years of party promotion and party attendance and generally being in the right place at the right time. He shares office space in Milan with Virgil Abloh and Heron Preston, two of his partners in New Guards Group, a fledgling fashion conglomerate that also includes the labels Palm Angels and Unravel Project. He says he flipped unsolicited DM's he received from rappers into gigs creating album covers (Future's DS2), tour merch (for Pusha T) and a capsule collection for Saks Fifth Avenue (with Tyga). Another scene in the documentary shows Devendra Banhart playing an acoustic set in the living room of Burlon's Milan apartment, and trying — unsuccessfully — to convince him to sing a George Michael song.
Burlon is a well-known friend of Tisci and occasionally exchanges heart emoji messages with Raf Simons. "He used to come to my parties," he says. "Suddenly you'd see Raf on the dance floor like, 'Louder!' Screaming with Tilda Swinton and people like that." 10 Magazine deemed Burlon "The Queen of Milan."
Perhaps that access to celebrity is why he finds the current uptick in "It" Girls recently spotted wearing County of Milan — a list that includes the Holy Millennial Trinity of Bella Hadid, Kendall Jenner and Hailey Baldwin — flattering, but not as earth-shattering as it may be for other talent relatively new to the fashion game. He's also wary of bloggers and the generally Insta-famous.
"I was talking with a girl — I won't say the name — but she's a blogger," he says. "We were having dinner, and she was like, 'Look at my hands.' She had fingers like this!" He twists his thumbs into the gnarled pose of someone who has spent hours tapping on an iPhone. "That means in two or three generations, there will be a proper body change. A genetic — how do you say?" Evolution? "That's a bit scary," he concludes.
Burlon is visibly more enthusiastic about the addition of Alicia Keys to the list of County of Milan devotees and notes that Drake was the first celebrity to ever wear his label. "Music is one of my big inspirations," he says. As a DJ, he listens to a lot of dance tracks, but also cites Drake's "Get It Together" as a current fave. He pulls out his phone and scrolls through some songs he's been listening to lately, pausing to play a few bars of "No Diggity."
"I was going back to the '90s today. Sometimes you need that," he mumbles, before settling on "Save Tonight," by mop-haired one hit wonder Eagle-Eye Cherry. "He's so cute," he says, noting that he would love to have Eagle-Eye walk in a County of Milan show one day. 
The erstwhile Swedish pop sensation may have missed the friend wedding, but if he ever were to make it into Burlon's inner circle, the creative director will likely find a way to pay tribute to him. Last week, he sat for a new tattoo — his 19th and biggest yet, spanning the whole of his back — based on the design used on a sweatshirt he sent down the runway during his Fall 2017 show. It depicts eight phases of the moon accompanied by the initials of his closest friends. He included an excerpt from "El Gaucho Martín Fierro" around the perimeter, a famous Argentine poem by José Hernández that describes being born, living, dying, and meeting God while singing. For the tattoo, Burlon adjusted the poet's words to suit his own point of view. "I changed 'singing,' to 'dancing,'" he says. "There's a lot to celebrate in life."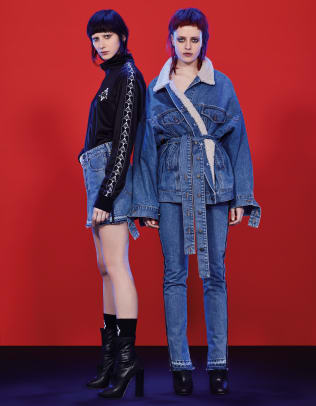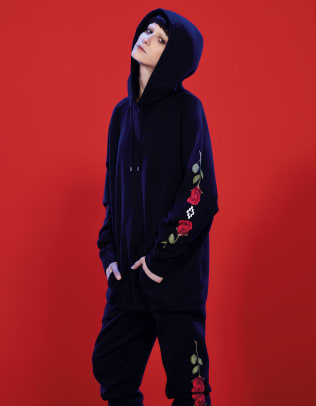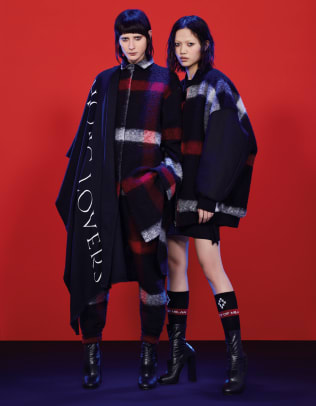 Want the latest fashion industry news first? Sign up for our daily newsletter.