We Tested 24 Cool New Lip Colors in Every Texture and Finish
And then we photographed them all.
Over the past few years — somewhere between the rise of Instagirls and the fall of the choker — the lipstick category has exploded, with brands engaging in a sort of makeup arms race to see who can come up with the next big innovation first. And truth be told, the resulting bounty of lipsticks, stains, pencils, glosses, oils and powders can be overwhelming. 
In an effort to bring a little clarity to your next Sephora trip, we recruited Fashionista editors for an impromptu makeup test. Not only did they try out the newest shades from a variety of brands, but they also experimented with every texture and finish to see which ones yielded the best results.
But first, we talked to the experts for a little advice. 
If you're dealing with a highly pigmented formula like a liquid lipstick, pigmented lip gloss or traditional lipstick bullet, the key, according to Estée Lauder makeup artist Victor Henao, is prep. "I recommend making sure lips are exfoliated and moisturized properly. This will ensure an even application." 
If you're working with a stain or tint, Nars makeup artist Jenny Smith suggests tracing lips with a liner pencil before layering the stain or tint on top. This step aids with precision and boosts color payoff, while also making the color last longer. But if you're hoping for a subtler effect, skip the liner and try an even easier technique. "If you want just a hint of color, tints and stains can easily be applied with a fingertip instead of the applicator," says Smith. Simply press the formula into your lips for a sheered-out wash of color.
If you're having trouble getting the hang of the trendy new lip powder formulations, Henao advises trying the same fingertip technique for better control and more even pigment distribution.
On the opposite side of the spectrum are the new crop of extra-moisturizing cream lipsticks. Because of their slippery textures, getting cream formulas to stay put can be a challenge. Smith remedies that by coating lips with a layer of pencil liner first, and then also cleaning up the edges by rimming them with concealer. Finally, she pats a translucent loose powder (the same kind you'd use for your T-zone) on top for long-wear. 
No matter which type of lip product you're using, learning how to steady your hand is key. "One of the easiest ways to ensure a steady line is to anchor your elbow on a counter or desk," says MAC Cosmetics makeup artist Michelle Denson. "Also, if you move your head around to get an easier angle for your hand, that can really help your precision."
Click through the gallery below to see every stain, gloss, lipstick and powder Team Fashionista put to the test.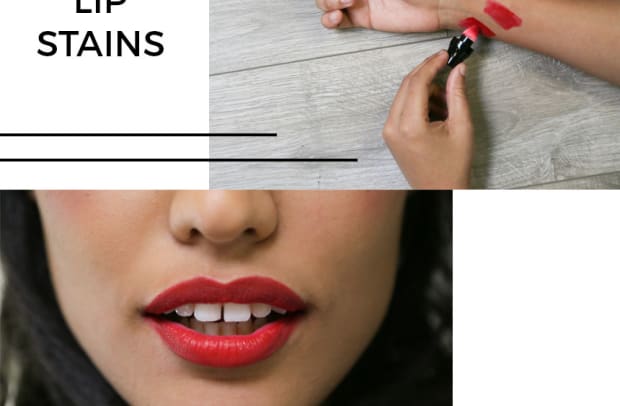 All photos by Whitney Bauck for Fashionista.
Please note: Occasionally, we use affiliate links on our site. This in no way affects our editorial decision-making.
Sign up for our daily newsletter and get the latest industry news in your inbox every day.