Laura Kim and Fernando Garcia Included an 'Homage to Sarah Jessica Parker' in Their First Bridal Collection for Oscar de la Renta
And introduced Converse Chucks on its runway — but customized ones, of course.
Creative directors Laura Kim and Fernando Garcia have been working on overdrive for the past few months. First, they presented their debut ready-to-wear collection for Oscar de la Renta, concurrently with their own, industry-beloved line Monse at New York Fashion Week in February — all while preparing their first bridal collection for the venerable fashion house, which took place on Friday morning. But this isn't their first time at the bridal rodeo.
"[Oscar brides have] changed a little bit since 12 years ago, because I started at Oscar 12 years ago," says Kim backstage after the Spring 2018 runway show. "I think girls are a little more comfortable being [sexy] at their wedding."
That said, following the departure of recent creative director Peter Copping, Kim's and Garcia's upcoming wedding collection for Oscar de la Renta — which has dressed famous brides, including Amal Clooney, Allison Williams and Kate Bosworth — skews way more modern with the duo's distinct and signature touches.
"We're taking the Oscar DNA and making it ours," says Kim. "Making it lighter, sexier and a little bit more playful."
"We took the Oscar-isms — the sashes, the bows, the guipure lace — but we created a pantsuit out of it. We had a little homage to the Sarah Jessica Parker moment with the [Oscar de la Renta] signature on the skirt," says Garcia, referencing the "Sex and the City" icon's 2014 Met Gala gown.
That specific ensemble, which came out toward the end of a 31-look show, really spoke to the "new" Oscar de la Renta bride, with a light, layered crinoline ball-gown skirt, belted with a crisp bow, intentionally worn askew to the side, paired with a distressed denim jacket with "Just Married" emblazoned on the back. Never mind the easy tank top casually layered underneath and the oversize crystal, very Carrie Bradshaw, "Just Married" necklace accessorizing the outfit.
"It's catering to the existing customer and adding on a more spontaneous edgy girl into it," adds Garcia.
The aforementioned pantsuit, which followed a lace-topped, tapered-leg jumpsuit accented with a beautifully exaggerated Oscar de la Renta bow, elicited some pleased gasps of surprise from the well-heeled crowd. The ivory wool gabardine tux jacket was paired with matching trousers in a relaxed and subversively comfortable silhouette. And despite being known for their impeccable shirting, Kim and Garcia coordinated the look with a crisp white cotton T-shirt and — for a final flourish — cinched the waist with a silver metallic Italian sequin corset.
"It's a punch of embroidery in a different way," explains Garcia. "It's something that I don't think Oscar had ever experimented with for bridal."
Of course there were gowns, lots of them, complete with breathtakingly beautiful guipure lacework and dreamy floral- and nature-themed appliqués, but with fresh, playful and elegantly sexy details, including softer, translucent layers of silk tulle. "I really love seeing girls' legs when they wear gowns, so you can kind of see the legs when they walk," says Kim. "It's very lightly lined."
The traditional Oscar de la Renta strapless ball gown is reimagined with exposed corsetry, covered in dreamy, intricate appliqué and the Insta-Girl-loving boob-cage. Of course, there's a bit of the deep plunge, too. "We tried to manage that deep-V to look 'Oscar,' without tipping into the vulgar or inappropriate side," says Garcia.
The full collection also included eight adorably lovely flower girl dresses (worn by ridiculously adorable little girls) and full-on outfits, including a pair of mini-models in little fur capelets. (Oh, my ovaries... ) "That's all Laura," says Garcia, gesturing to his design partner. "She looked at the little kids' rack and said, 'This is what my closet should have looked like when I was eight.'"
"Imagine if you're 8 years old and you have all these ball gowns!" laughs Kim.
Although, a couple of the oh-so-pretty dresses were accessorized with white Converse hi-top Chuck Taylors, customized with floral lace embroidery.
"The girl, she actually came in for a fitting in her Converse, and I was like, 'She actually looks really good in it!' says Kim. " But we had to buy a new pair because her's were acid green, which was cool, but maybe I'm pushing it." Hey, there's always Fall 2018.
Click through the gallery below to see the entire Oscar de la Renta spring 2018 bridal collection: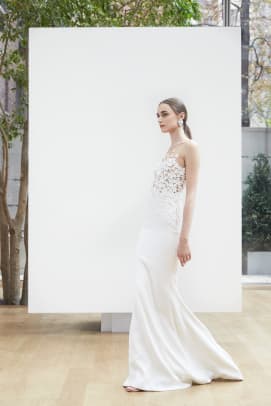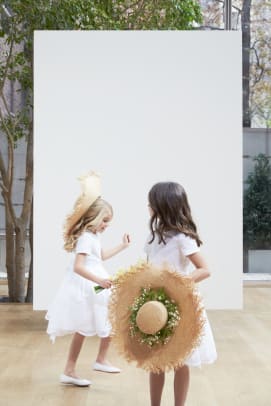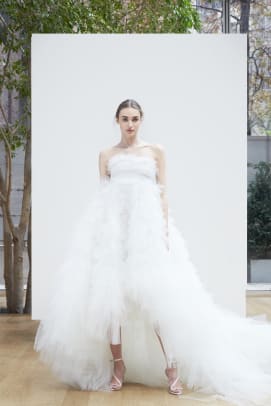 Never miss the latest fashion industry news. Sign up for the Fashionista daily newsletter.