Slick Woods, Adwoa Aboah, Rowan Blanchard and More Cover Tiffany & Co.-Sponsored 'Love' Magazine
If there's anyone who can dislodge Tiffany & Co.'s "old money" image, it's this group of women.
Love Magazine, the British publication known for its Advent video series and ability to skyrocket young models' careers, just released a slew of new covers for its latest issue. That it features Slick Woods, Adwoa Aboah, Adriana Lima and Rowan Blanchard on its multiple covers is no surprise; the magazine has a penchant for covering fresh faces making waves in fashion, which these women certainly represent with their combination of unique looks and outspoken activism. Not the mention, the magazine has already worked with a few of them, from Aboah appearing in Love's Fall/Winter 2013-2014 issue to Woods starring in a Good Friday clip just this month.
One distinctive thing about it all, though, is that the issue's cover was sponsored by Tiffany & Co. Blurring the line between ad and editorial, even for covers, is not exactly new territory. While the the American Society of Magazine Editors (ASME) had a rule banning ads from running on covers that was only lifted in April 2015, media brands have been finding a way around that for years. Cosmopolitan's May 2014 issue featured a peel-away ad sponsored by L'Oréal that looked like a real cover, and Marie Claire ran denim issues in 2014 and 2015 that were sponsored by Guess and Frye, one of which had a zip-away ad superimposed over the real cover.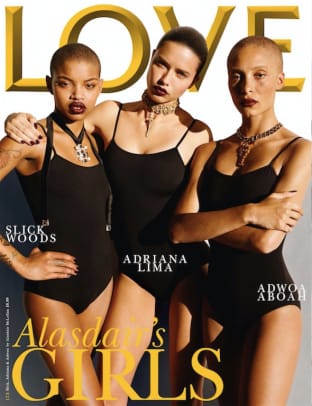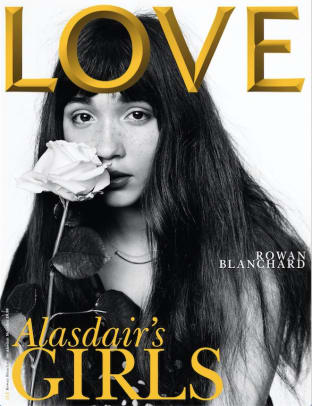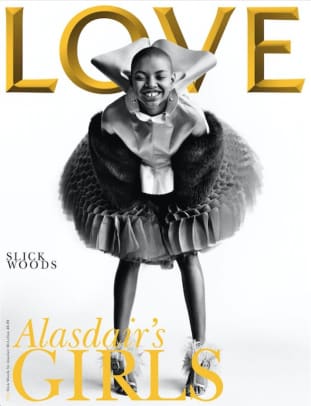 In an age where media is so much in flux, it's perhaps unsurprising that publications like Love are looking to brands for sponsorship. The covers are beautifully shot by Alasdair McLellan in a style that totally keeps with the magazine's editorial standards. But for a brand like Tiffany & Co. — which has long aligned itself with sophisticated glamour and refined luxury — to be represented by someone like Woods — whose IDGAF attitude is manifest in her machine gun underboob tattoo and outspoken love for weed — is unexpected. Sure, the brand recently tapped Lady Gaga for an ad campaign, but it's worth noting they waited until she had left meat dress-style wildness in the past before working with her.
Still, perhaps the Love and Woods-and-crew linkup represents an attempt on Tiffany & Co.'s part to remake the brand's image into something that accommodates more edge. The name of the jewelry collection worn by the women on the covers, Tiffany City HardWear, seems to hint as much. If there's anyone who can dislodge the "old money" image that seems to go hand-in-hand with the company's signature blue, it would be this group of women.
Love issue 17.5 will be available on May 10 at select retailers.
Want the latest fashion industry news first? Sign up for our daily newsletter.