The Victoria's Secret Angels Swear by Going Shirtless at Coachella
Martha Hunt and Josephine Skriver talk festival style at the first-ever "Angel Oasis."
Summer music festivals, especially Coachella, have come to increasingly revolve around fashion — from the style of attendees to the brands who host and sponsor massive parties. Two women who have witnessed, and perhaps helped drive, this evolution are Victoria's Secret Angels Josephine Skriver and Martha Hunt, who along with Jasmine Tookes, Alessandra Ambrosio and Romee Strijd were on hand at Victoria's Secret's Angel Oasis over the weekend — set up on the grounds of a sprawling estate in Indio, Calif.
"I think it went from being really 'hippie,' and now it's a culture. Fashion [seasons] used to be winter and fall and summer and spring, but now there's a legit festival collection; people make entire outfits for it," noted Skriver. "I went to Coachella first... I don't want to age myself [Ed. note: She's 27.]... many years ago and it was a totally different thing," added Hunt. "It was way less commercialized, which is totally fine — but now people go to be seen, so I think outfits are more stylized and complete. Back in the day, it was a bit more raw and effortless."
Still, both have adopted a surprisingly practical and down-to-earth approach to getting ready. "I think the key is to be comfortable, and when I say that I mean wear flats or boots," said Skriver, who was wearing an intriguing pair of wedged Timberlands. "The worst thing I ever did was wearing heels to a festival; it's my number one mistake." Still, she plans all of her outfits in advance and admits to overpacking. "My suitcase was way over the top this time." 
One challenge (if you can call it that) I've come to experience is that sometimes parties — of which there are more each day than any one person could attend — call for different attire than the festival itself. Or at least, they feel like an opportunity to wear a cute summery dress or swimsuit that may not fly on the dusty, windy festival grounds. (And yes, I've witnessed many people change outfits throughout the day.) Hunt and Skriver's advice? Stick with the same look for both. "I keep pretty much festival vibe all over," said Skriver. "If it's a day party, it gets super hot and you'll wear less; if you're going to the festival, you need to tie a jacket around your waist because it gets really cold — it's more according to weather."
"For festival it's tough because I don't want to stray too far off from what I would wear on a typical summer day," said Hunt. "I don't want to dress like Pocahontas just because it's a festival, so I think it's important to stay true to your core style and not just because you want to be a hippie for a day. I think whatever you wear to the festival you should feel cool and free to wear for the party."
Hunt and Skriver weren't just there to get a tan and hear music, however: They were promoting (and wearing) Victoria's Secret's new Sexy Little Things collection, built around lacy bralettes that are "made to be seen and just in time for festival season," per the brand. The lingerie-as-clothing trend has been gaining steam in recent years, and Coachella is an especially common place to see it IRL. Though for many of us non-models, the idea of wearing a bra without a top over it is a bit daunting, so Hunt and Skriver tried to point out the advantages. For one, it cuts down on suitcase real estate: What really helps is I didn't bring any tops, I just went with the bras. It's too hot out," said Skriver. She stressed that these bras are a bit more covered up than a typical bra and went so far as to suggest wearing one as a feminist statement. "It's bringing back female power. You know what, guys wear no shirt, if you feel comfortable in your own skin..." she began. "I'm kind of a tomboy, so at first I was like, 'oh how do I do that.' There's something empowering about it; you can wear it with a leather jacket or a vintage tee or make it yours." If you're going to try it out, a music festival is the place to do it, Hunt agreed.
We were starting to feel like we could actually relate to these bralette-clad Angels — that is until they made their exit and literally flew (in a helicopter that had been parked across the street) to the festival.
See more images from the Angels Oasis below.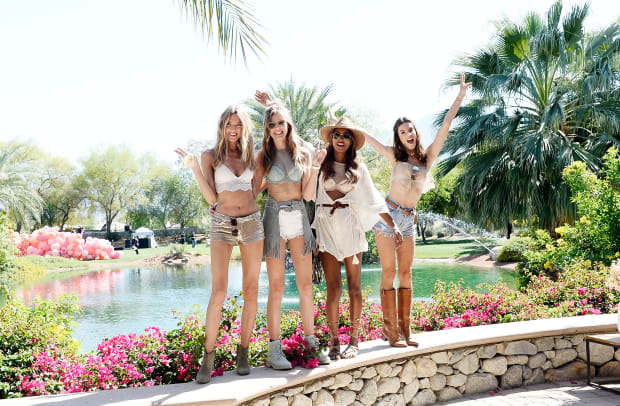 Want the latest fashion industry news first? Sign up for our daily newsletter.