79 Standout Looks From FIT's 2017 Future of Fashion Show
Selected graduating FIT students created designs across sportswear, knitwear, intimate apparel, special occasion and children's wear, all around the theme of innovation.
After a full semester of ideating, sketching, designing and getting feedback, select students from FIT's graduating Fashion Design BFA program presented their final designs at the 2017 Future of Fashion show on Monday night. Inspired by the theme of innovation, the garments — which spanned across sportswear, knitwear, intimate apparel, special occasion and children's wear — were judged and awarded by a panel of experts, including Ken Downing, Fashion Director and Senior Vice President of Neiman Marcus, Vogue Runway's Nicole Phelps, celebrity stylist Kemal Harris, The Cut's Senior Market Editor Diana Tsui and NBC's "Today Show" contributor Lilliana Vazquez.
Carolina Sanz, who was named a Critic Award Winner for Special Occasion, traveled south of the Dominican Republic, where she's originally from, for inspiration. She created eveningwear based on a knotting technique that's done from local craftswoman who create rugs out of rice bags. "I really kept thinking, 'How do I make this my own?'" said Sanz after the show. "In a way, that technique that I made with my own hands was innovative because I used materials and created something that didn't look like the material itself from the beginning."
Over the course of the semester, Sanz, along with her fellow students, were mentored by industry professionals, some of whom are FIT alumni, for their thesis work. "They know what people want to see, what's out there, what's been made and what hasn't been made," said Sanz. "Today, you see so much stuff coming down the runway you have to really look within yourself to try to be the best artist that you can be, and the critics really push you."
"They helped a lot with fabrications, how to manipulate detail and how to focus on my vision," said Jinwoo Hong, who was awarded by the show's critics for sportswear. Hong's inspiration — the perception of "monster" — was more psychological, which he admits was a challenge to create into something tangible.
Before the Future of Fashion show, FIT presented a video highlighting the students' creative process with appearances from faculty and those in the industry, including Carolina Herrera, a longtime supporter of the school. "I think it's very flattering when they ask you to mentor one of these young designers that are so talented," said Herrera. "You learn from them, and you give them just a little idea of where they should go, which I don't know really where we are going because fashion is a mystery for me still." Those in the audience laughed along with the designer.
But Herrera does have a point: Young designers are finding new avenues towards success in the fashion industry, whether that's through New York Fashion Week (or not), launching a direct-to-consumer brand, climbing the ranks within a major fashion label or garnering a following that leans towards celebrity status. When asked what, exactly, defines success as a designer, the students all had a their own take. Selen Sahin, a Critic Award Winner for Sportswear, wants to start her own brand in her hometown in Turkey while also combining her spiritual experience as a yoga teacher. Jin Young Kim, Critic Award Winner for Intimate Apparel, has a pretty zen approach towards her career path. "Success shouldn't be compared; it should be your own," she said. "If you think you're successful today and worked hard for today, I think that's success."
Jongah Lee, who was awarded for her work in children's wear, wants to be a part of a company — big or small, it doesn't matter, she says — where she can truly apply her own design aesthetic. The same goes for Hong, who hopes to kickstart his career working for a designer he aligns with creatively and then eventually open a small boutique under his name. Interestingly enough, his favorite designer happens to be Rei Kawakubo, who independently runs her own fashion empire in addition to a successful group of high-concept shops. Did he get to visit her exhibit at the Met already? You bet. "It was so crowded," remembered Hong. "So next time I'll go again, and again, 10 times." Spoken like a true student of his craft.
See the gallery below for every look from FIT's 2017 Future of Fashion show.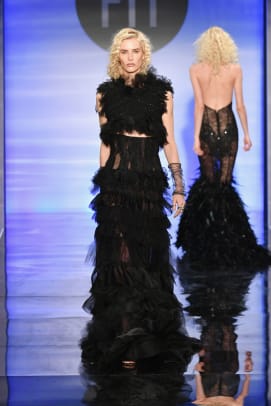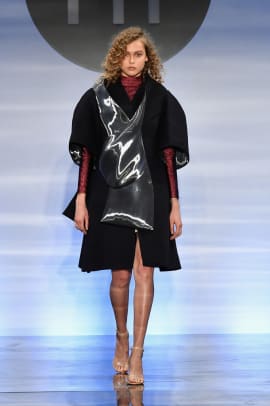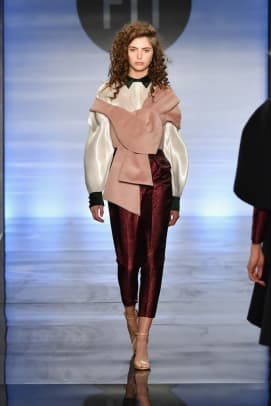 Want more Fashionista? Sign up for our daily newsletter and get us directly in your inbox.