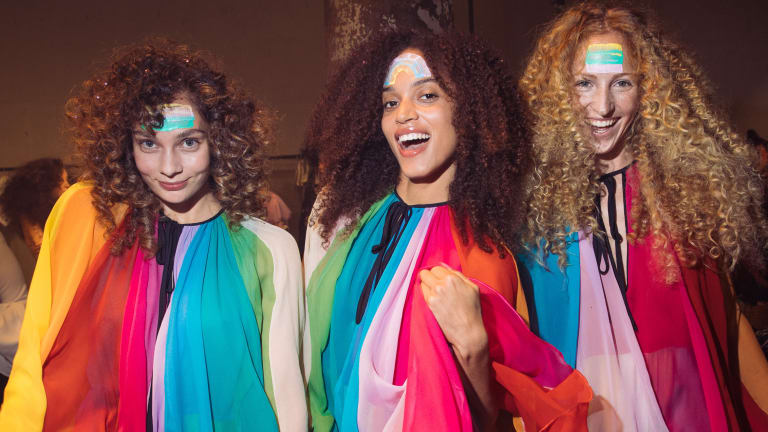 9 Must-See Collections from Mercedes-Benz Fashion Week Australia
From sporty swimwear to directional streetwear to fantastical, costume-y eveningwear, the Resort 2018 runways in Sydney had plenty to get excited about.
Last week, I had the privilege of checking something pretty major off of my bucket list: Thanks to IMG and Mercedes-Benz Fashion Week Australia, I took my first-ever trip across the world to Sydney, complete with a visit to the Instagram-famous Bondi Beach Icebergs, a magic-hour runway show staged at the Sydney Opera House, thanks to Dion Lee, and a life-changing interaction with a one-year-old koala named Daisy. In all honesty, I heavily considered the pros and cons of staying abroad, especially considering the low-key vibes of the city that extended to its annual resort runway shows, which were what brought me there in the first place.
While resort (also known as "cruise" among fancier circles) isn't met with much fanfare stateside — it's a transitional, in-between season that often veers toward the commercial end — the industry's making moves to change that. Aside from luxury houses like Louis Vuitton, Gucci and Chanel staging big-budget shows in exotic locales, Sydney hosts an entire week of collections showcasing the talents of Australian designers who face the unique challenge of working in the opposite hemisphere as the majority of their peers. However, Australia is home to a number of revered industry names — including Dion Lee, Kym Ellery, Nicky Zimmermann — and in fact, the Australian Fashion Chamber just announced that it will set up its first Australian Designers Abroad showroom in New York this June to help introduce their businesses to the world.
After four jam-packed days of shows, showroom visits, designer meet-and-greets and an exploration of Sydney's underground fashion scene, I left with a newfound appreciation for the city's bustling industry. Read on to get acquainted with nine collections I particularly enjoyed — many of which have already won the stamp of approval from both American and European buyers, editors and stylists.
Albus Lumen
This minimalist label was founded by Australian stylist Marina Afonina in 2015, and the Resort 2018 collection was a beautiful selection of warm-weather staples — from lightweight trench coats to maillots to white dresses — that had attendees singing its praises.
Akira
Designer Akira Isogawa did the sporty, androgynous thing well for Resort 2018, accenting unisex looks with striped tube socks, obi belts and athletic sneakers. Rich colors, floral and graphic patterns, sheer layering pieces, dramatic proportions and voluminous appliqués adorned each ensemble, making for a directional take on the ubiquitous athleisure trend.
Christopher Esber
Designer Christopher Esber embraced "antithesis" this season, meaning that he explored elements he generally dislikes — stripes, polka dots, etc. — in order to make them work for him. The standout looks were the relaxed suiting pieces and lightweight outerwear (specifically, trenches in lemon yellow, lavender, and with teeny-tiny dots), as well as some elegant silk dresses that could easily become wardrobe staples, styled for any occasion.
Ginger and Smart
Designers Genevieve and Alexandra Smart opted to show their Resort 2018 collection at the Art Gallery of New South Wales, and the beautifully patterned, brightly colored clothing was a lovely complement to the setting. With voluminous silhouettes, thoughtful layers, sheer, petal-like appliqués, geometric graphic prints and a squiggly embroidered motif, there's no denying that the range was a masterful merger of art and commerce.
MacGraw
Beth and Tessa MacGraw are among the most well-known designers in Australia right now, and for Resort 2018, they really celebrated the young women who have come to love their well-tailored, whimsical and Victorian-leaning collections. Models walked out smiling (!) to the Nicki Minaj verse of "Monster," wearing sweet, ruffled dresses, high-necked blouses adorned with oversize bows, printed suiting, knit hot pants and more.
Michael Lo Sordo
Designer Michael Lo Sordo turned the sex appeal way, way up for Resort 2018, with a collection heavy on cherry red separates, silk, body-skimming suiting, peek-a-boo sheer knits and cutouts that revealed models' underthings, sternums and hipbones. This was not a collection for the faint of heart, but perhaps that's why it lit up Instagram and had the front rows talking for long after it hit the runway.
Pageant
Amanda Cumming and Kate Reynolds — Christopher Kane and Christopher Shannon alums, respectively — launched Pageant in 2010 and presented their "Tunnel Vision" collection on the runway for Resort 2018. From easy suiting to swimwear to everyday separates, the range was bright and heavy on the color blocking — with screen-printed graphics and sheer, netted knits to help make it even more memorable. 
Romance Was Born
Romance Was Born's "Electro Orchid" collection was nothing short of wild, with a burlesque-inspired runway show to match. There were naked models with powerful messages scribbled on their bodies, rainbow fringed dresses, sparkly nipple pasties, a unicorn horn headpiece and intricately embroidered gowns — and that barely scratches the surface. It was a hell of a good time, and designers Luke Sales and Anna Plunkett are not shy about pulling out all of the stops.
Strateas Carlucci
Peter Strateas and Mario-Luca Carlucci have earned quite the reputation as designers to watch since launching their label in 2013: They won the International Woolmark Prize in 2014, took home the Best Australian Emerging Designer honor at the 2015 Australian Laureate Awards and showed on the VFiles stage in February 2017. For Resort 2018, the duo was inspired by the Paris Metro, for a gritty, urban collection of tailored suiting, oversize outerwear and generally cool pieces for everyday life.
Disclosure: Mercedes Benz Fashion Week Australia provided my transportation and accommodations to cover the event.
Sign up for our daily newsletter and get the latest industry news in your inbox every day.