How Instaboys Jordan Barrett, Presley Gerber and Gabriel Kane Day-Lewis Got Ready for the Met Gala
We holed up with the young male models as they prepared their faces, and social media strategies, for their first time at the Met Gala with Topman.
On paper, 20 year-old Australian model Jordan Barrett seems less like a real person and more like a concept cooked up by marketing executives to seduce millennials. He's tall, blonde and tan with androgynous features, he knows Bella Hadid, and his middle name is Kale. But right now, in the flesh in a room at the Edition Hotel in Manhattan, he's dealing with a problem that, while not universally relatable, is at least human in scope.

"Why am I so red?" he shouts while examining his face in the bathroom mirror.

His friend Presley Gerber, the exceedingly polite 17 year-old model and son of Cindy Crawford, responds, "You froze your face off this morning."

It's the afternoon of the Met Gala, the Metropolitan Museum of Art's A-List-only fundraiser, paparazzi fest and home base of an annual global FOMO pandemic. Barrett and Gerber are both attending as guests of Topman. That morning, before getting groomed and dressed for the event, Barrett dipped out of Gerber's room at the Edition and went to Higher Dose health spa for a vitamin IV drip and a nitrogen cryotherapy treatment, the cause of his current redness. "You can do your whole body, but I just do it on my head," he explains, his voice still raspy from a party he hosted for V Magazine a few nights prior. "I think it, like, makes your face not puffy or sleepy."

This year is the first time either Barrett or Gerber have been invited to attend the Met Gala, and they decided to get ready together. A third Topman guest, Gabriel Kane Day-Lewis — 22-year-old model, actor and son of Daniel — is also making his Met Gala debut; he's currently holed up in another room at the Edition. Topman hired hair and makeup artist Moiz Alladina to groom all three boys. He set up shop in the bathroom and calls Gerber in to get his hair trimmed while Barrett fidgets with the thermostat, plays Fleetwood Mac on his phone and unpacks a small quinoa salad; then he calls room service to request a fork and a bucket of ice he never opens.

Neither Barrett nor Gerber know exactly what to expect from the night's festivities. Gerber, a California native, hasn't set foot inside the museum before. "I haven't even seen pictures of what it looks like," he says. Alladina applies a face spray and eye cream while reminiscing about sneaking into the Met Gala through the kitchen years ago. "That was in the '90s, when you could do stuff like that," he sighs.

Barrett is snacking on gummy bears from the room's mini-fridge when several employees of IMG, the agency that represents all three models, arrive. Barrett's agent, Jen Ramey — who worked with Kate Moss around the time Alladina was crashing fashion events — is among them. She hands Barrett a plastic bag full of shoes, asks him in a hushed tone to identify everyone in the room, takes a call from supermodel Liya Kebede, then leaves. "She's like my mom," Barrett says and then describes the night in Miami during which he convinced Ramey to get a tattoo to match the one he has on his right wrist that reads "0% INTEREST."

"It's so crooked," he laughs. "She's, like, the vice president of IMG, and every time she shakes someone's hand they see it."

Alladina dismisses Gerber and calls Barrett into the bathroom, telling him he needs to shave. "Cold or warm water?" Barrett asks. (It's a question he will repeat later while preparing tea with honey to soothe his throat.) He instructs Alladina not to brush his hair too much.

Throughout the afternoon, the duo's social media responsibilities during the Gala are discussed at length. "I don't use Instagram," Gerber says. "I'm like an old person." It's decided it's in everyone's best interest if Barrett doesn't Snapchat from the after-party. "It will be quite organized, and then afterwards, it will be a shit show," Barrett predicts. "It's at 1Oak, isn't it? Horrible. I think it will be fun." He approves of the list of female models Topshop has invited, who will walk the red carpet with the Topman trio, including Joan Smalls, Sofia Richie and Behati Prinsloo. He says Prinsloo in particular is a lot of fun. "She taught me a South African dance," he adds.

The suits Gerber and Barrett will wear are from Topman's upcoming collaboration with London-based label Casely-Hayford. Their accessories — pocket squares and scarves — are custom-made by Topman, inspired by the work of Comme des Garçons designer Rei Kawakubo, the subject of the Met's Costume Institute exhibit this year. A Topman rep reminds his colleague to make sure Barrett wears socks. "He doesn't like socks," he says. His colleague nods. "Or undergarments of any kind," he clarifies.
Day-Lewis will wear a lace shirt and textured black suit from what he calls "the good Topman." In his room, the entourage is smaller: a hat designer who says she is working on a collection inspired by Tamagotchi and a friend who, after sizing up Day-Lewis's look, advises him to bring along "some sort of contraceptive." All three sip mimosas as Alladina slicks back Day-Lewis's hair and brushes his eyebrows. Day-Lewis is happy to attend the Gala alongside Gerber and Barrett. "I get really awkward when I go to a crowded event and I'm on my own, just like, my back to the wall not knowing who to talk to," he says. "Some of the people that are going to be there are unapproachable, you know? Like, I'd love to say hello to Selena Gomez. Just hello. Just eye contact would be fine. Or brush shoulders even."
A Topman rep announces cars are downstairs waiting to take the boys to a pre-event cocktail party, and then on to the Met when they're ready. "I don't know if there is a 'being ready for it,'" Day-Lewis says before posing for an Instagram photo outside with Gerber and Barrett and setting out for the night.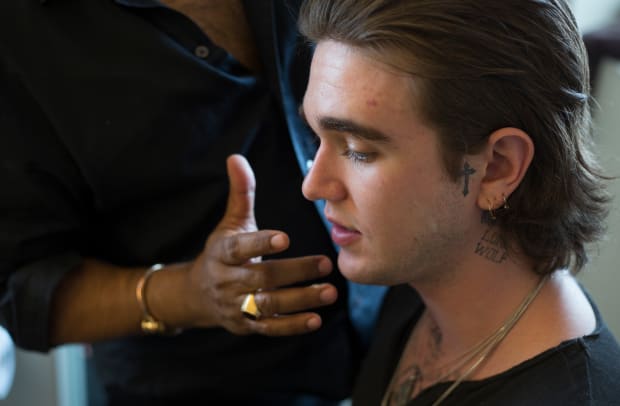 Want the latest fashion industry news first? Sign up for our daily newsletter.