38 Standout Looks From SCAD's 2017 Fashion Show
Forty-three selected graduating seniors showcased their final designs across menswear, special occasion, sportswear, swimwear, intimates, bridal and more.
The Savannah College of Art and Design's programming calendar is a real testament to the university's expertise. We at Fashionista have traveled the 800 miles to Georgia on numerous occasions, including serving as a juror for its annual Fashion Show, during which graduating SCAD students are selected to participate in the university's end-of-year showcase. And on Friday night, 43 selected seniors presented up to three looks each from their final collections at the 2017 Fashion Show before a crowd of faculty, friends and family, as well as industry figures from across the country. (Miss J Alexander of "America's Next Top Model" even made the trip to serve as a runway coach.)
As with professional collections, the seniors' creations were true labors of love, products of a full year of ideating, sketching and designing. The process kicked off at the beginning of the year with students storyboarding their inspiration, and wrapped up in their final quarter when it came time to actually produce their pieces. And the craftsmanship was as innovative as the overarching vision: Each and every item was hand-sewn, which in many cases came about as a result of collaborations with peers studying fields like fibers, graphic design and industrial design. 
Once all 120-odd looks came down the runway to monster applause (including two bridal looks that hit the catwalk in a Rolls-Royce), guests had the opportunity to purchase certain garments and accessories created by SCAD alumni; "see now, buy now" is top of mind for top fashion universities, too. The next day, SCAD Fashion Show moved to its Atlanta campus for the very first time, presenting the same looks in a reimagined vignette format for its Atlanta community Saturday as part of SCAD FASHWKND.
As I sat through Friday's presentation, I found myself furiously scribbling notes and later, as students milled about, exchanging business cards with some. These designers, young as they may be, are going places, and quickly.
Click through the gallery below for 38 standout looks from SCAD's 2017 Fashion Show, straight from Savannah.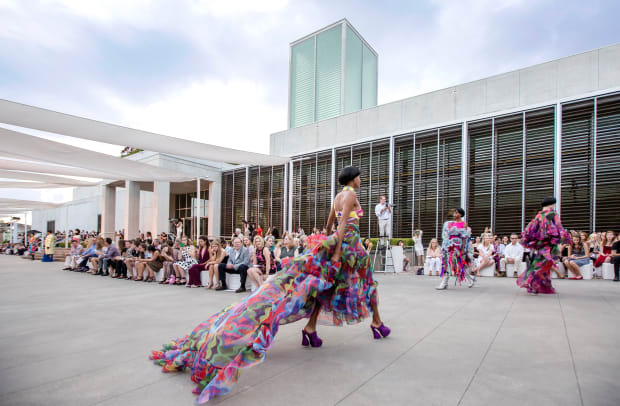 Disclosure: SCAD paid for my travel and accommodations to attend and cover the event.
Never miss the latest fashion industry news. Sign up for the Fashionista daily newsletter.