Bella Hadid's New Nike Campaign Pays Homage to '70s-Era Farrah Fawcett
She's the face of Nike's Cortez sneakers.
Between red carpet appearances, a collaboration with Chrome Hearts and magazine cover after magazine cover, Bella Hadid's cash flow is still going strong. Her latest gig? Another campaign for Nike. The new ad is a follow-up to her debut with the activewear brand last year, which helped promote its new Soho location in New York City.
For her latest partnership, Hadid was tapped as the face of Nike's Cortez sneaker to celebrate its 45th anniversary. In homage to Farrah Fawcett's famous '70s-era photo, in which the actress is wearing Cortez snoes while skateboarding on the film set of "Charlie's Angels," Hadid stars in a modern-day update, dressed in a Nike lace-up sports bra and frayed denim jeans showing off the brand's famous logo waistband. (Fawcett's look was comprised of a sporty long-sleeve top, bellbottom jeans and, of course, her signature feathered hair.) 
The 45th anniversary reissue of Nike's Cortez sneaker will drop on June 1 in its original red, white and blue design, followed by more colorways and fabrications through the summer.
See the more photos from Hadid's campaign for Nike in the gallery below.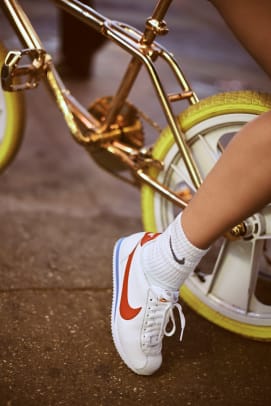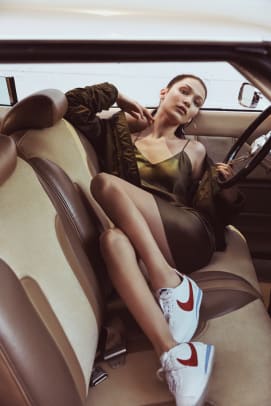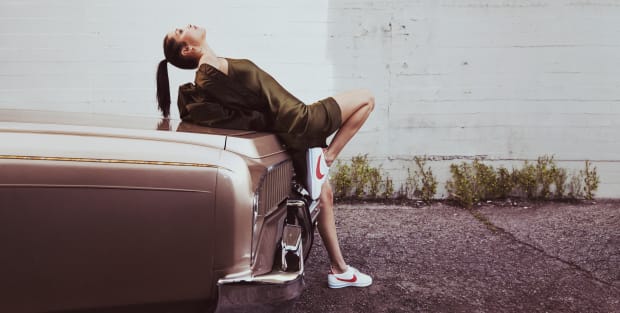 Want more Fashionista? Sign up for our daily newsletter and get us directly in your inbox.