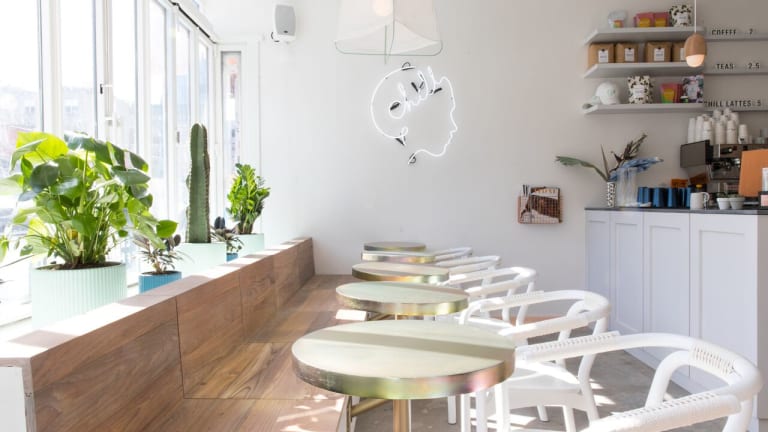 Meet New York City's Next Generation of Insta-Bait Nail Salons
Get your nails done; create envy-enducing #content.
Two years ago, The New York Times published an in-depth exposé about the lack of oversight — and general disregard for workers' well-being and basic rights — in the New York City nail salon industry. That story uncovered hard data and anecdotal evidence that made it hard to go on (as many had for years) willfully ignoring that perhaps a $7 manicure came at a greater cost. In addition to concerns about compensation and labor practices, there were issues about cleanliness and the health and safety of salon employees; many of the workers were immigrants who spoke little English and had limited opportunity to advocate for themselves. Almost immediately after the Times's story, the City's mayor promised to take action and implement practices that would correct labor abuses and protect workers' rights and health. But another result was that the patrons of New York nail salons began to pay attention and ask questions.
It was in this climate that respected nail salons like Tenoverten, Jin Soon and Paintbox flourished, preaching an elevated mani-pedi experience and assuring their clients that the treatment of their employees was of utmost importance. Tenoverten — with its chic decor, polish line and streamlined service menu — and Paintbox — with its complimentary wine, menu of glitzy nail designs and manicure selfie station — also helped to change the conversation about nail salons. But what's more, both helped drive home that manicures could be a capital-E Experience rather than merely routine bodily maintenance.
The Paintboxes and Tenovertens set new standards for what the modern nail salon could be, raising the bar and paving the way for others to innovate in the space, as well. This spring, a fresh crop of nail salons are picking up that baton and pushing the concept of a nail studio further, focusing on Insta-bait interiors and laid-back vibes that invite customers to just hang out, even if they're not planning on getting a service. That laid-back-ness is the driving force behind both Sundays, a combination nail salon/meditation studio and Chillhouse, a coffee shop-meets-nail art bar-meets-massage studio — both of which opened the doors to their first in New York locations in March.
Sundays, a lofted, airy spot tucked a block away from Madison Square Park, was the result of founder and CEO Amy Ling Lin's desire to build a business that could change the nail salon industry and help her fellow immigrants in the process. Lin, who arrived in the United States from China in 2006 and went on to obtain a degree from Columbia Business School, saw an industry in need of change. "This industry actually has been operated by an overwhelming number of immigrants," she says. "When I came to this industry, I discovered the issues: The work hours are unstable, and there are so many chemicals being used. A lot of [the immigrants working in salons] don't necessarily speak English, so they just take whatever they're given...Most of the salons in New York are using the same product, and they're not necessarily very healthy." 
For Lin, creating nontoxic nail polishes was crucial. That's why, when the Sundays studio launched, it did so with its own line of products. But there also are two other significant ways in which Sundays is a big step up from your average nail salon: Its spare Scandinavian design, which is truly the stuff of Instagram dreams, and the fact that meditation is baked right in to the mani-pedi experience. 
First, about those interiors: Lin was inspired by — what else? — Pinterest. "It's Scandinavian style design. I saw this picture of this house covered by snow, but there's light coming through and it's so warm and nice. The weather is so bad [in Scandinavian countries], so people stay indoors, and make their homes so cozy and beautiful," she says. That cozy factor was the number-one priority for Lin, while Instagram shareability became secondary. You won't find a designated selfie station at Sundays, but really, the entire space is its own sort of selfie station. 
Then there's the meditation component, a wellness activity that's ancient but has caught on like wildfire in the past year, especially among the fashion crowd. For Lin, who had practiced meditation as a child and rediscovered it in adulthood during a business school retreat, bringing meditation into the nail salon just made sense. "I discovered that when women get their nails done, many of them tend to close their eyes and really want to be relaxed," she says. Adding in a brief guided meditation session allows them to both maximize the experience by multi-tasking but also engage in a more thorough chill session. Clients are given the option to listen to guided meditation sessions via Inscape's mobile app or even to just put on headphones and tune out with some chill music.
Lin knows that the concept of meditation can be intimidating and says she's still at a beginner level herself. So rather than approaching it in a serious or stuffy way, Sundays is about creating an accessible way dip their toes into the practice while they're also (literally) dipping their toes into a pedicure tub. Leave it to New Yorkers to find a way to multi-task and maximize their chill time.
That same multi-tasking concept is at play in Chillhouse, though rather than combining manicures with meditation, it brings lattes and massage into the mix. Chillhouse's founder Cyndi Ramirez aims forcing anything on them. "There's no preaching or shoving ideologies down your throat — and there's something here for everyone. I think people need a space that they can decompress without the financial burden, or feeling the pressure to part from your phone for too long," says Ramirez.
She opened Chillhouse, a combination coffeehouse-nail salon-massage studio in March after identifying somewhat of a gap in New York's "chill" industry. "My husband and I were trying to get massages one day and we realized we only had two options: either super cheap, somewhat seedy basement spots, or upscale, luxury spas. This ignited a conversation about what's missing in the relaxation-space as a whole," she says. "We chatted about how 'third spaces' exist for men — Blind Barber, Three Seat Espresso — but it hasn't really been introduced for women. Someone needed to fix that." 
She set out to do just that. But in the interest of inclusivity and all-encompassing relaxation, Ramirez expanded the concept. "We later realized how nail salons aren't an inviting place for significant others to go hang out. I can't tell you how many times I've wanted to get a manicure after brunch and [my husband] refuses to join me because he feels weird taking up a manicure chair. That's where the nails came in. We agreed on these two non-invasive services paired with a full-service café and then the name Chillhouse popped into mind. We decided to build a space for everyone: café, manicures, massages."
Like Sundays, Chillhouse strives to be a healthier environment than traditional nail salons, both for clients and for employees. "We have a built-in ventilation system that is beautifully designed into our tables to maintain a nontoxic environment," explains Ramirez. But interior design played another crucial role in making her vision a reality, beyond the practical, utilitarian aspects.
Chillhouse's aesthetic is one of carefully honed Insta-bait perfection; the pale wood tables, dreamy wallpaper, marble nail stations, big leafy plants and neon "chill" wall art are all there to cultivate a deeply relaxing ambiance — and to drive home Chillhouse's brand while also goading clients into creating and sharing Chillhouse-centric content. "I'd say branding and design is the backbone of the business and singlehandedly creates its identity," says Ramirez. "Everything from our exteriors to our artwork has a rhyme and reason. Our gradient in our exterior is supposed to be synonymous to the flow of the chill inside the property. Our nail art is also influenced by our branding. Everything is synergetic."
Ramirez also pays careful attention to the partners and products Chillhouse carries and uses in its treatments. Those brands in and of themselves are trendy Instagram darlings very much in keeping with the Chillhouse brand: Boysmells candles, Sakara snacks and Little Barn Apothecary skin-care products. 
Ramirez isn't shy about owning up to the fact that Chillhouse caters to Instagrammers. In fact, it's key to her business concept. "If you don't design with shareability in mind, then you're doing it wrong," she says. "Functionality is most important; comfort is important, too — but nowadays, social is your biggest marketing tool." That also goes for the food, of course. "Our lattes are delicious first, and beautiful second. Our neon has obviously been a very Instagrammable moment in the space, but we also thought it was important for us to have it in there as a branding pinpoint inside the property. 
So far, that's been a successful tactic for the shop. "I'd say seven out of 10 are sharing their experience [on social media]. I'd even go as far as saying eight out of 10 takes a photo of some kind, even if they haven't shared it yet. I try to ask almost everyone I encounter how they heard about us, and nine out of 10 have said Instagram. Isn't that insane?"
With that in mind, Ramirez doesn't rule out paid influencer marketing as a means of continuing to grow the company. "We've already had a bunch [of influencers] come by organically, but I am a strong believer in the power of influencer marketing," she explains. "It's also the backbone of your brand identity: Who hangs out here? Who's our target customer? Who do they follow, and why? Inviting those influencers in will inspire your ideal customer to walk through the doors."
In terms of immediate plans, Ramirez says the next step for the business will be to implement a membership model. "We want to activate our neighborhood and encourage folks to treat this as their third space — home, work, Chillhouse," she says. She also hints at possible branded product extensions, though she's tight-lipped about what exactly that may be.
It may be easy to view both Chillhouse and Sundays as of-the-moment and trendy as hell. But that doesn't mean they'll be fleeting. Both Ramirez and Lin see their respective businesses as evolutions of the industry, setting a new standard and bringing a more mindful approach to the market as a whole. "I absolutely love the wellness movement happening right now, but I feel like the bubble could potentially burst," says Ramirez. That's where the relatable branding and accessible price points come in. "While we're certainly in the wellness vicinity, Chillhouse's goal is to inspire the act of relaxation in very approachable ways," she adds. 
So, why is 2017 the exact right moment for these ultra-pretty chill spaces to emerge — and to succeed? There's the pessimistic answer, that we're all content-creating zombies, obsessed with scoring more likes, and planning our daily activities and routines around maximizing Instagramability. But there's also the more realistic one: In an era when many people feel paralyzed in an ever-expanding, overwhelming quicksand of Trump-administration-induced doom and gloom, we're turning to self care. And, being New Yorkers, we're into multitasking. Why not combine multiple relaxation methods into one tidy, efficient package? If you can be in a pretty space and get a nontoxic manicure while simultaneously engaging in a guided meditation or sipping on a turmeric latte, you should, because dammit, you deserve that time for yourself. And if you happen to get the perfect Instagram shot out of the whole thing, well, that's cool, too. What could be more emblematic of 2017?
Homepage photo: Chillhouse
Sign up for our daily newsletter and get the latest industry news in your inbox every day.