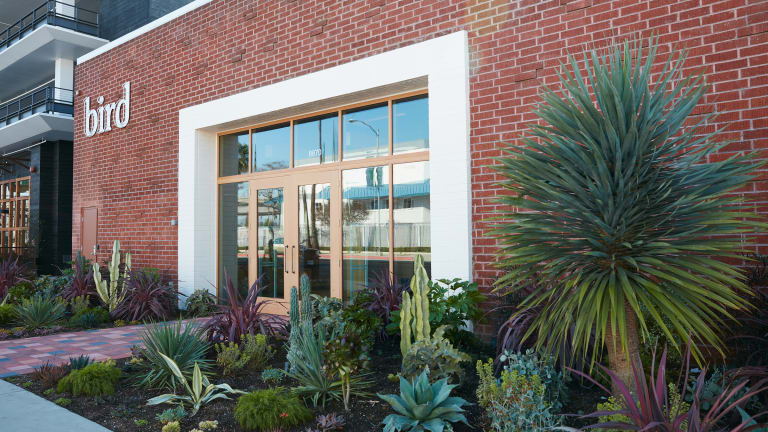 How Brooklyn Boutique Chain Bird is Expanding Nationally as Other Brick-and-Mortars Flounder
Jen Mankins has brought her joyful Brooklyn cool to all of us ex-New Yorkers in Los Angeles.
When you work in fashion, you go to a lot of events; and there are events people go to because it's their job — whether they're an influencer or an editor — and there are events people go to because they just want to be there. Thursday night's official opening of Bird's first Los Angeles outpost in Culver City was one of the latter. A hip-looking crowd of local designers, actors and other creatives, from Rachel Comey to Jenny Slate to Ted Danson (!), filled the store, sipping generous pours of rosé and taking in the delightful design and offerings from brands like A.P.C., Mansur Gavriel and Ulla Johnson. 
"[LA] is our second-biggest market," confirmed Jen Mankins a couple of days earlier. Mankins bought the Brooklyn boutique from its original owners in 2004 and has now expanded it to five locations, this being the first outside of Brooklyn. "But I think so much of that was driven by people who left New York and were living in LA and still wanted to shop at Bird." 
Those Brooklyn expats were definitely in attendance, but Mankins is still working on marketing the brand to everyone else. "People come in and are like, 'I thought you were going to be a chicken restaurant,'" she laughed. To that end, there's currently a billboard (something she never thought she'd use but that felt "very LA") on La Cienega in West Hollywood advertising the store; another one will pop up in Venice.
Mankins liked Culver City because of its central location — Hollywood, Beverly Hills, Venice and Santa Monica are all about 15 minutes away — and its up-and-coming vibe. "This felt like a lot of my Brooklyn neighborhoods did when I first opened stores there; they were on the verge and my opening could really have a say in the direction that it's taking," explained Mankins. Though, as has been the case with every store she's opened (most recently, she took the former French Garment Cleaners location in Fort Greene when it closed), the location really found her. It's few steps away from Platform, a cool new retail development that houses a thoughtfully curated assortment of businesses, most of which would be familiar to a former New Yorker: Aesop, Tenoverten, Sweetgreen, Van Leeuwen, Blue Bottle and Magasin, a menswear store opened by former Bloomingdales Fashion Director Josh Peskowitz are among the permanent renters. There are also Catbird and Pop & Suki pop-ups, and a Reformation is set to open any day now. All that was missing was a larger and equally hip women's boutique concept, so the guys behind Platform reached out to Mankins.
Mankins liked the idea but ultimately didn't want to be part of a development. "I wanted a gorgeous piece of architecture that feels like it has personality," she said. They stayed in contact and six months later, they found that for her. "I flew out here and saw it and immediately it resonated; it felt like my other stores even though it was empty," said Mankins. The space was originally UCLA's book bindery, and Mankins made sure to keep some historical references as she worked with Norweigean architect and longtime collaborator Ole Sondresen to design it, including leaving the high ceilings totally exposed. 
They used lots of wood (Douglas Fir, because it's native to the West Coast) to chop up the space and make it feel more intimate, and because Mankins feels the material, which can be found in all of her stores, showcases her colorful inventory the best. "There's been a design trend to try and make stores look like houses and I don't necessarily like that," said Mankins. "I want it to feel more special and inspirational." 
As Mankins took me through the beautiful space, which is much larger than her Brooklyn locations, it became clear that she had a hand in every single detail of its design — from the custom Lindsey Adelman light fixtures and Commune upholstery, to the decision to use different colors for every single door in the space, to the adorable decorative sheep that she noticed customers petting when they walked in, and that she found during a grueling first trip to Pasadena's famous Rose Bowl flea market. That's especially remarkable when you consider that Mankins lives on the opposite side of the country. She once flew in specifically to oversee the installation of a cash wrap made of custom yellow Heath tile.
While her buying and merchandising may be based on empirical data, Mankins' personal tastes and general life preferences have guided her decision-making since she found out her favorite neighborhood boutique was up for sale 13 years ago. And that's worked out surprisingly well within a landscape where brick-and-mortar retail is known to be struggling — and not just department stores: C. Wonder, Kate Spade Saturday, Bebe, and most recently Kit and Ace and Steven Alan, represent a wide range of retail concepts that have floundered.
"It's been very organic and it's been very slow," explained Mankins when I asked why Bird has been something of an exception. "Bird opened its first store in 1999; it's almost 20 years old and you look at a lot of other brands who get investment backers and they're four years old and they open 40 stores and it's all sort of based on these projections of future clients and future sales and then it doesn't pan out, and to me that's not surprising." Her business model is simple: While some retailers's storefronts function more as marketing than places that actually generate sales, she requires that every store be profitable. "I think there's been this idea that you can run things and they don't have to make money and then you're going to miraculously make that money somewhere else. That's my basic assessment of other attempts to be in this business," said Mankins. "Every store has to stand on its own for it to make sense, for it to be a viable business." She describes Bird as a "labor of love" and says she's "not trying to do some big explosive growth and sell the company and make a billion dollars."
"I do it because I love my designers; I love my customers; I love my staff, the different levels of community that I've been a part of building and that I get to engage with on a daily basis is I think what sustains it for me in terms of just my interest, but also why it works [as a business]," she added earnestly. Though the stores may lack (and probably don't need) some of the technologically advanced features and Instabait "experiences" some retailers are coming out with these days, Bird has a strong e-commerce business, which Mankins says she plans to focus on more. 
In 2015, she launched something of an in-house label, an important component for boutiques like Bird (Steven Alan is pivoting its business to focus more on its own), but kept it small: just a few "buy now, wear now" summer dresses, a style that can be difficult to find when it's actually summer. She might start doing an additional range in the winter, she says. "Everyone says 40 percent of your business should be your own brand and I'm like, 'I don't think that," she said. "I'm never not going to want to buy all these amazing things that other people make."
As for what's next, Mankins, as usual, doesn't have any definitive plans but says her next store is more likely to be in LA, probably Downtown, than anywhere else, largely because she just "loves visiting" the city, though she also recognizes the business opportunity. "I'm interested in how this West Coast expansion elevates our brand to sort of a national brand, where people from a lot more areas who visit LA can have this experience that then can follow us online," she noted. 
Mankins rightfully feels confident that her organic approach to expansion will continue to work as it has. "As long as we have that commitment and focus to the product and to our clients, that's not going to go anywhere anytime soon," she said before stepping towards the wall of the store's dreamy shoe room to knock on wood. I observed that she has a lot of wood to knock on as we both seemed to silently wonder if the wood was, in fact, the secret to her success. "Maybe that's why I surround myself with it!" she joked. 
See more of Bird's Culver City location in the gallery below.
Want the latest fashion industry news first? Sign up for our daily newsletter.