Chanel Built an Ancient Grecian Temple for Its Very Literal Cruise 2018 Collection
Karl Lagerfeld brought the Greek countryside to Paris's Grand Palais for a runway show complete with Hellenistic ruins, Mediterranean flora and plenty of gladiator sandals.
Karl Lagerfeld hasn't yet met a far-flung locale from which he can't draw inspiration — especially in regards to Chanel's cruise collections, most recently set in Havana, Seoul, Dubai, Singapore and the French Riviera. Last May's Caribbean-infused extravaganza in Cuba spared no detail; Chanel flew in 700 people for an event that was more street party (at the historic Paseo del Prado, no less) than runway show, with a collection that matched its zest. How could the French design house one-up itself — again — this year?
Well, it wouldn't, at least in terms of location. Chanel's Cruise 2018 show, held on Tuesday at Paris's Grand Palais, was its first cruise presentation held locally in a number of years. But what the show lacked in destination, it certainly made up for in its theme — ancient Greece — which, per Lagerfeld tradition, was exhibited in every facet with striking accuracy.
Surely one of the elements Lagerfeld most enjoys about the Grand Palais is its transformative nature, fully serving as a blank canvas upon which he can thrust brasseries and grocery stores and a functioning spacecraft. This time, Chanel brought the ancient Greek countryside to Paris, erecting the ruins of a full-scale Hellenistic temple, complete with period-appropriate Doric columns and Mediterranean flora that included olive trees. Even the painted backdrop, which used perspective to position the "temple" above a body of water, was done with painstaking detail; such sacred structures were often built on top of hills, so somebody at Chanel did their research.
Just as Chanel's Cruise 2017 collection evoked (at times cheesy) Cuban silhouettes and motifs, this range was even more literal. Floor-length Grecian-style gowns came in laurel wreath-printed silks and toga-style linens, while house tweeds were made more Hellenistic with bright baubles and beading. The accessories did more to further the theme than anything else: Jewelry was worn in excess, with gilded headbands, butterfly hair clips, arm bands, bracelets, waist belts and layers upon layers of authentic necklaces; some models carried circular handbags adorned with similarly gilded motifs, like owls and olive leafs; and, of course, every model wore a variation of knee-high platform gladiator sandals in a rainbow of colors.
But will this collection, when detached from its exaggerated styling, sell? It's a question you have to ask for anything this hyper-literal. But if Chanel has mastered one thing, it's the art of aspiration: If you can't land yourself a plane ticket to Athens or Delphi, wearing the right clothes are the next best thing.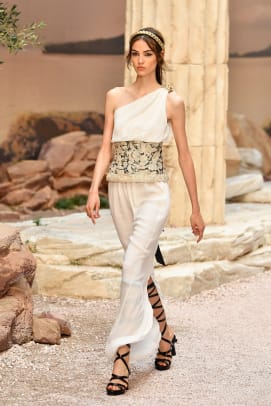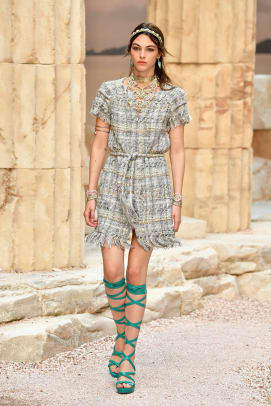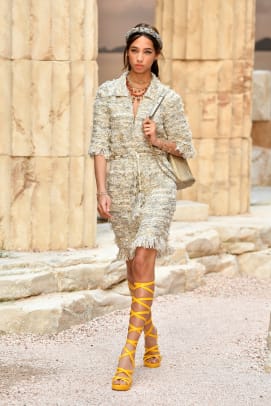 Never miss the latest fashion industry news. Sign up for the Fashionista daily newsletter.