Hip, Hawaiian Shirt Brand Double Rainbouu Is an Australian Label to Watch
How two former "Ksubi punks" are building a brand on the beachwear staple — and have found a fan in Justin Bieber.
Hawaiian shirts are having quite the moment in the sartorial spotlight, thanks in part to one Harry Styles (who is partial to the Gucci variety) and luxury label Saint Laurent, whose colorful options seem to sell out every season despite their $800-plus price tags. The vacation staple — well, the non-designer type, at least — is the epitome of fun, accessible aspiration: While you might not have a beach trip planned anytime soon, just throw on one of these babies and you immediately feel ready to hit up the nearest outdoor bar, shoot some tequila and dance the night away.
Perhaps this is why the hippest, largest crowd I encountered at Mercedes-Benz Fashion Week Australia was outside of the Double Rainbouu show — a unisex label centered around the Hawaiian shirt, with the apt tagline "resort wear for beach babes and pool punks." In fact, the runway presentation was of such high interest that it far surpassed capacity, leaving my American colleagues and me kneeling by the exit door. The Resort 2018 "Day Break Moon Club" collection captured the spirit of hedonistic summer holidays, thanks to models pushing stereo carts blasting rave music, wearing psychedelic hippie prints, acid brights, furry sandals, oversize knits and graphic tees. It wasn't conceptually groundbreaking, but it was cool — and just the kind of label I'd expect to see flourishing out of surf mecca Sydney.
Started by Mikey Nolan and Toby Jones — the former creative and art directors of cult Australian denim label Ksubi — in January 2016, Double Rainbouu was founded to fill a hole the duo saw in the market. "We were on a work trip doing some research in Bangkok markets and seeing all these Hawaiian shirts, and we just felt that no one was doing them in a fun, contemporary way," Nolan explains of the brand's beginnings. "It's also a funny little niche." 
The young line is very "Australian" in that it's relaxed (in both vibe and silhouette), super-comfy thanks to its soft fabrics, and, as Nolan puts it, "lounge-y and beach-y." Plus, it's meant for daily wear (Hawaiian shirts start at $175) regardless of whether you're on vacation. "A lot of people envision [Australia] as an aspirational holiday, and our line is more grounded in everyday life," he says. "Many of us live on the coast — it's not a 'paradise' kind of ideal; it's not this Tumblr dream; it's just what we wear."
Currently, the United States is Double Rainbouu's largest market, with top-tier stockists that include Opening Ceremony, Barneys New York and Revolve. Nolan says that online sales are 50/50 men and women, but in the U.S., certain unisex styles are more popular among the ladies. "We get the girl who dresses a bit boyish anyway... the Hawaiian shirt is a slim fit, and the long-sleeve version is longer in the back so girls can wear it over a bikini at the beach," he explains. For Resort 2018, the label introduced a female-specific style for the first time — a beach kimono — as well as knits in collaboration with Woolmark. The founders are trying to keep their offerings as non-seasonal as possible, too, for ease with deliveries on opposite hemispheres. 
When it came to expansion, adding new items came about organically. "As print designers, what do we want to do? What are people willing to wear loud color in," Nolan says. "Definitely swimwear, Hawaiian shirts and board shorts, but people want to have a bit of fun in winter with knits — and we don't want to drop off [shelves] in the winter." Plus, with shades of cherry red, lemon yellow and a cobalt blue, they're a far cry from the usual black and gray New Yorkers turn to. "We call it 'seasonal mood enhancement'; when it's a bit drab in winter and you want to throw on a bit of color, or for a cooler night at the beach." 
Nolan and Jones do everything themselves, including their cheeky Instagram page, in which they Photoshopped Justin Bieber — who wore one of their shirts while riding a camel with a pal in Dubai — onto a banana opposite a candy floss rainbow, among other things. "It threw me into a bit of a spin — you can't make that up! Bieber on a two-humped camel? That's just hilarious!" The duo didn't gift the shirt to Bieber, but they'd like to get him more. In addition, Nolan has a couple of other celebrities he'd like to outfit in Double Rainbouu in the near future. "I want to get Rihanna in a head-to-toe lounge-y look," he admits. "And I should also try to get Harry Styles's number." Uh, same. 
Browse the Double Rainbouu Resort 2018 collection in the gallery below.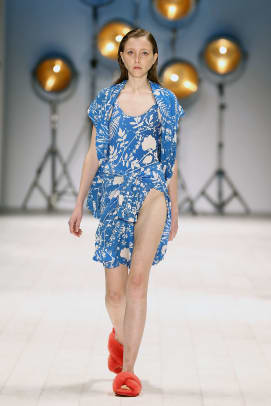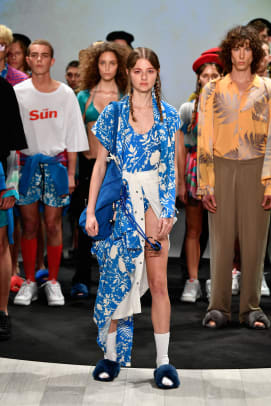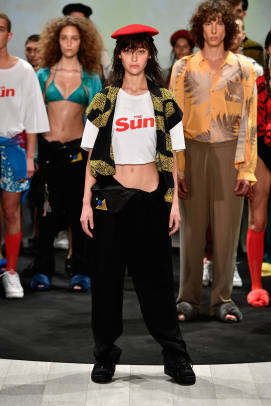 Disclosure: Mercedes-Benz Fashion Week Australia provided my transportation and accommodations to cover the event.
Sign up for our daily newsletter and get the latest industry news in your inbox every day.