What It's Like to Cover the Met Gala Red Carpet, According to a Photographer
Imagine being on your feet for hours with almost 35 pounds of camera gear while dressed in a tuxedo.
New York-based (by way of North Carolina) photographer Stephen Lovekin got his start in the entertainment industry at MTV as a scenic artist working with production designers. Photography was only a hobby until he eventually started shooting the sets full-time for the television network. In the mid-'90s, he met Patrick McMullan (of nightlife photography fame), whom he ended up working with for several years, followed by a decade with Getty Images. For almost the last two years, Lovekin has been covering events and red carpets for Shutterstock, working on at least three or four assignments a week.
Ahead of the Met Gala, we took the time to chat with Lovekin about how he manages to capture every celebrity who steps foot on one of the biggest, most-watched red carpets of the year. (The veteran photog says the Met Gala rivals the Oscars and is by far the biggest event in New York City.) Read on to find out what he brings with him on the job, how it's different from shooting a runway show and what's with all of the shouting at celebrities. 
How would you compare shooting runway shows to the red carpet?
It's similar in that you're crowded into a pack of photographers. Runway doesn't last as long as the entire Met Gala. Normally, you're trained on the model coming down the runway and you just lay on the shutter and you shoot. With the Met Gala, it's a much more physical effort. You're bending and changing cameras. When you're doing the runway, you have one camera and one setting and you're locked into one specific spot. With the Met Gala, you have two or three cameras on you and you're shouting at the top of your lungs and trying to get different angles.
What type of gear do you bring with you?
I'd say it's 30 to 35 pounds of gear, about three camera bodies, around four lenses and at least two flashes — always one for backup, so sometimes three flashes. Twelve AA batteries, along with a battery pack and an extra for the flash. A laptop, cards, filters, there are all sorts of little accoutrements that go with it, like attachment cords. It definitely adds up. I've switched from a backpack to a rolling bag, let's put it that way.
What do you wear?
At the Met Gala, it's a tuxedo because all of the press wear black tie. I have to emphasize very, very comfortable shoes. I have a pair of these really comfortable Clarks. They're deceiving because they look very dressy but they have amazing gel insoles. It's important for standing up for so many hours.
How do you get a good spot on the red carpet?
You do have an assigned area with the Met Gala. Before the event, your name is called and you go in as a group, usually of six or seven photographers, so you sort of scramble to get the best spot out of everyone. 
How many photographers are there total?
I would say between 150 and 200 photographers.
So a celebrity arrives on the red carpet, what happens next?
The bigger the celebrity, the more intense the experience, so you always want to have your eye to wherever they are and you want to start shooting immediately. You try to get them at as many different angles as you possibly can. You go in for the details, the hair, the makeup, the accessories and then you get the standard industry bread-and-butter full-length fashion photo. Once you get a headshot, three-quarter and full length — and if you have the time, which at the Met Gala, it's hard to do this — you can get creative with different angles and candid moments. I love getting those.
Do you know who's going to show up in advance?
It's just who shows up.
You don't get any tips beforehand?
You know that Beyoncé and Rihanna always come last to the red carpet. A lot of times you'll get an email from your editor who are looking for certain people, like, 'Hey, Beyoncé is wearing Comme des Garçons. Be sure to get a nice full-length.'
Is that a tip?
Hahaha. I've got no tips.
How do you upload images so quickly online?
Speed and technology is key these days. The camera has a tether port, so it's like a HDMI cable and those cables are all laid out prior to the event. I don't know how many photographers are tethered, it's usually the top couples of agencies that get to do it. Those cables go to an editing room where our editors are on their computers and getting them in real time. As we're shooting 500 images per every 10 minutes, they're getting all of them. They go through and do their edit — pick the ones that are the best, crop them, put in all necessary metadata info and it gets sent out. It's a very fast process.
What time do you usually show up to the Met Gala and then wrap up?
I get there somewhere around 4 p.m. and you're ready to leave the carpet by 9 p.m., so it's about five hours.
Has the red carpet environment changed over time?
The technology is the most noticeable. I would also have to say the amount of photographers that are now at carpets. It's almost tripled or quadrupled to what it was 15 or 17 years ago. You have bloggers, people shooting with iPhones and so on and so forth. It's definitely more crowded, but it makes it more interesting.
You mentioned earlier that you're "shouting at the top of your lungs" on the red carpet. What's up with that?
It's just trying to get their attention. At this point, you try to be as polite as you can. I'm not a huge fan of the yelling. It is a necessary evil as we'd like to say, but it just has to be done.
I don't think anybody else does this, but several years ago — this was prior to a "Harry Potter" premiere — my son, who was very young at the time, had a novelty ring that had a lot of blinking lights, and he gave it to me and I put it right below my flash. So it's all these colors blinking all at the same time. When a celebrity sees that, it's something different in a sea of photographers. At the premiere, Daniel Radcliffe sees it and goes, 'What's that? That's bloody brilliant. I love that.' So he comes up with Emma Watson and they talk to me about this little blinky ring, so I might be using it this year at the Met Gala. We'll have to see.
See a few of Stephen's favorite photos from the 2016 Met Gala red carpet in the gallery below.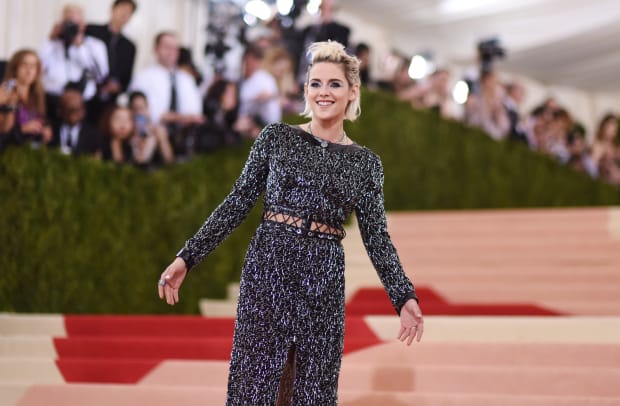 Want more Fashionista? Sign up for our daily newsletter and get us directly in your inbox.