Situationist Is a Tbilisi-Based (and Bella Hadid-Approved) Label to Watch
Demna Gvasalia may have put Georgian fashion on the map, but he's paved the way for other emerging designers like 26-year-old Irakli Rusadze.
What do Bella Hadid — the raven-haired model, social media queen and international "It" girl — and Guara, a 60-something seamstress from a sleepy Tbilisi, Georgia, suburb have in common? That would be Irakli Rusadze, the 26-year-old designer behind edgy Georgian label on the rise, Situationist.
Hadid is a fan of the brand, and Guara is the exacting master pattern maker who's spent the last six years teaching Rusadze her craft. The designer, who began working out of his apartment at 13, got his first big break at 25 when he was invited to show his label at Mercedes-Benz Fashion Week Tbilisi. A mere two years after launching his brand in 2015, Hadid is a devotee, London's legendary fashion critic Hilary Alexander is singing his praises and the Italians have their sights on him. Yet, in spite of his newfound success, Rusadze confesses he's still afraid of Guara. "I have so much respect for her. Every time I go to her house, I'm a little nervous."
Situationist is one of the few internationally known labels from the small nation nestled in the Caucasus mountains near the Black Sea. Of course, there is that other Georgian: Hometown hero Demna Gvasalia of Vetements and Balenciaga fame. He no doubt put Georgian fashion on the map, but as MBFW Tbilisi entered its fifth season this May with its Fall/Winter 2017 runway shows, it became clear that a new class of designers is gaining recognition.
"Fashion is a new language of global diplomacy, as well as national branding," says Stephan Rabimov, Director of Fashion Journalism at the Academy of Art University and founder/editor-in-chief of DEPESHA magazine. As someone who has followed Georgia's nascent fashion industry from the start, Rabimov sees great potential in this market. "Every season, a wave of local designers is helping Tbilisi cement its status as a regional fashion capital."
Among the standouts is Rusadze, a self-taught designer known for his technical prowess and one of the few who still does his own pattern making, cutting, sewing and tailoring. His Fall/Winter 2017-18 runway show was one of the most highly anticipated of the week — and it didn't disappoint. Harnessing a tough yet tailored '90s streetwear vibe, there were plenty of gorgeous leather pieces, sweeping floor length trench coats, sophisticated oversized jackets and fitted leather jumpsuits. 
"I thought it was strong, it was powerful," says Alexander, who reigned at London's Daily Telegraph for 26 years. "He didn't take any prisoners."
Rusadze grew up in Georgia under the Soviet occupation surrounded by women who struggled to keep food on the table and their families together. Their daily difficulties deeply affected him and continue to influence his designs today, as his work is a tribute to strong women. "For me the concept of femininity is closely connected to inner strength," he says. "My clothes are not really about the shape of the body; they're about the shape of the personality."
So what does a strong woman look like to this modest, soft spoken designer? "She's a grown up," Rusadze says definitively. "She's educated and successful in whatever she chooses to do. She's not necessarily 'beautiful' by mainstream standards, or slim or young or any of that. And she's not pressured by society to choose a family or career. She makes her own choices."
As for what lies ahead, Rusadze is eager to develop his brand and break into a global market. "We are getting orders from concept stores, and whatever money we make goes right back into the next collection," he says. "But it's a young market... there is no industry here that teaches you how to do it. I'm learning along the way."
Sofia Tchkonia, the executive producer of Mercedes-Benz Fashion Week Tbilisi, knows all too well that the real challenge for Georgian designers begins after the clothes are made. Tchkonia was instrumental in inviting international media and buyers to MBFW Tbilisi, and is now focusing on bringing those brands to the international market. "My dream is to open a center for studies — not a school, but an educational facility for young designers," she says. "It's important because designers get to a certain point where they don't know the things they need to know [to run a business]."
Until there is a more established way for promotion, young designers continue to toil away, indulging fantasies that one day a celebrity, editor or influencer is snapped in a game-changing photo op wearing a piece from their label. Enter Bella Hadid: When she chose a black leather jacket by Situationist for a dinner in Paris this winter with Kendall Jenner and Riccardo Tisci, the media response was the equivalent of a full page ad in a glossy magazine — except that it was free. Photos of Hadid surfaced on numerous blogs, and articles about her look appeared on both Vogue.com and The Observer.
Hadid discovered Situationist on Vogue.com and asked Rusadze to send her five looks. "It was such a happy day, and it just came out of the blue," he says. "The most flattering part was that it was Bella who asked for it, not her stylist." 
Within weeks, Rusadze received a call from the organizers of White Milano, the influential Italian trade show, and was invited to present his fall collection. White Milano organizer Massimiliano Bizzi, who has invited Rusadze back in September, told NowFashion, "White is all about pushing the envelope with contemporary designs and designers. We travel the world looking for people like him." This is a compliment that isn't lost on Rusadze. "It was a great experience to work with such professionals, one that I will draw on for the rest of my life," he says.
Browse the entire Fall/Winter 2017 Situationist collection in the gallery below.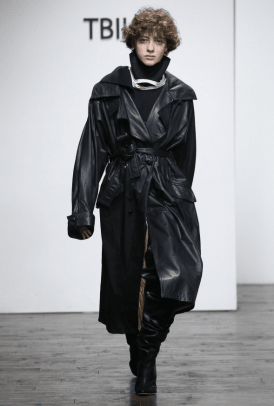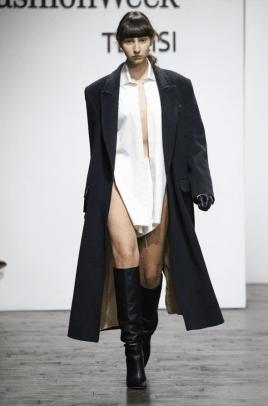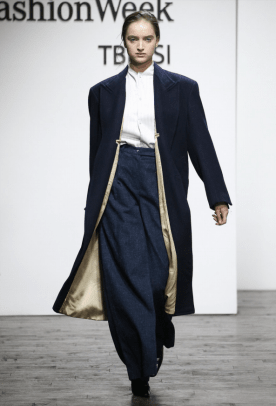 Want more Fashionista? Sign up for our daily newsletter and get us directly in your inbox.