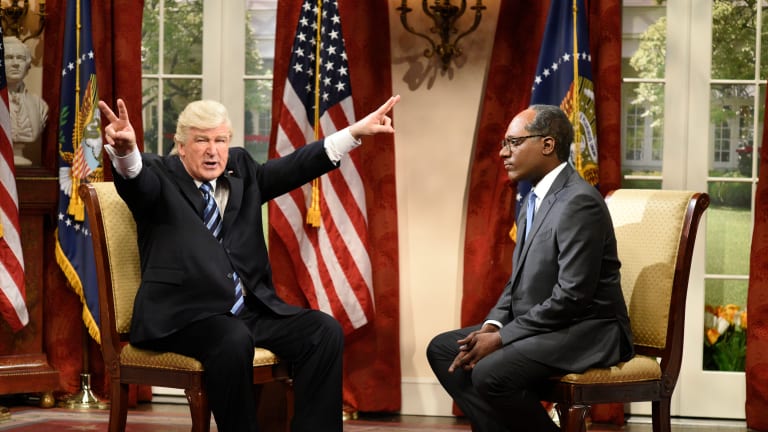 How Costume, Hair and Makeup Help Spoof Donald Trump on TV
"It's always a tricky fine line of doing a nod to the thing, as opposed to hitting it with a hammer," says "Saturday Night Live" costume designer Tom Broecker.
We're just barely 100 days into Donald Trump's presidency and, to quote politically vocal actor and writer Kumail Nanjiani on last week's particularly excellent episode of the "Lovett or Leave It" podcast, "We've lived like, 10 years in two months." But there's a silver lining because those unhinged tweets, world-roiling foibles and unprecedented what-the-fuckery present endless amounts of comedic fodder.
Of course, there's a challenge in riding that fine line of satire and political commentary, particularly when characterizing Trump's appearance — and especially when the headline-grabbing wardrobe habits of the preceding POTUS topped out at dad jeans and a fit physique in swim trunks — because #45 rocks a distinctive aesthetic of Italian suiting begging for a tailor, enigmatic hair and a regular Sunday golf routine-tanned visage. 
"It's always a tricky fine line of doing a nod to the thing, as opposed to hitting it with a hammer," says Tom Broecker, longtime costume designer on "Saturday Night Live." He — along with fellow Emmy-winning team members, costume designer Eric Justian, hair designer Jodi Mancuso and makeup department head Louis Zakarian — help perfect Alec Baldwin's popular (well, to some of us, anyway) take on the commander-in-chief on "SNL." 
While the long-running series airs its season finale on Sat., May 20, another faux Trump just hit the small screen as writer and actor Anthony Atamanuik brings his impression to "The President Show," which debuted in April on Comedy Central. Kind of like a "Da Ali G Show," the weekly late-night series features Atamanuik's Trump interviewing guests like Keith Olbermann and activist Linda Sarsour, with the help of costume designer Nina Schelich, department head hairstylist/wigmaker Bettie O. Rogers and head make-up artist Tom Denier. (Rogers won and Denier was nominated for multiple Emmys from their time on "SNL.")
"SNL" and "The President Show"— and their respective Trumps — are very different (as Baldwin and Atamanuik have both acknowledged in their own ways), but the two shows offer an interesting dive into how costume, hair and makeup can all create pitch-perfect political satire in this crazy, crazy world. And spoiler: These behind-the-scene talents are just as sharp and hilarious as their on-screen colleagues.
The Suit: "Trump looks like he bought it off the rack."
Finding the right fit — or right ill-fit — was integral to making sure those navy suits are distinct to the Trump persona. For accuracy's sake, Broecker first tried Trump's favorite label, Brioni, on Baldwin. "But on Alec, it looked too good," laughs the costume designer, who also worked with the actor on "30 Rock."
Broecker then moved from the slim Italian fit to "a sort of standard-issue, middle-of-the-road American" silhouette by Hart Schaffner Marx. Broecker only shortened Baldwin's suit sleeves to ensure the French cuffs on his white Brooks Brothers shirt stick out to the maximum. Justian reveals that the actor wears padded sweatpants under his trousers and a fat pad on top to mimic Trump's physique and help him "sit on every chair like it's a toilet."
On "The President Show," Atamanuik wears two custom-engineered padding layers by Schelich. First, there's a "body-forming under-suit" with various "fat pockets" augmenting the stomach, chest, arms and hips. "Just so we could get the softness to the body that would look as real as possible," she says. Then comes a Spanx-like layer of mesh and spandex skin for smoothing. She also puts lifts in the slightly shorter comedian's shoes, which all help Atamanuik pitch forward into a hunch and establish the Trumpian posture . 
"Trump looks like he bought [his suit] off the rack," Schelich says, so she went with "a not very expensive suit" from Macy's, complete with too-long pleated trousers for a baggy fit and bunchy waistline. She also shortened the suit sleeves to expose and extend the French cuffs past the wrist.
"One of the points that Anthony [Atamanuik] was very adamant about was: This is not a cartoon. This is a realistic rendition of this person that we can accomplish," says Schelich. "We didn't want it to look like a joke; we wanted it to look like the real thing." (And it worked, considering that Atamanuik and the team recently fooled Twitter with a video of a little girl telling off what some thought (or hoped) to be the real Trump.)
While Schelich meticulously analyzed photos to research Trump's wardrobe and stance, Broecker was privy to a more hands-on analysis when the supposed-billionaire controversially hosted "SNL" in 2015. "I worked with him during the week that he was there," the costume designer says. "So I knew what he suits he wore, how he liked to wear them and how his body is." 
Broecker, who's been on the "SNL" staff since 1994, even managed to convince the creature of habit to momentarily venture out of his sartorial comfort zone. "Melania was like, 'Hey, I like the way that suit fits,'" he says. "But he went back to his old Brioni suits." 
The tie and the flag pin: "It's just a little Easter egg."
A Trump outfit isn't complete without the overly long tie, and Schelich found that — unlike the suit — Brooks Brothers fit the bill. "They just happen to make a beautiful red silk extra-long tie that is not super bright so that on camera, it reads well," she says. For those rare moments she needs to secure it, she doesn't reach for the Scotch tape. "I use top-stick," she says.
"Sometimes it's a Brioni tie. Sometimes it's a Donald Trump tie," says Broecker. Of course, his choice also depends on whether or not the script calls for lampooning a real-life situation or making one up, like a visit to "The People's Court."
"SNL" also had a little fun with Trump's patriotic flag pin, trolling the administration's supposed Russia ties. "It was one of the writer's ideas, and so we've just been sticking with it," Broecker says. "He wears a Russian flag pin now instead of an American flag pin. It's just a little Easter Egg thing for those people who are really really paying attention."
The makeup: "Make his mouth look like a butt-hole."
Mimicking Trump's face is more than just finding "the right shade of orange and fun-filled white around the eyes," as "SNL"'s Zakarian put it — although that itself is a process. (Crazy eyebrows help, too.) Neither actors wear prosthetics to aid their impersonations, although Atamanuik tried.
"Anthony didn't like the way it felt and he was already emoting those 'Trump-isms' in his face," explains Denier, about those facial scrunches that bear resemblance to a baby sucking on a lemon; he uses strategic application of alcohol-based airbrush colors in various shades of orange to enhance the expressions.
"Anthony goes, 'Don't forget around the mouth, because the mouth really gives him...,'" pauses the makeup artist, who then laughs. "For lack of better terminology, he said, 'Make his mouth look like a butthole.'"
Baldwin wanted his face "bright, bright orange," but Zakarian toned it down in the name of "realism." For his dialed-back blend of l'orange, Zakarian formulated a technique of two cream foundations, a layer of Clinique Stay Honey pressed powder and a final mist of his proprietary color blend of Skin Illustrator HiDef Matting Spray. To finish, he works his magic to heighten Baldwin's sour-lemon contortions, which accompany those Trumpian smell-the-fart-esque pauses or "puffs," as the actor calls them. 
"Once [Baldwin] starts to scrunch his face — because as soon as you start putting the makeup on, he starts making that face — I'll go in with some powders and highlight and shadow certain areas," says Zakarian. "When you look straight on, it doesn't really show, but as soon as he makes that expression, that shadow syncs and the highlight pops and it helps with the whole overall look." (And, yes, they're "constantly laughing" backstage.)
Trump's ghost white rings around his eyes have also proven a challenge for both makeup teams. Zarkarian devised a way to smoothly integrate and feather the contrasting shades. "Well, as well as white and orange will blend," he says. 
Meanwhile, Denier pulls a bit of a MacGyver. "I hand [Antamanuik] these goggle-like sunglasses that I've had for 25 years and he throws them on his face and he sits there, usually while he's doing some conference call, and I'm spraying his face. Then he pulls the goggles off and he's got those rings around his eyes," the makeup artist laughs. "Then I go in with white and punch it up even more."
The cause of Trump's own raccoon rings remain shrouded in secrecy. "I actually heard through the grapevine that Trump himself doesn't like to have makeup around his eyes," he says. Zakarian has also heard the rumor and confirms Trump brought his own makeup team to "SNL." But the artist did take the opportunity to take some "mental notes."
The hair: "Obviously, it probably takes him a minute."
The hairstylists might have had to engage in the highest level of painstaking analysis, however. Because like the Lost Colony of Roanoke and Jimmy Hoffa's final resting place, Trump's swooshy coif and styling technique is one of the biggest mysteries in American history. "Obviously, it probably takes him a minute [to do his hair, but] it took me almost 24 hours to figure out what is happening," says "SNL"'s Mancuso, who couldn't help but study the man in person on set in 2015.
"All I did was stare at his hair and makeup," she says. "Basically, just trying to get every angle, every different lighting situation that he's in; just to get the best color reference." She also watched tons of video footage, which there's a lot of, and "constantly, constantly, sadly" looked at photos. From there, she developed the theory that Trump is thinning on the "middle-top crown" of the head, which creates the low "swoop" in the front, hence giving her a template for the wig, which was maybe too skillfully done. 
"I had to do something yesterday with Alec and he weirdly thought it looked too good," Mancuso laughs. "He's getting to the point where he just wants to make it to look a little bit funnier. So he'll make me make it a little fluffier or a little jokier because it makes him happy."
For "The President Show," Rogers also conducted her own meticulous analysis of Trump's mystery hair. "I now have [the wig] down to six different sections on one head, which is just insane, because it probably takes him two seconds to run a comb through his hair," she says. 
She essentially created puzzle pieces — each with a name, like "the crunch bits," the slicked back sections on the side, the "lid," the "mullet" and "the swatch," which is the suspected combover area. "This is what analyzing Trump's hairstyle does to you," Rogers says.
The wigs also do the job of changing the shape of the actors' faces to look like Trump's and tricking the viewer's eye. Atamanuik's bald cap helps to push his hairline further back and widen his face. His wig, working in concert with the body padding and Macy's suit, somehow shorten the nape of his neck by an inch, too.
As for Baldwin, it's not just his hands (and top of head) that are bigger than Trump's. "I couldn't quite get the sides [of the head] and I realize that Trump has smaller ears," Mancuso says. So she made small adjustments, like the "scoop," of the wig. "I have to cheat things: [go] a little bit lower [or] a little bit over his ear to make it look like it's the same. So you learn that process as you go."
And we have four more years of honing and tweaking the process to go — or do we?
On Instagram, follow Tom Broecker @bro_ker326, Louie Zakarian @louiezfx, Jodi Mancuso @mancuso_hair_wig_design and Nina Schelich @ninaebug.
"Saturday Night Live"'s Season 42 finale airs on Sat., May 20 at 11:30 p.m. on NBC. "The President Show" airs on Thursdays at 11:30 p.m. on Comedy Central.
Top and homepage photo: Will Heath/NBC
Want more Fashionista? Sign up for our daily newsletter and get us directly in your inbox.