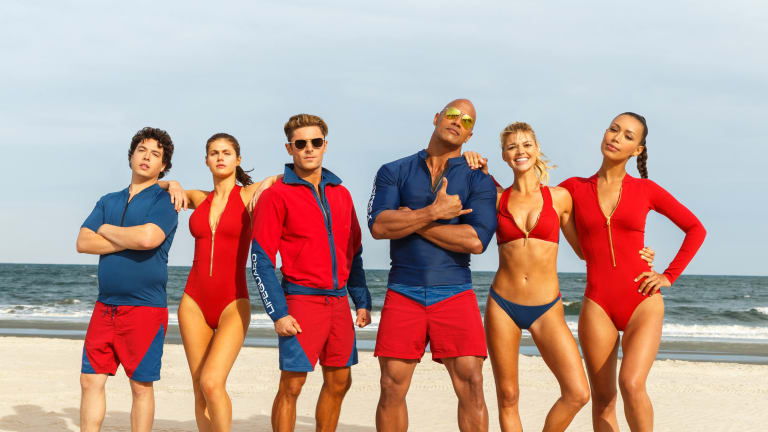 The Rock and Zac Efron Were the 'Perfect Canvas' For the Rebooted 'Baywatch' Costumes
Costume designer Dayna Pink also dishes on updating the iconic red bathing suits.
"I really wanted [the costumes] to be a love letter to beach," says "Baywatch" costume designer Dayna Pink, over the phone from Los Angeles. "I wanted to just see these bathing suits — and see these girls and the guys — and want to be there, like you did with the TV show."
For the reboot of the '90s world-wide hit series "Baywatch," Paramount Pictures brought out the big guns for the big screen: possible 2020 presidential candidate Dwayne "The Rock" Johnson, Zac Efron (and his insane abs), Quantico's Priyanka Chopra having the best time ever — and brand new updated versions of the iconic red bathing suits that were made to wear while running on the beach in slow motion.
To bring the beach looks into 2017, Pink looked to both fashion and function, researching current bathing suit trends, but also focusing on performance qualities necessary to "protect the bay at all costs," per Johnson's heroic, yet always overreaching boss-man Mitch. "They are lifeguards," explains Pink. "It isn't just like you're laying on the beach. You have to be able to swim and you have to be able to really move, so it isn't like a little string bikini." 
Functionality is especially key and not just when the Baywatch crew members perform their day jobs, like racing out onto the water to save hot, bikini-wearing ladies in distress on a burning boat. By night, Mitch's team — Olympic swimmer-turned-rookie, Matt Brody (Efron); CJ (Kelly Rohrbach, inheriting the role that made Pamela Anderson famous); capable Stephanie (Ilfenesh Hadera); wide-eyed newbie Summer (Alexandra Daddario) and sweet, earnest Ronnie (Jon Bass) — is also trying to take down baddie Victoria Leeds (Chopra), who is engaging in nefarious deeds on Mitch's bay. 
Luckily, in the 20-plus years since the debut of Anderson's red one-piece, athletic fabric technology has greatly evolved. "The original bathing suit was really small, like if you saw it not on a person, it was just a tiny little thing," Pink says. Taking advantage of fabrics available now, she incorporated thicker and performance-driven neoprene and sturdier zippers into the new designs.
Pink also tweaked each of the characters' swimsuit silhouettes — and zipped, or un-zipped, level — to reflect their personalities and roles in the team dynamic. Mitch's second-in-command Stephanie wears a one-piece rash-guard inspired suit. "Hers is zipped all the way up. She's very buttoned-up and by the book," Pink says. "CJ is fun and wild and cute and crazy, so she actually has a bikini. And when she has a one-piece, it's unzipped a little bit more. She's a little bit sexier." Freshman lifeguard Summer finds her place on the team in a one-piece halter style — modestly unzipped.
Pink also updated the shade of iconic Baywatch red to a more regal, jewel-toned hue. "We made it a lot more ruby and scarlet," she says. "We took some of the orange out of that red and added blue to it." The deeper shade also allowed her to give the guys leeway to mix sporty, pec-clinging blue rash-guards into their outfits. "I just thought the juxtaposition of those colors together was so American," Pink adds. 
She stuck with "classic" silhouettes for Mitch, Matt and Ronnie, but elongated the trunks, which were shorter (and flimsier) back in the '90s; although, "Mitch's shorts are a shorter than Brody's." Pink also conducted thorough wet, dry and movement tests to ensure the trunks stayed commanding and just billowy-enough while in and out of the ocean — and, of course, during those breezy runs on the beach (or straight into the action). Of course, all the lifeguard looks were custom-made, especially for the actors' very specific physiques. (Seriously, Efron's eight-pack almost looks photo-shopped.)
"The men were amazing. It was just the the perfect canvas," says Pink, who also designed the costumes for another ab-tastic movie, Ryan Gosling's "Crazy, Stupid. Love." "It was just adding to that. I didn't have to hide anything or try and disguise anything."
While Chopra's Victoria Leeds doesn't have the opportunity to wear a bathing suit, she does enjoy a very on-point wardrobe of dead-sexy femme fatale dresses that are kind of dry land versions of a "Baywatch" maillot. "She was such a dream to work with," Pink says. "We made [Victoria] really fashion-y, really high-end — even her accessories." 
Victoria's stiletto heels even earned two close-ups of their own, furthering the plot in a couple pivotal scenes. For a later moment in the movie, Pink called on Christian Louboutin to custom-make a pair. "They were silver and sexy and amazing, but up-close, they were spiky just like her," Pink says. The costume designer also custom-created Victoria's silver, off-the-shoulder gown for a showdown moment (shown briefly in the trailer). 
"I created this piece that is attached to the shoulder that blows in the wind, and we slit up one leg very high and she had a gun holster on that leg," Pink says. "So it was all super sexy and shiny. It had a metallic sheen, so when the light hit it, you could really see it and it moved when she did."
You may have noticed that Efron's swimmer-turned-reluctant lifeguard character Matt seems suspiciously similar to gold medalist-turned-'Dancing With the Stars' contestant Ryan Lochte — with his initially douche-y attitude, gelled highlights and diminished career, after an Olympics scandal that doesn't involve destroying a gas station bathroom and faking a robbery at gunpoint. (Efron has smoothly dodged that question.) Matt also has a sartorial trait in common with the IRL two-time gold medalist, in addition to a ridiculous grill: a penchant for wearing questionable denim. Instead of sporting trousers (or a pressed military uniform and flip flops, à la Mitch), Matt wears a pair of patchwork-y jeans during an intel gathering op at one of Victoria's swanky parties. 
"Those were fancy jeans, let me tell you something, those were some serious jeans," Pink laughs, also avoiding any references, sartorial or not, to Lochte. "We went off a premise that [Matt] shows up in town with a backpack, wearing a pair of jeans, and then he had one other pair in his backpack." When Matt is wearing a shirt, he's often seen in a green vintage T-shirt (above, worn with his only other pair of jeans). Pink and her team made approximately 20 versions of the T, due to action scenes in and out of chlorinated water tanks simulating ocean scenes.
But mostly, "Baywatch" is about the beloved beach, so never fear, viewers will enjoy plenty of bathing suit and shirtless Zefron scenes. And to answer your burning question: keeping everything in place was pretty straightforward, especially with the more technologically advanced fabrics and heavier zippers.
"I mean, yes, there's always a top-stick here and there, but we really didn't have to do that much with [the suits]," says Pink. "There were no wardrobe malfunctions."
Follow Dayna Pink on Instagram @pinkthings1 and Twitter @moreacidwash. "Baywatch" opens in theaters nationwide on Friday, May 25. 
Sign up for our daily newsletter and get the latest industry news in your inbox every day.