Valentino's Resort 2018 Collection Was Inspired By 'Hip-Hop as a Melting Pot'
And included some very expensive swim coverups and fur flip-flops.
It is well-known fashion law that if a brand presents a collection inspired by hip-hop, the runway must take place in New York City. Valentino brought its catwalk back to the Big Apple for Resort 2018, an airy space in NoHo providing the backdrop for the deep greens and bright pinks of a collection that was tinged with references to "urban metamorphosis.'
Of course, this is Valentino, which means there were multiple references in the mix. The show notes indicate that creative director Pierpaolo Piccioli was inspired by "the street," engaging in a dialogue with different cultures. To that end, Resort 2018 is about "hip-hop as a melting pot," sporty details and pre-Colombian art. If that sounds like a lot of very different points of influence, that's because it was: The show could have been edited a bit more tightly to provide a more cohesive story.
There were parts of the collection that wouldn't look out of place on Margot Tenenbaum, including one lacy-green dress covered by a fur coat. Other looks got a preppy twist with Valentino's take on the varsity jacket, track jackets and striped socks paired with strappy Rockstud sandals, themselves piped with white leather for a fresh pop. But for the most part, this was another collection filled with what Valentino does best: Ornate embroidery, sheer dresses and gowns, and plenty of Rockstud accessories — including a fanny pack.
The finale look was one of Valentino's signature sheer gowns, layered over a one-piece swimsuit. Considering these gowns can run into the tens of thousands of dollars, it might just be the most expensive swimwear cover up ever shown on the runway. As to whether Valentino can make fur flip-flops a thing, though – that remains to be seen. 
See the full Valentino Resort 2018 collection below.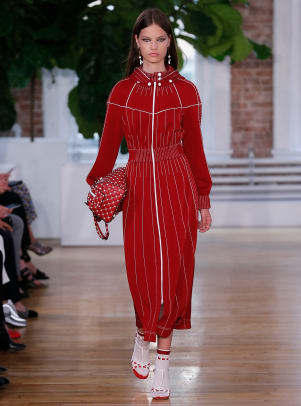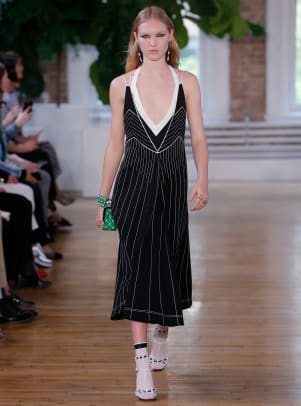 Want the latest fashion industry news first? Sign up for our daily newsletter.