Dolce & Gabbana Casts Corinne Foxx and Lori Harvey in Fall Ad Campaign
More celebrity offspring! More #DGMillennials! Allora!
When Italian maximalist designers Domenico Dolce and Stefano Gabbana aren't busy dressing/fawning over First Lady Melania Trump or staging fake political protests to promote/sell their #Boycott Dolce & Gabbana T-shirts, they're searching the globe for the most attractive, most well-connected up-and-comers of the Millennial generation. Over the past few seasons, their ad campaigns and runway shows have consisted of young creatives, influencers, musicians, actors, celebrity offspring and even some literal royalty — some of which are so new on the scene that we had to make ourselves a glossary of sorts to keep them straight. 
While the house certainly has its favorites (YouTube heartthrob Cameron Dallas and Kanye West and Virgil Abloh protege Luka Sabbat, for example), it's introduced some new faces for its Fall 2017 ad campaign — titled #DGPalermo — who, though you may not know by name yet, have very famous parents you'll certainly recognize.
Shot in the Sicilian city of Palermo, D&G's newest Millennial-heavy campaign stars Lori Harvey, the stunning 20-year-old daughter of Steve Harvey (whose wife Marjorie is one of Fashionista's favorite street style stars) in her first-ever campaign; she walked the Fall 2017 runway in Milan alongside her mom, her sister Amanda and her brother Jason. In addition, Corinne Foxx, the 23-year-old daughter of Jamie Foxx, poses for the first time, as does 20-year-old Princess Maria-Olympia of Greece and Denmark (quite the mouthful, isn't it?). To round out this season's crew, Brandon Thomas Lee, Austin Mahone, Sonia Ben Ammar, Chinese actor XueDong Chen, plus-size model Alessandra Garcia Lorido and Lady Amelia Windsor (daughter of George Windsor, Earl of St. Andrews) all make appearances as well. 
I will not pretend I knew who any of these people are before heavily Googling and/or Insta-stalking them for far too long, but what I do know is this: they're a great looking bunch with a hell of a lot of followers who will likely help to move a significant amount of Justin Bieber T-shirts.
See more images from the Fall 2017 Dolce & Gabbana campaign in the gallery below.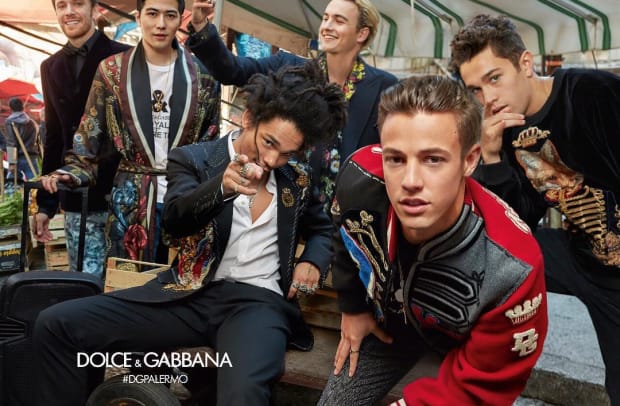 UPDATE, June 26, 12:34 p.m.: Dolce & Gabbana released more pictures from the campaign this weekend via Instagram. Check out all the new images below:
Want the latest fashion industry news first? Sign up for our daily newsletter.