Hillary Clinton's Nephew and Pippa Middleton's New Brother-in-Law Among the Newest #DGMillennials [Updated]
Dolce & Gabbana has introduced us to more celebrity-adjacent young people than we can even keep straight.
Scroll down for updates to this story.
Just when we think Dolce & Gabbana has stretched this millennial marketing strategy of hiring young, social media-savvy influencers as models as far as it will go, the brand outdoes itself again. On Saturday in Milan, the Italian luxury label staged yet another #DGMillennial men's runway show and somehow found even more celebrity-adjacent kids to walk in it, many of whom have backgrounds in politics and royalty. After lots of social-media stalking and Googling, we compiled some highlights:
Perhaps most notably, Tyler Clinton, the 23-year-old IMG-signed nephew of Hillary and Bill, made his runway debut at the spring 2018 show. So did 27-year-old Spencer Matthews, Pippa Middleton's new brother-in-law and former star of "Made in Chelsea."
Farren Fucci, the 25-year-old Wilhelmina-signed stylist who basically created a career for himself on social media, also made his runway debut. Not only that, he helped cast, style and even inspired some of the looks in the show, he said on Twitter. NBD.
Though he was already a model, 23-year-old Younes Bendjima has enjoyed newfound tabloid fame after hanging out with Kourtney Kardashian at this year's Cannes film festival.
The show also shed a spotlight on a Cyrus: Braison, a musician and Miley's brother. Snoop Dogg's son Cordell Broadus, who recently unveiled his own clothing line with Joyrich, walked as well. So did Dylan Brosnan (son of Pierce), Diggy Simmons (son of Russell), Christian Combs (son of Sean), Roberto Rossellini (son of Isabella), Tuki Brando (grandson of Marlon), Miles Hurley (nephew of Elizabeth), Toby Huntington-Whiteley (Rosie's brother), Chase Hill (Taylor's brother), YouTube star Rudy Mancuso, YouTube star Anway Jibawi, YouTube star Marcus Butler, YouTube star Juan Pablo Zurita, Vine star Nash Grier, Chinese actor and pop star Karry Wang, young photographer Damon Baker, young interior designer Luke Edward Hall, pro skateboarder Ben Nordberg and NYC Ballet dancer Alec Knight. Phew! 
That's not all, though. Among the royalty walking the show were Theodore and Melusine Ruspoli, a Roman prince and princess, and Princess Olympia of Greece.
That was all on top of familiar millennial faces Luka Sabbat, Presley Gerber, Rafferty Law and Sophia and Sistine Stallone.
This time, the millennial messaging carried over onto the clothing as well. While the theme was apparently "king of hearts," which manifested in a playing card motif seen throughout the collection, the line as a whole was more streetwear-heavy than what we're used to seeing from Domenico Dolce and Stefano Gabbana, who are typically inspired by traditional Italian dress. Loose pajama-like silhouettes, sweatshirts, bomber jackets and jersey-like tops in loud, mismatched prints and patterns featured heavily. Some items even had "millennials" and "#DG" printed on them.
Unfortunately, the collection also featured at least one of those #Boycott Dolce & Gabbana T-shirts and while we weren't there and can't attest to the tone of the stunt, it appeared to end with a model putting his fist up and taking off his sweatshirt to reveal the phrases "Protest DG," "Give Me Freedom" and "I am not your scapegoat" written on his chest.
Check out the full collection in the gallery below.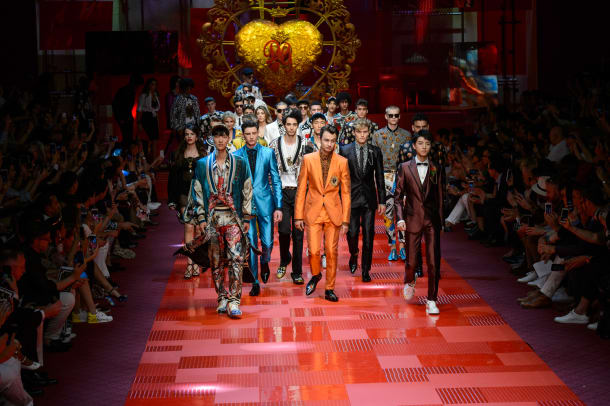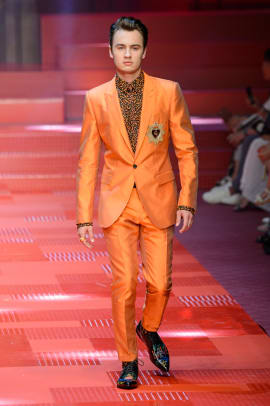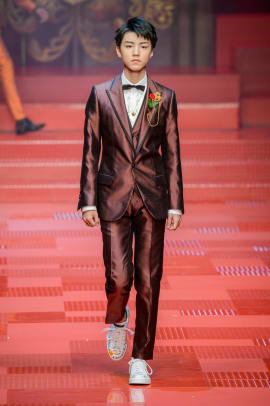 UPDATE, June 19, 1:09 p.m.: We now know more about Raury, the 21-year-old musician pictured above, who staged an authentic protest amidst all the #Boycott Dolce & Gabbana T-shirts. He tells GQ he found out about the T-shirts and the campaign around them by Googling "Dolce & Gabbana" the day before the show, and decided to stage his own protest from the runway. Despite being discouraged by some of his fellow millennials, including Fucci, he says he felt taken advantage of by the brand. "I felt like Dolce & Gabbana was literally trying to use the youth to wash their hands of any sort of heat from anyone who wants to protest against them," he said, adding that after the "reveal," security tried to stop him from leaving. Read the full interview here.
Want the latest fashion industry news first? Sign up for our daily newsletter.