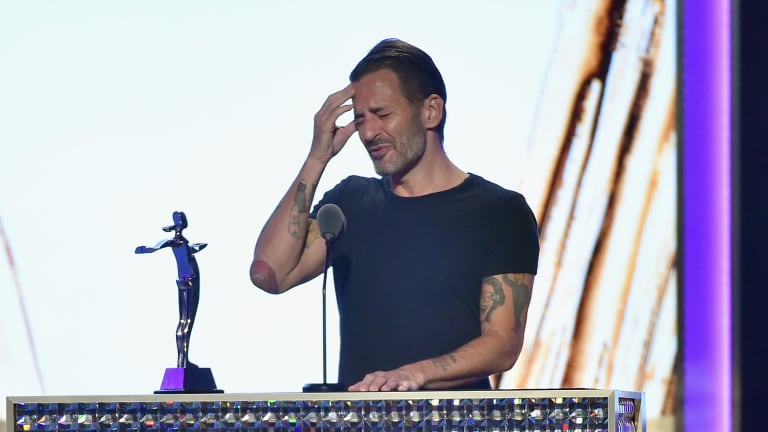 Does the Fashion Industry Have a Gender Equality Issue?
It's time to talk about the "glass runway."
On Monday, the annual CFDA Awards will take place; the highest honor for an American fashion designer, considered the Oscars of the industry. This year, both top womenswear and menswear categories have only men nominated, aside from Ashley and Mary-Kate Olsen for The Row. While this might seem like an anomaly, it speaks to a broader issue in the way men (most often, non-heterosexual identifying men) are often awarded praise and awards over women in the industry — despite fashion still being considered a feminized occupation. 
This is not to denigrate these designers' respective work, the CFDA for uplifting fashion design, or gay men in general — but let's consider the facts. According to statistics compiled in a quantitative study published in 2015 by Allyson Stokes, a sociologist at the University of Waterloo, between 1981–2013, 98 men have received an award from the CFDA, compared to only 29 women. Of these 98 men, 51 have publicly identified as not heterosexual. Stokes began her research after reading a 2005 New York Times article by Eric Wilson asking "In Fashion, Who Really Gets Ahead?"
"That article basically raised the question: Why do we have so many more male designers receiving CFDA awards and, in a way, special treatment, from magazine editors who take them under their wing?" she told Fashionista over the phone. "His article was a bit more of an anecdotal observation — no one had actually done any empirical research to figure out, is this really true? If it is true, why is it happening?"
In her study, Stokes points out 80-90 percent of 2012 graduating students from top fashion programs at the Fashion Institute of Technology, Parsons School of Design and Ryerson University were women. We're all comfortable with the concept of the glass ceiling; Stokes coined the term "glass runway" to address the way gay men are 'pushed down the runway' by receiving legitimation and greater fame through awards and praise in a predominantly female industry.
To begin her investigation, Stokes looked at the way 157 designers were written about in the now-defunct Voguepedia, a curated collection of "the greatest designers of all time — a beautifully rich account of how Vogue magazine understood these particular designers." She also isolated vocabulary used in 96 fashion media articles on male designers, in order to find out how these 'tastemakers' decide how a designer is considered 'good.'
The problem with fashion — as well as art, film, and music — is the lack of objective guidelines around why an object or collection might be considered "great"; there's no rulebook on quality design. While aspects like cultural relevance, historical reference, color treatment, etc., are certainly considered, most opinions stem from uncertainty — this is where gender-based language comes into question.
"There's a ton of research in psychology, sociology and other social sciences that says when people are operating under circumstances of uncertainty or ambiguity around how to evaluate or measure or make a decision, they end up falling back on conventions, stereotypes and traditions to make decisions," Stokes said. "In this case, that seems to be what's happening here."
Language is powerful in the way it shapes our understanding of the world around us and how we create meaning in our lives. When Stokes analyzed her data, she found the language used to describe a fashion designer as "great" relies on gendered stereotypes. Our culture is (still) flooded with these conceptions — men as autonomous, rational, independent, creative and women as quiet, diminutive, calm or unable to fully commit to their craft because of "family duties." "When we use those kinds of terms without recognizing the gender assumptions behind them, we end up (even if we're not trying to) creating an image of what it means to be a great designer that is subtly, implicitly, but definitely gendered," Stokes said.
In Voguepedia, women designers were written about for their practicality and appeal to mainstream consumers — "comfortable" (Sonia Rykiel), "grounded" (Donna Karan). On the other hand, men are described as artists — "soul of a poet" (Alber Elbaz), "the Flaubert of fashion" (Tom Ford). Women designers are trivialized and infantilized — "designer who never grew up" (Betsey Johnson), while men are praised for theatricality — "the mad prince of British fashion" (Gareth Pugh). Her study even points out how Calvin Klein is described as a "boundary crosser," despite the brand's reputation for relatively simple sportswear.
"People in the CFDA, or writing about it for a fashion magazine, rely on this kind of language that already exists around things like art, commitment to your craft, authentic representations of yourself through your art — conventions in art worlds," Stokes explained. "They don't always necessarily realize that this language can be really more favorable towards men than women."
Autonomy and authorship comes into question for women designers, as well. In Voguepedia, Christian Dior is the "dictator of hemlines," while Hattie Carnegie's entry said "there is no Carnegie look. Only the you look" — implying that her consumers give her design meaning, rather than the designer herself. While Alexander McQueen is written about as a "master craftsman," Sarah Burton is "softer" and "calmer." Kate Middleton's wedding gown was famously designed by Burton, but its intricate detail is instead credited to her artisan team at the Royal School of Needlework. Essentially, the 'ideal' designer is gendered male.
New York-based designer Mimi Plange had an interest in design at a young age and felt inspired by architect-turned-fashion designer Gianfranco Ferre to pursue a Bachelor of Arts in architecture at UC Berkeley. In an email interview, she admitted the need to look at alternative paths of success. "I didn't grow up thinking life was fair. I believed in my work and I embrace that I am different. I know that I have something new to say," she said.
She echoed sentiments published in Stokes's research in her experience with editors and stylists, placing emphasis on designer self-presentation and its effect on marketability. "The approach and response to women designers is usually different because it's very much about you as a woman, what you look like above the actual clothes," she explained. In her experience, gay male designers have been described to her as "cool," "awesome," "funny," while their female counterparts are "chic," "prettyf" and "quiet."
Plange also expressed her frustrations around being identified solely as a black designer and the associated streetwear/hip hop-inspired stereotypes the industry pushes forward. "Sometimes it seems that the thought process is that, when black people make clothes, they are only for black people. When you come forth with something different, it's almost like they can't really understand it — and they don't ask."
Stokes plans to address these other intersections left unexplored in her original study. The glass runway certainly gets more complicated when we think about racial barriers, plus-size or fat fashion and work/life balance for mothers in the industry. Gay men have also been subject to discrimination within broader media, often being framed as stereotypes of promiscuity, or single-handedly blamed for the industry's oppressive beauty and body ideals.
But how do we move forward with this insight in mind? According to Stokes, this inequality is not always conscious behavior. "I don't think it's the case that the CFDA or Vogue magazine are sexist organizations," she said. "I don't think anybody who's writing for Vogue is necessarily consciously privileging male fashion designer — [but rather] the way we've constructed our understanding of art; what it is, what makes art great and what makes a great artist or creative person."
The challenge is to spark a conversation on unlearning our biases and preconceived ideas. Social inequality and feminism have been connected to a larger, more mainstream movement in the last few years than ever before. Vogue, the CFDA and writers are crucial in light of fashion's ambiguous value — there's no objective point system here (a financial success is not always a cultural one), except consecration and awards. Becoming self-aware, talking about it, analyzing it and working collaboratively can transform an already inclusive industry into an even better one.
"I used to think about how I was going to present myself or how I would be perceived, but after years of being in this industry, I've kind of rebelled against this idea of being accepted," Plange told me. "If we want something different and we don't see it, we can now create it. If we don't like how others tell our story, we can tell our own stories, that is the world of today."
Want the latest fashion industry news first? Sign up for our daily newsletter.
Homepage photo: Theo Wargo/Getty Images