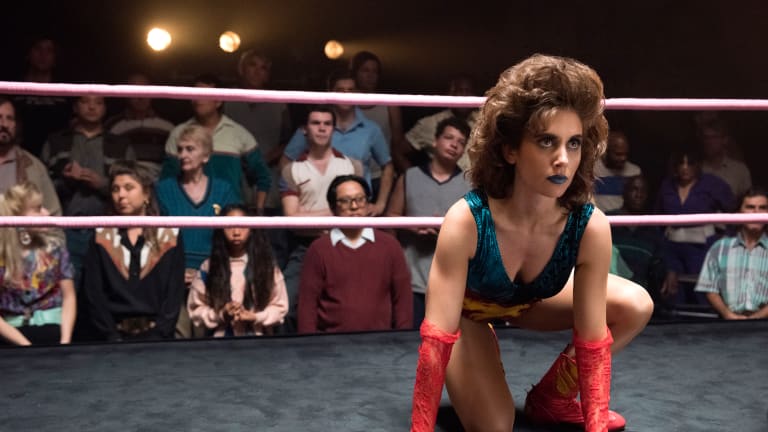 The Mom Jeans and Leotards in 'GLOW' Help to Convey a Realistic '80s Aesthetic
Costume designer Beth Morgan also dishes on her favorite places to shop vintage.
"The most important thing for 'GLOW' was to keep it grounded and real and not have [the fashion] be its own character," explains Beth Morgan, costume designer for the new Netflix series, which debuts in all 10 episodes today. "It's hard with the '80s, like you could always make it a joke." 
And "GLOW," both the real "Gorgeous Ladies of Wrestling" franchise and the small-screen series, is anything but a joke. Both give women an opportunity to embrace and take charge of their own bodies and be loud and heard (something women are still fighting to do in 2017). Along the way, the costumes help tell each character's evolution as GLOW makes it to the analog small-screen in 1986, but without any distraction of throwaway '80s sight gags. 
Telling the fictionalized origin story of GLOW, the series focuses on struggling thespian Ruth (Alison Brie) and her former soap star and best frenemy Debbie (Betty Gilpin), who are both finding their way in their careers, lives and the dynamic society of '80s Los Angeles. Ruth auditions for a role reading the meatier, substantive male character's lines, instead of the decorative female role: "secretary." Stalking a casting director in the ladies' room leads her to B-movie director Sam Sylvia (Marc Maron, who, honestly, was born to wear '80s steez) and his upstart female wrestling project, featuring a diverse group of women (just like the IRL GLOW), including a former stunt performer Cherry Bang (Sydelle Noel), British singer/actress Kate Nash as Rhonda and Tammé, played by real life pro-wrestler Kia Stevens.
To keep the characters' looks authentic, Morgan researched subjects that reflected daily life of the era, like archival JCPenney catalogs, old fashion magazines the women would have read and legit family photos from the mid-'80s. "We didn't want that 'polished ad' look, we wanted 'real life grit' look," she explains. 
Since much of the series takes place in the wrestling ring as the newbies master their moves, the '80s athletic-wear item of choice plays a significant role. "When we look back in 30 years, we're gonna laugh at our yoga pants and sports bras," Morgan explains. "The leotard was that for the '80s. It was just like a very normal outfit people wore to work out in." 
Morgan and her team both shopped authentic leotards of all shapes and sizes, from a myriad of sources, like "the internet," vintage dealers she's met through her work, wholesale rag houses and thrift stores in Los Angeles. She and her team also custom-made pieces when the script called for it, using authentic textiles sourced from Etsy and eBay. "There's something about the grit of an original piece in the '80s fabric," she says. For instance, Cherry Bang's late '70s-throwback (and very excellent) zip-up velour rompers and the graphic tonal blue leotard Ruth wears when she cringingly tries out her first wrestling persona were copied from a mid-'80s JCPenney catalog (at the 1:02 mark). 
The aspiring GLOW ladies are mostly out of work actresses who don't have much discretionary income to spend on their wardrobe. So their costumes are styled eclectically, as young creatives tend to do. "The great thing about the '80s is all this variety and the middle class was still really vibrant," she says. "People were putting their own trademark on things. You can add two other belts; it was about accents. It was figuring out a way to put stuff together." 
Staying true to the scrappy ladies of GLOW, Morgan also repeated pieces on characters throughout the series, like, young punk Justine's (Britt Baron) Biba T-shirt and wrestling progeny Carmen's (Britney Young) destination-themed tees, which are meant to be from her brothers' endeavors, to which she aspires. "They're touring for wrestling and they're like, 'oh, we gotta bring Carmen back something,' and they bring her back a souvenir T-shirt," Morgan explains.
Near-broke Ruth wears just two pairs of jeans throughout the 10-episode series, so Morgan took special care find denim that looked uniquely true to the era and not something a Silverlake hipster would wear today. "Her main pair of jeans have a line down the center and the bigger pockets because I felt it wasn't as... current fashion," the costume designer explains. Although, maybe the jeans were too authentic, since the drastically high-waisted silhouettes didn't quite pass muster with podcast host, comedian/actor and now-fashion arbiter Marc Maron.
"He took great offense to the jeans I wore," laughed Brie during the "GLOW" panel at the ATX Television Festival in Austin. "How was anyone getting laid in the '80s, if that's what people are wearing?!" she added, imitating her co-star. (Although, it should be noted that Maron only wears one pair of retro jeans throughout the entire series – when he's wearing jeans, that is.) 
But the denim, along with "sensible blouses" are a part of Ruth's persona. "She's the blue collar, the hard worker," says Morgan. "She's not about fashion. She's about comfort and a utilitarian feeling." 
Helping delineate the plot, the costume color palette evolves as the GLOW empowerment grows. "It was important to us to start from a place that felt really soft and show the women's power by the end with these really harsh bright colors," the costume designer explains. The silhouettes start to change as confidence grows, too, like Debbie's early slouchy jumpsuits in the ring. Once she starts to take the sport and her new role seriously, "you see her transition into 'I'm getting shit done now' in a leotard,'" says Morgan.
The costumes also help highlight and explore the diversity of the women on the show. (The masterminds behind the female-driven "GLOW" include Jenji Kohan and Carly Mensch of "Orange is the New Black" and Liz Flahive of "Nurse Jackie.") Reflecting hot button topics of discussion today —  and emulating the real GLOW in the '80s — the show illustrates ethnic and cultural stereotyping as the ladies' develop their wrestling characters. The show also celebrates body positivity, especially considering the intense physical training the cast went through.
"It was so fun to dress so many women's bodies — and to be be proud of those bodies — and not have to put 17 pairs of Spanx on to make the lines perfect," Morgan says. 
Morgan and her team also highlight the diversity of Reagan-era subcultures via the imagined backstory of each character's tribe, interests and pop culture-leanings: Melrose's (Jackie Tohn) Madonna, circa "Like a Virgin," referential lace and bustiers, Justine's "punk sensibility," Tammé's Debbie Allen-inspired aesthetic and Dawn and Stacey's (Rebekka Johnson and Kimmy Gatewood) mall rat looks. Sheila the She Wolf (Gayle Rankin) might be more timeless. 
Representing quite possibly the most recognizable '80s sartorial look might be party bro and GLOW producer Sebastian or Bash (Chris Lowell), who wears billowy white high-waisted pants and pastel blazers with the sleeves scrunched up past his elbows. "He's a rich guy from Malibu," laughs Morgan. "Of course he's going to dress 'Miami Vice.'" 
The costume designer and her team sourced pieces from "everywhere:" Recess, American Rag, The Paper Bag Princess, The Kit Vintage in Los Angeles, Meow in Long Beach, rag houses that wholesale to stores, private vintage dealers, plus eBay and Etsy. Morgan also sourced fancy high-shouldered and very shiny party dresses (above) and locker room scene lingerie from The Way We Wore. The "GLOW" set was also conveniently located across the street from the Goodwill headquarters. 
"We had to go over there and fight off the hipsters, so we could get the right pair of mom jeans," Morgan laughs.
Follow Beth Morgan on Instagram @PatternAttack and Twitter @PatternAttack. 'GLOW' debuts on Netflix on Fri., June 23.
Top photo: Erica Parise/Netflix
Want the latest fashion industry news first? Sign up for our daily newsletter.