Forever 21 Claps Back at Gucci Over Cease-and-Desists Involving Stripes [Updated]
The fast fashion retailer seeks protection against a threat of trademark litigation from the Italian house.
Scroll down for updates to this story.
After multiple cease-and-desist letters from Gucci, Forever 21 is seeking protection against a threat of trademark litigation. The fast-fashion retailer filed a legal complaint on Monday in the U.S. District Court for the Central District of California's Western Division. 
"Forever 21 is not infringing any Gucci trademark," states the case document. "Gucci's trademark registrations relevant to this dispute should be canceled. Gucci's pending applications should not proceed to registration. This matter is ripe for a declaratory judgment."
Legal counsel for Gucci had sent Forever 21 cease-and-desist letters as early as December 2016, demanding that the retailer discontinue sales on clothing items and accessories that feature "any and all use of" blue-red-blue stripes. A second letter was sent in January 2017, followed by a third letter in February, which expanded the demand to blue-red-blue stripes, as well as green-red-green stripes. The Forever 21 pieces in question include a striped choker, multiple bomber jackets with striped trim and a striped sweater. Gucci notes that the striped details are "confusingly similar" to the Italian house's own signature stripes.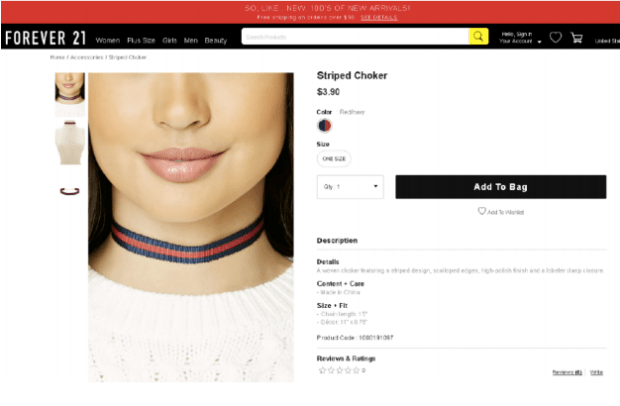 In March, Forever 21's senior corporate counsel denied Gucci's claims of infringement. According to the retailer, red, green and blue, as well as stripes, are "among the most favorite, popular and widely used colors and design features on clothing," and the specific decorative stripes in question are also used by countless third parties. Although the Italian house currently holds federal trademark registrations for these designs, Forever 21 is making a case that Gucci should not be allowed to claim a monopoly on the multicolored stripes.
Fashionista has reached out to both parties on the matter. Gucci provided us with the following statement:
Forever 21's reputation for being accused of profiting from the trademarks and copyrights of others, including Gucci, is well established. Now, in an effort to distract from its own blatant infringements, Forever 21 is attempting to attack some of Gucci's most famous and iconic trademarks. This will not deter Gucci from pursuing its own claims against Forever 21 as part of its ongoing commitment to the vigorous protection of its valuable intellectual property rights and distinctive brand identity.
Funnily enough, after Gucci's Cruise 2018 show in May, the Italian brand has been under fire for allegedly copying designs by independent artists, including Harlem tailor Dapper Dan, Bali-based New Zealand-born artist Stuart Smythe and graphic designer and freelance illustrator Milan Chagoury. 
UPDATE, August 8, 9:15 a.m.: As of Tuesday morning, Gucci has filed two counterclaims within the U.S. District Court, Central District of California, against Forever 21 for trademark infringement, trademark dilution and unfair competition, as well as the dismissal of the retailer's earlier claims from this summer. 
"Gucci has today taken steps to finally put an end to U.S. mass retailer Forever 21's blatant exploitation of Gucci's famous and iconic blue-red-blue and green-red-green stripe webbing trademarks," reads an official statement from the brand provided to Fashionista. Several of Gucci's federal trademark applications and registrations are currently active and date as far back as 1979. 
The brand's official statement continues:
Despite Forever 21's attempt to use its lawsuit to intimidate Gucci into ceasing its trademark enforcement efforts, Gucci is as committed as ever to protecting its long established intellectual property rights, which are at the heart of the brand's identity, and to ending once and for all Forever 21's reprehensible exploitation of its distinctive trademarks and those of other brands who have suffered the same type of piracy.
Gucci's request is simple: that Forever 21 respect the basic principles that come with trademark protection. Though, even if Forever 21 does stop producing pieces that feature Gucci's signature webbing, that doesn't mean the retailer — whose business is built on fast fashion — will stop copying other designs in the future.
UPDATE, August 10, 7:48 a.m.: Late on Wednesday, San Francisco-based retailer Everlane chimed in on Instagram in support of Gucci's counterclaims against Forever 21. "We support Gucci," began Everlane's lengthy testimonial. "Those are not words you might have expected to hear from us." The statement discussed that although there may be no "new" ideas anymore, the work of a luxury brand is unparalleled if only due to the time and research houses like Gucci exercise, especially in regards to its product signatures and design mains
We are not denying that sometimes brands inspire and influence each other. That's what creates trend. But this is not that. The styles in question are clear knockoffs — including a signature print and design — just recreated at a lower quality and a lower price. In this case, Forever 21 is directly profiting off of Gucci's unique designs. It's unethical and it has to stop.
You can read the full statement below.
UPDATE, Tuesday, Nov. 7, 1:12 p.m.: On Monday evening, a California judge dismissed Forever 21's attempt to seek protection from Gucci's threat of trademark litigation. According to WWD, the fast fashion retailer's case was found to be "poorly supported."
"The court is skeptical that plaintiff has sufficiently alleged facts to support its claims for cancellation based on lack of secondary meaning, aesthetic functionality and genericism," said the judge. "Moreover, the court questions whether plaintiff has standing to seek cancellation of registrations that defendant has not accused plaintiff of infringing."
Forever 21 has until November 17 to file a first amended complaint, which Gucci will be required to file a motion to dismiss by December 4.
Gucci has provided an official statement on the updated matter:
Following the U.S. District Court's ruling on November 6, 2017, Gucci is pleased that its motion to dismiss Forever 21's spurious claims has been granted. Notably, the court commented on the significant defects in the claims brought by Forever 21. This is an important step in Gucci's continuing commitment to the protection of its renowned and iconic intellectual property. Gucci looks forward to enforcing its rights and prosecuting its trademark infringement, trademark dilution and unfair competition counterclaims against Forever 21.
UPDATE, Wednesday, Feb. 14, 2:00 p.m.: On Friday, Feb. 9, Forever 21 won the latest round of this lengthy legal battle. The U.S. District Court for the Central District of California rejected Gucci's request to dismiss claims filed by Forever 21, which argues that the alternating-colored-stripes design is not exclusive to the Italian fashion house.
Forever 21's attorney Laura Chapman at Sheppard Mullin provided the following statement:
Forever 21 feels very strongly that Gucci improperly sought trademark registrations for these popular designs in a wrongful effort to monopolize them and that these designs should be freely available for use by anyone. Forever 21's Second Amended Complaint on file in the case has more than one hundred examples of the use of these striped designs by many brands, including Louis Vuitton, Versace, Valentino, St. John, Tommy Hilfiger, Adidas, Gap and J. Crew, among many others. Forever 21 believes Gucci's trademark registrations and applications should be canceled by the Court and looks forward to continuing to litigate this case to a fair and just result.
According to the court's ruling, Forever 21's claims of trademark cancelation and non-infringement should proceed to trial.
Want more Fashionista? Sign up for our daily newsletter and get us directly in your inbox.