How Indie Menswear Magazine 'Fucking Young!' Became a Guardian Angel for Emerging Designers
In a market that isn't exactly hospitable to print publications, this Barcelona-based glossy is thriving. How? Let's start with its name.
At any given fashion event, you're generally able to identify the coolest kids in the room pretty quickly. Pat "Mother" McGrath observed at the 2017 CFDA Awards that this industry is one where "the real insiders are all outsiders," and while there's truth to that, it doesn't make those cool kids any less intimidating. But what has surprised me time and time again is that these individuals — likely clad in a pair of jeans that have kept you wide awake at night wondering if you, too, could pull them off — often double as the nicest in the room, too.
No assortment of people better exemplifies this than the staff of Fucking Young!, a biannual indie menswear magazine that's based in Barcelona but operates out of several other corners across Europe. When I first met Adriano Batista, the publication's editor in chief, I admitted to him that I hadn't yet heard of Fucking Young! — my indie magazine diet is robust, but apparently has some gaps — but with a name as arresting as that, I was intrigued.
Batista launched Fucking Young! first as an editorial website with his boyfriend in Barcelona eight years ago, with the print publication dropping two years later. Each issue is centered around a theme that's able to encompass the fashion, music, art and cultural elements that comprise the magazine's content, like "1997," "Zodiac," "Outsider," "Future" and its latest issue, "Sex"; the cover of its FW16 "Pangea" issue, starring Jordan Barrett and photographed by Mariano Vivanco, was named the Men's Magazine Cover of the Year at the 2017 Swipecast Awards. Fucking Young! has a great deal of editorial freedom, but its bottom line — supporting fledgling designers and creative talent — hasn't wavered.
"In the beginning, we had a lot of friends who were emerging designers, and they didn't have a cool place to show their work because it was all about the big magazines," Batista tells me over the phone from Barcelona. "We started the website mainly to help them, [for them] to have a platform where they can show their work."
At the start, Batista made a conscious decision to pair those emerging designers with more established ones so to put everyone at the same level. Anna Barr, Fucking Young!'s Paris editor, joined Batista last November and credits much of the magazine's success to those relationships the title has built over the years.
"He's been very good at having an eye on what works and what doesn't work," says Barr. "That's the way he's been able to have the respect of independent designers and established brands at the same time."
The concept caught on, and quickly. Batista explains that it was just after the second year of publishing Fucking Young! in print that it really began to take off. "People started to recognize us, saying, like, 'Oh, this is so Fucking Young!,' so it was then when we start to realize that we have something big here," he says.
The name definitely helps and has since the beginning. I love a tactfully used expletive as much as the next person, but it's not every day that you come across such a blatant disregard for verbal etiquette — especially on something as permanent as a magazine's title — but Batista hasn't found it to be an issue, even with advertisers.
"We wanted something that would express the emerging designers, the fresh blood, and if you put the word 'fucking' before every word, it's always going to make sense. It gives the other word more emphasis," says Batista. "The strangest thing is that we only had problems with the name in Spain where people don't speak English."
Fucking Young! is still run out of Barcelona where it started and where Batista is based, but the rest of the team is very much spread out throughout Europe. Barr herself has been working in Paris for eight years; her background is in forecasting, but she also specialized in menswear and studied haute couture while in college. Barr and Batista also work with an editor in Milan, as well as a copy editor in Sweden.
The team is intentionally kept small; Batista describes himself as a "perfectionist" in that he likes to have a hand in everything going up on the site or in the issue. But the staffers are close, using Instagram to keep tabs on each other and organizing their respective travel schedules to meet up as much as possible. The week before our phone calls, Batista and Barr had just seen each other during Fashion Week Tunis in Tunisia. "It's kind of funny," says Barr. "We're all in different cities, yet somehow it seems like I see them more than my own friends."
The fact that the magazine isn't run out of one room — or even one country — is a key asset to Fucking Young! as it helps to keep the team's creative juices fresh. It would be completely different, says Barr, if the staff was entirely based in Paris or Barcelona or Milan. "You know, the world is so small," she says. "We all have completely different backgrounds, and then we just have this meeting point."
Each issue begins with a brainstorming session in which team members pitch photographers and designers, as well as discuss whom they want to feature per any given theme. For the most recent "Sex" issue, Barr pitched a shoot for the Nike Air Max 97 by Riccardo Tisci, but Batista wasn't clear what the accompanying sex tie-in might be. Barr pushed back. "I was like, 'Guys, but there's a huge sneakerhead fetish happening and this totally fits and somebody should talk about it!'" The feature made it into the issue, as did Barr's interview with Tisci.
Fucking Young! is entirely in tune with its readers and vice versa. There's an ongoing communication between the readers and the publication that isn't necessarily present with its competitors, and that's helped to make the print edition so successful.
"I don't want to sound cocky, but I think it was because of our faith," Batista tells me when I ask how Fucking Young! was able to grow as quickly as it did. "We made up the things we used to post, and then we started to create our own content." He laughs. "I guess it's good because people seem to like it."
Batista is aware of the unique position Fucking Young! is in — and that it was unusual to launch a print title after a website and find success, especially now. But a physical magazine was always the end goal; Batista just wanted to do it his way. When it came time for Fucking Young! to head to print, many advised Batista to print it in countries like China or Poland where production costs would be cheaper. "But you never know what's coming out of there," he says, so they waited until they could afford to print it locally in Barcelona. "If we're going to do it, we want to do it right," he says. "So we waited two years to save money, to go for the best paper, the best size, everything."
Fucking Young! is published twice a year so that when it does come out, it's a collectible — "like a book," says Batista — and its content toes a fine line between catering to the zeitgeist and remaining completely evergreen.
"I love paper, and it's always nice to have something that you can touch, you can smell. It lasts," he says. "The thing about the print magazine... we always try not to [include] content that disappears. For example, we can read our first issue and it's still going to make sense."
As we wrap up our call, Batista comments that the future of Fucking Young! may very well expand beyond publishing. He mentions retail, where emerging designers could be stocked in a Fucking Young! store, and also hints at a secret project that's already in the works. If they're still able to assist up-and-coming talent by whatever venue they're able, Batista will be happy. He describes an email he recently received from a Japanese label that thanked him for publishing their lookbook. "For me, that's when it makes it all worth it."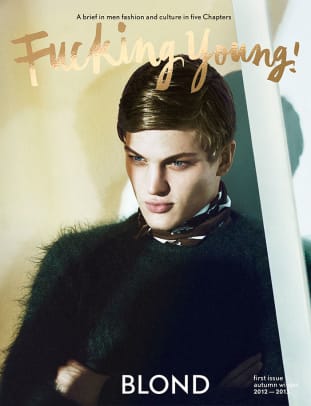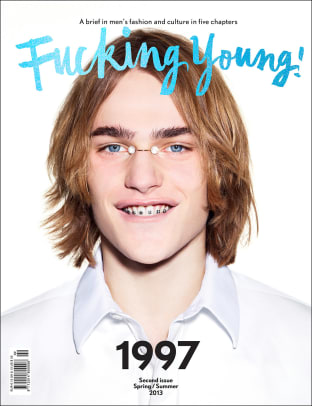 Never miss the latest fashion industry news. Sign up for the Fashionista daily newsletter.