Kendall and Kylie Jenner Are in Hot Water for Superimposing Their Faces Over Rap Icons on T-Shirts [Updated]
The $125 tees feature iconic images of both Tupac and Biggie, as well as rock album art from groups like Metallica, Pink Floyd and The Doors.
Scroll down for updates to this story.
Kendall and Kylie Jenner have made something of a habit of wearing $1,000 concert T-shirts — so much so that on Wednesday, the sisters' contemporary label Kendall + Kylie released a limited-edition, 15-piece collection of vintage-inspired tees. As with many of the pricy shirts the pair wears, each one is hand-picked and one-of-a-kind, with the price ringing in at $125. But immediately after the capsule became available, the youngest Jenners became the subjects of criticism on social media for the way in which they altered the iconography they used.
The collection features a number of iconic images of late rappers Tupac and Biggie with either the Kendall + Kylie Logo or their own photos superimposed on top. (The capsule also features album art from rock groups like Metallica, Pink Floyd, Led Zeppelin and The Doors.) The picture of Kylie is taken from a Jan. 29 Instagram post in which she wears a nude bikini and cornrows, which are, of course, culturally appropriative. The photo of Kendall is a tighter shot.
Unsurprisingly, it's not going over well. The sisters are already coming under fire on Twitter for associating themselves with the late rap icons, as well as for gratuitously covering their faces with imagery of themselves. "So who's gonna start flaming Kendall and Kylie for putting their trash initials over Tupac's face?", wrote one user. Many are referencing the fact that Kendall called Tupac her "spirit animal" in her "73 Questions" video for Vogue last summer.
At any rate, the collection is selling out: At press time, a tee of a hot-pink Kendall laid over Biggie and Tupac's famous "Trust Nobody" tee was marked as "Low Stock." It just goes to show that if Kendall and Kylie build it (it being promotional merchandise), they (fans with wallets) will come, regardless of how controversial or problematic the product may be.
You can see all 15 tees from Kendall + Kylie's vintage collection in the gallery below.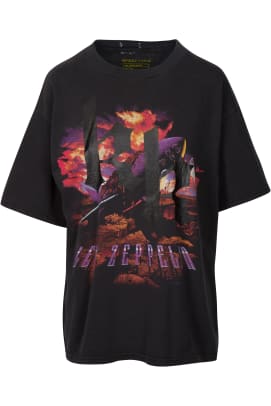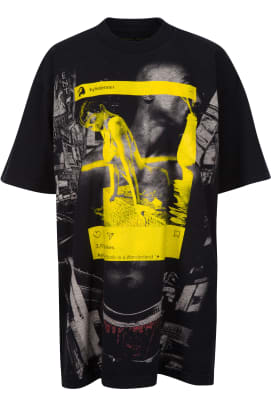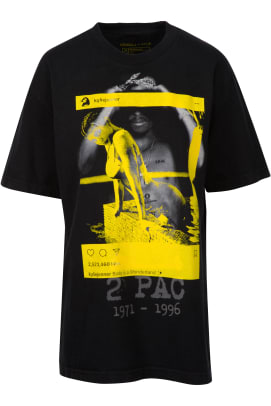 UPDATE, June 29, 1:53 p.m.: Biggie's mother Voletta Wallace posted on Instagram on Thursday about the shirts, saying, "This product has no affiliation to the Notorious B.I.G. estate," next to a picture of the Kendall's-face-over-Biggie's-face shirt and appending, "The estate was never contacted about using the likeness of Biggie." 
She further expressed her disgruntlement in the post's caption, saying, "I'm not sure who told [Kylie Jenner] and [Kendall Jenner] that they had the right to do this. The disrespect of these girls to not even reach out to me or anyone connected to the estate baffles me. I have no idea why they feel they can exploit the deaths of 2pac and my son Christopher to sell a t-shirt. This is disrespectful, disgusting, and exploitation at its worst!!!" From the comments on the post, it seems that a lot of Wallace's followers sympathize with her.
UPDATE, June 29, 3:29 p.m.: Kendall + Kylie's official Instagram has deleted the vintage tee collection's campaign images from their feed.
The entire collection is no longer available on Kendall-Kylie.com.
UPDATE, June 29, 4:20 p.m.: Sharon Osbourne spoke out on Twitter in disapproval of the Ozzy Osbourne shirt, saying that the Jenners "haven't earned the right to put [their faces] with musical icons."
Meanwhile, the Notorious B.I.G. estate's lawyer, Julian K. Petty, sent a cease and desist letter in response to the shirts, reports TMZ. The estate says it never gave the Jenners permission to use the images, deeming them "misappropriation at its finest."
UPDATE, June 29, 4:54 p.m.: Both Jenner sisters have published the same apology "to anyone that has been upset and/or offended" via Twitter, specifically calling out the "families of the artists." The statement describes the shirts as "not well thought out" and notes that "the tee shirts [sic] have been pulled from retail and all images have been removed."
UPDATE, June 30, 2:30 p.m.: TMZ is reporting that The Doors — whose logo, paired with an image of late lead singer Jim Morrison, was covered by a photo of Kendall — are planning to sue the sisters, arguing that the T-shirt tarnishes their trademark. The group's lawyers reportedly fired off a cease and desist letter on Thursday. A "source" for TMZ states that "the damage has been done, and they'll be pursuing a lawsuit."
Meanwhile, Twitter user @ERINJEEN aptly pointed out that online shop PizzaSlime has screenprinted the sisters' apology over six of Kendall + Kylie's actual shirts and are selling them for $1,500. The product descriptions explain that "each shirt is a unique vintage shirt hand picked by someone on Kylie/Kendall's team and then screen printed with a super fucking sick Kylie/Kendal graphic and then screen printed again with their apology for making them ... 3 fucking screen prints on 1 tee bruhhhh." For interested parties: "these are fucking rare as fuck so dont sleep ... only 6 available in whatever sizes we were able to get our hands on."
UPDATE, July 5, 8:14 a.m.: Six days after the Jenner sisters issued their formal apology, Arcade Fire acted quickly to produce its own tongue-in-cheek version of tees. On Tuesday, NME editorial assistant Thomas Smith spotted the Arcade Fire shirts at the band's official merchandise stall during their gig in London. The tee in question featured the same image of Kendall used in the Kendall + Kylie collection, only this time, she was the one being covered — by artwork from Arcade Fire's new album "Everything Now."
Mashable reports that the shirts were on sale for £25 (about $32.28) and 100 percent of the profits went to global health organization Partners in Health. 
UPDATE, July 7, 2:45 p.m.: According to The Fashion Law, photographer Michael Miller — who holds the rights to the images of Tupac Shakur that Kendall and Kylie Jenner used for their vintage tee collection — filed a copyright infringement lawsuit against the sisters on Friday. Miller states that the Jenners "misappropriated and wrongfully exploited" his photos without permission, and that he in no way wants to be associated with the family. Not only is he seeking $150,000 in damages per copyrighted image, he believes he is entitled to a portion of the Jenners' profits. 
UPDATE, July 10, 8:28 a.m.: The Kendall + Kylie brand released a statement on Sunday saying it had sold only two Tupac Shakur shirts, reports AP. This claim comes in response to a copyright infringement lawsuit by Michael Miller, the photographer who shot the images on the shirts. According to the label, the suit is "baseless" and the images were obtained from a company that had a valid license to sell them. "There has been no infringement or violation of anyone's rights," read the statement.
UPDATE, Sept. 14, 3:30 p.m.: Another photographer is suing Kendall + Kylie for using images of Tupac Shakur, Notorious B.I.G. and Redman on the brand's now defunct line of T-shirts. According to TMZ, photographer Al Pereira claims the Jenner sisters did not have the right to use his photos of the aforementioned rappers. 
Never miss the latest fashion industry news. Sign up for the Fashionista daily newsletter.