Kenzo Honored Its Japanese Heritage by Casting Exclusively Asian Models for Its Spring 2018 Show
For the house's joint men's and women's show, designers Humberto Leon and Carol Lim drew inspiration from two of Kenzo Takada's Japanese muses.
I had never been to a Kenzo show until this past October, when the Paris-based fashion house debuted its H&M collaboration here in New York City. It was unlike anything I'd ever seen: Designers Humberto Leon and Carol Lim — who also head up Opening Ceremony — had traded in the traditional runway format for a choreographed dance number, complete with a full drum line and exceptionally diverse casting to boot. 
This, I know now, was the quintessential Kenzo experience. I wrote in October that when Kenzō Takada launched his namesake brand in 1970, he was one of the world's only designers making fun a priority. On this note, Leon and Lim have been a match made in heaven: At both Kenzo and Opening Ceremony, they've staged some remarkably experiential presentations, but never just because; everything they do has a cause behind it.
On Sunday, Kenzo presented its joint men's and women's Spring 2018 collection — titled "The Red String of Fate" — at the Lycée Camille Sée in Paris as a two-act play, with each part dedicated to one of Takada's muses. The first, "Building the Bamboo House," drew inspiration from Japanese composer and musician Ryuichi Sakamoto, the man behind the soundtracks of such films as "The Last Emperor" and "The Revenant." This was followed by a nod to Japanese model Sayoko Yamaguchi in a second act called "Love Letter to Sayoko."
The show itself featured dancers who performed choreography while hanging from the side of the building, flying above the show space as the models filed in. On the topic of models: Leon and Lim further honored the brand's Japanese heritage by exclusively casting Asian models, a decision that certainly felt more like celebration of Kenzo's history than a hollow stunt. As the runways inch toward becoming more diverse, this is always welcome. 
Click through the gallery below to see all the looks from Kenzo's joint men's and women's Spring 2018 collection.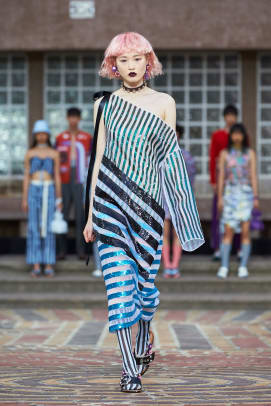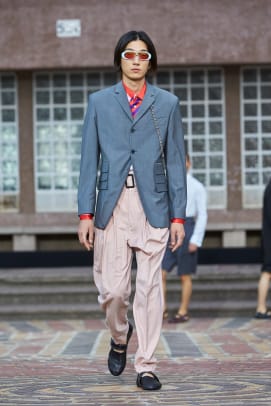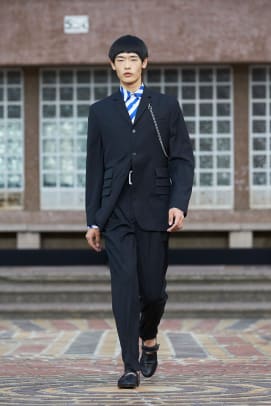 Never miss the latest fashion industry news. Sign up for the Fashionista daily newsletter.