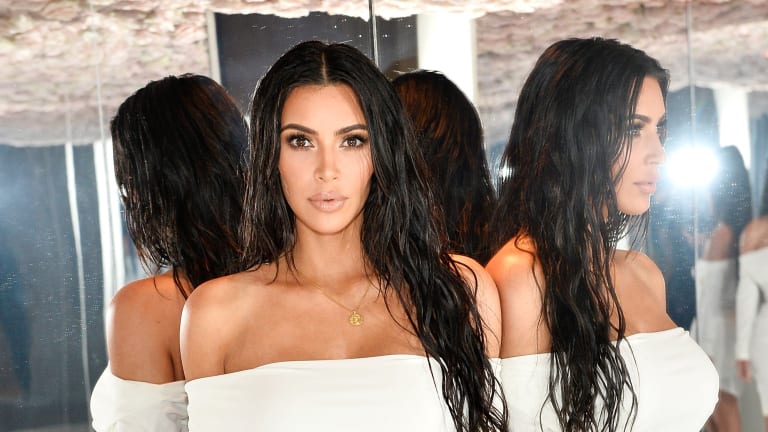 I Went to Kim Kardashian's House for the Most On-Brand Beauty Product Launch of All Time
I had a lovely chat with the reality star and entrepreneur about KKW Beauty, minimalist branding and her daughter's makeup preferences and I don't know what's real anymore.
It's been about four months since I moved to Los Angeles, and in that time I've had a handful of surreal experiences you could describe as "very LA": spending two hours in traffic to go to lunch on a weekday, attending an event at Balthazar Getty's house in the Hollywood Hills, trying on earrings in a bathroom in Topanga canyon with January Jones, crossing paths with Lorde at the Chateau Marmont, having lunch in a penthouse at the Chateau Marmont, interviewing a very famous photographer poolside at the Chateau Marmont…. basically doing anything at the Chateau Marmont. But the experience that surpassed any and all past and future LA moments was interviewing Kim Kardashian in her home.
As my Uber driver and I passed through the entrance to Bel Air Crest, a gated community in the hills of LA's richest neighborhood, the only information I had was an address, a time and confirmation that I would be given five minutes with the reality star to discuss KKW, her new beauty line. That this address might be the Wests' crossed my mind, but logic swept that idea away: Just weeks prior, on my TV, I watched Kardashian relive the deeply traumatizing experience of being robbed in a hotel room in Paris due to a security breach, and her entire family beef up their security team in response to the incident. There was the social media blackout, the make-under, subsequent break-ins at Kendall Jenner's and Scott Disick's homes. Surely she would not invite a group of strange journalists into her house. But as I pulled up the driveway, I realized that's exactly what she had done.
The weirdest thing about being inside the home of Kim, Kanye, North and Saint was that it didn't actually feel that weird — maybe because of the fact that the Kardashian family has been letting all of us "inside" its various residences without hesitation for years via E! Entertainment Television. And it wasn't like North was running around freely (unfortunately); it was just Kim, a few publicists, security and us reporters. Only her living room and "piano room," which had been redecorated for the event, were open to us. What I saw of the house was, like the KKW packaging, surprisingly understated. It's smaller than I expected, and everything is beige and minimally decorated. Just like — and I don't mean this in a mean way — Kardashian herself, actually. She is tiny and wore nothing but a white minidress, strappy sandals, a deep tan, wavy hair extensions and, presumably, her own contour kit, which would be launching the next day. She looked great and is just as sweet and gracious as everyone says.
"Thank you guys for coming to my house," she said to a pink-and-nude room of about eight reporters after giving us a quick spiel about KKW's first launch: a $48 contour kit comprised of a crème contour stick, a highlighter stick and a dual-ended brush/sponge blending tool. She went with contour because, "It's my go-to product of what I put on if I just always wanna look tan or always want a little bit of something to make me feel alive," she said before promising, "This is the start of many amazing products."
Then, the strictly timed one-on-one interviews commenced. Kardashian explained to me why, after years of doing products through licensing deals (Remember Kardashian Beauty?) and collaborations, now was the time to do something on her own: "I've had 10 years of experience sitting in a makeup chair every single day and really figuring out what works, what doesn't work, the fads, what comes, what goes and also just on the business side of it... I was in a partnership with my sisters in a licensing deal. I remember telling my sisters that I really wanted to do something on my own, and they were so supportive, and they knew that this was a passion for me."
It's impossible not to draw comparisons between Kardashian's new line and her (much) younger half-sister Kylie Jenner's lip kits — the direct-to-consumer online launch, the pouch packaging, the use of the word "kit" — and Kardashian admits to having learned from Jenner's experience. "I'm really grateful that Kylie launched hers and was able to figure out what worked with her and my mom," she said. "The partnership my mom was able to just really figure out on the other business side of things [with KKW] — that probably wouldn't have been worked out the right way had I started earlier." 
That said, she has no intention of veering into Kylie's lip-centric lane — at least not immediately. "Maybe somewhere down the line, I would do a lipstick," she told me, "but not how she has it, not in the liquid matte form or any of the formulas [she uses]. That's totally her thing." I didn't want to incite any sibling rivalry, but I did want to know if she had any predictions for how quickly her contour kit would sell out. She was hesitant at first, but put her newfound modesty aside for a moment. "I would hope so quickly...." Minutes? Seconds? "I should be really confident. Let's say minutes.... I hope so."
It's hard to believe that the Kardashian who has been in the spotlight the longest has yet to launch a product over which she has full control until now. The line's minimal, nude packaging was one thing she was especially excited to have a hand in conceptualizing. Since Kardashian and West are nothing if not obsessed with being on brand, I wondered whether there was some connection to the Yeezy color palette. "It's a lifestyle," she explained. "The Yeezy lifestyle. It's just how we live our lives; everything's super minimal." She pointed to her house as another example. "You can't really tell what my house looks like, but it is really minimal, and I wanted pieces that can just sit on my counter and look cool," she said. "You know the blush tones, I've always just really gravitated towards that, and I feel like it's feminine and simple and really clean."
Was that why she decided to host this event at her house, I wondered? "I just wanted it to feel really intimate. It's our house; I felt like, why not invite people into the space where I wake up every day and get my inspiration?"
The most intimate part of the experience came when I asked my most important question: Does four-year-old North, Fashionista's collective style icon, wear makeup, and if so what? Kardashian immediately reached for her phone to pull up and show me exactly what makeup North was wearing earlier this week: She looked like someone had splattered purple paint all over her face, Jackson Pollock-style. I giggled continuously and secretly died as she told me the story: "This week she's been really heavy into makeup, I have to show you this picture. Yesterday I texted Kylie and I'm like, 'You're ruining my life,' and she's like, 'What happened?' We were going to a wedding and North goes, 'Ok I'm ready to go,' after I just did her hair. I'm like, 'Sit here; here's your outfit. Okay, you want your purse? Okay, don't move,' and I literally go to the bathroom for two seconds and she has Kylie's purple new lip kit, and purple's her favorite color."
Kardashian then had to wash North's face and agree to let her wear a more subtle, shimmery gold lip gloss, which Kardashian taught her to apply — on her lips only — so that they could leave the house. North is not contouring yet though, Kardashian confirmed.
I was struck (and charmed, honestly) by the ease with which the reality star showed me unseen, candid photos of her already-famous four-year-old daughter. As much as I felt like I knew Kim, it was almost like she felt like I knew her, too. That, or perhaps she was just orchestrating a moment to further illustrate the humility and accessibility that has become her personal brand of late. She's nothing if not a professional brand-builder, after all.
On my way out, I saw Kris Jenner arrive in a blush-and-nude outfit that literally matched everything in the house. "Hi guys!" she said enthusiastically to us total strangers (well, not total) standing outside her daughter's house.
I don't know what's normal anymore but I love this family.
The KKW Beauty Crème Contour & Highlight Kit launches here at 9 a.m. PST/12 p.m. EST.
Want the latest fashion industry news first? Sign up for our daily newsletter.