Lorod's Modern Take on Vintage Workwear Makes It a Label to Watch
A consistent and clear point of view is the secret to this designer duo's early success.
The idea for New York-based label Lorod started over a broken sewing machine. It belonged to Lauren Rodriguez, who, at the time, was assisting an artist and working on projects that put her freshly acquired Fine Art degree from Parsons to use. However, all along she'd been interested in fashion and when she graduated, her desire to make clothing only grew. After running into fellow Parsons alum Michael Freels at a Halloween party — and asking him to fix her broken sewing machine — the two decided to team up and start their own fashion brand. In 2015, the designer duo took on an investor and launched Lorod, a riff on Rodriguez's childhood nickname.
Freels recalls that moment as serendipitous. "I couldn't turn away the opportunity to make clothing with a friend from scratch," he says. After studying womenswear at Parsons and interning for Narciso Rodriguez, The Row and Derek Lam, Freels was on a path to work for another designer, but his connection with Rodriguez on a creative level was already clear. "There was a lot of overlap with our references and things that we were both interested in, whether it be a certain era, vintage Americana or workwear," says Freels. "We started with a tank top, and then it became a jean, and then it became a jacket and then a collection." 
Currently, Lorod releases collections on a pre-seasonal timeline; it's a better fit for Rodriguez and Freels, as well as the fabric mills and factories that they work with. Not to mention, that means their garments have more time on retail sales floors than traditional spring and fall collections would. They refer to Lorod's small range of Spring 2017 pieces — 10 styles total — as more of a trial to show to select retailers. "We didn't want to wait another six months to make a collection," says Rodriguez. "So we were just like, 'Let's put this out in the world and see what happens, and then we'll start making pre-fall.'" Opening Ceremony instantly picked up the brand, as did Assembly and Shop Super Street. According to the duo, Opening Ceremony quickly sold out of its stock and had to reorder. 
In a brand's early stages, designers are oftentimes still figuring out their aesthetic or customer, but Lorod's vision was set from the very beginning, which is advantageous when it comes to designing. Heavily inspired by the richness of vintage clothing, Rodriguez and Freels update classic Americana workwear and utilitarian clothing through color, fabric and proportion. "Really simple but modern silhouettes that can be interchangeable," describes Rodriguez. Or as Freels calls it, "considered clothing." That distinct point of view has contributed to the label's success thus far.
"Some of the most flattering feedback that we've received from people is, 'This is so consistent. Your goal is really clear,'" says Rodriguez. "There are a lot of brands that I really like, and every season it's sort of a totally different thing. But it's nice to have something to go back to as a starting point." Rodriguez, who considers herself the pragmatic one of the two, and Freels — the conceptual one — continue to carry over and update Lorod's debut collection of core commercial pieces, such as a denim cropped jacket with front patch pockets, or a pair of cropped denim trousers that zip through from front to back. Prices range from $395 to $1,200.
But with Resort 2018, which recently debuted with the brand's first-ever presentation in the basement of a New York City sculpture art supplies store, the two are certainly taking Lorod to the next level by experimenting slightly with workwear styles. While previous designs were very tailored, structured and clean, Lorod's latest works show draping, ruching and texture from basketweave and chenille fabrics. Some suit separates are overdyed in a bright lime green. 
"Everything is maybe a little less precious at this point. We both feel like we can have more freedom with what we're making," says Freels. "The evolution is definitely bringing more asymmetry and abstraction."
With such a strong point of view, where do Rodriguez and Freels see the brand going over the coming years? Ultimately, they would like Lorod to span across creative and commercial categories, from home goods, clothing and art to hosting music, shows and performances. "Branding a company based on garments was probably the easiest because you get a really clear aesthetic and mood before you can move forward," says Rodriguez pragmatically. Freels, thinking more conceptually, adds, "We see the opportunity to build a world within Lorod."
See Lorod's Resort 2018 collection in the gallery below.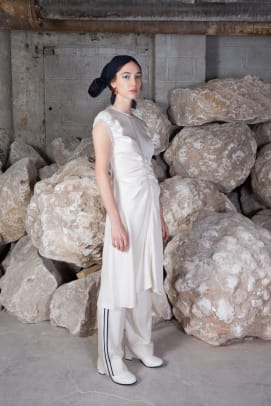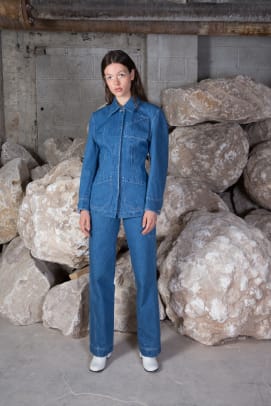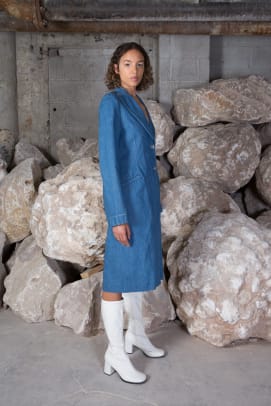 Want more Fashionista? Sign up for our daily newsletter and get us directly in your inbox.