Naomie Harris, Kate Moss and More Star in Miu Miu's Rich, New Orleans-Set Fall 2017 Campaign
But wait, we thought Moss wasn't allowed to work in the United States?
From "Lemonade" to "The Beguiled," New Orleans, Louisiana seems to be having a moment in pop culture, and it's inspired Italian-but-kind-of-Parisian label Miu Miu to shoot its latest ad campaign in the storied Southern U.S. town.
From its architecture to its people to its food, New Orleans can perhaps best be described as "rich," and the images, shot by Alasdair McLellan, capture that well. So does the refreshingly diverse cast, which includes Oscar-nominated British actress Naomie Harris and iconic supermodel Kate Moss alongside Adwoa Aboah, her sister Kesewa Aboah, Jean Campbell, Eliza Cummings, Jasmine Daniels, Rose Daniels, Lily Nova and Missy Rayder. Miuccia Prada's off-kilter-yet-sumptuous designs for the brand's fall 2017 collection are also well-suited to the setting, aside from perhaps being a tad too warm for the region's hot climate. It's all basically an explosion of colorful fluff, mixed bold prints and and sparkling jewels.
McLellan collaged together both color and black-and-white images taken at NOLA landmarks, from historic jazz venue Preservation Hall to the bayou. Members of the Preservation Hall Brass Band even make an appearance. Though the biggest get is perhaps Moss, who, as far as we know, hasn't worked in the United States in at least a decade due to reported visa issues that stemmed from published photos of her snorting what was believed to be cocaine. Moss notably isn't photographed alongside the campaign's other models, so perhaps she was shot elsewhere, but the press release purports that she, too, was in New Orleans. Probably no one is as obsessed with the conspiracy that Moss isn't allowed in the U.S. as we are (guys, she hasn't been to a Met gala since 2009), but we asked reps for Miu Miu for confirmation anyway and had not heard back by press time.
See the rest of the campaign in the gallery below.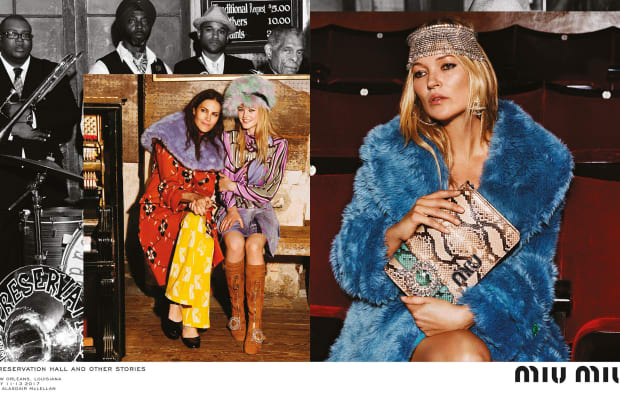 Want the latest fashion industry news first? Sign up for our daily newsletter.