How Monique Lhuillier Turned Her Own Bridal Experience into a Global Brand
That the designer became a celebrity favorite along the way was a complete accident.
In our long-running series, "How I'm Making It," we talk to people making a living in the fashion industry about how they broke in and found success.
Reese Witherspoon, Britney Spears, Lauren Conrad, Savannah Guthrie: The list of celebrities Monique Lhuillier has dressed for their wedding days cuts across a wide swath of Hollywood. And that doesn't begin to touch on her red carpet presence, where the label is a favorite of established A-listers and freshed-faced darlings alike. 
It's no surprise that celebrities turn to Lhuillier when they want to feel their most elegant. The daughter of a French diplomat in the Philippines, Lhuillier grew up surrounded by glamour. "I used to love watching my mother get dressed and seeing the guests dressed, and I always loved getting dressed myself," she says of her childhood. "I think that planted the [fashion] seed, and I've been interested in it ever since."
From there, Lhuillier followed her passion to the Fashion Institute of Design and Merchandising in Los Angeles, focusing on — what else? — evening and formal wear. But it wasn't until she went to buy a dress for her own wedding that the inspiration for her own label was sparked. Since launching her line in 1996, Lhuillier has built a global brand that offers everything from stationary to shoes — and with the decision to move her fashion show to Paris this season, even bigger expansion is surely on the horizon. 
Ahead of her big Parisian debut, we hopped on the phone with Lhuillier to hear all about how she launched her first bridal collection from her home and why her celebrity business was a surprise.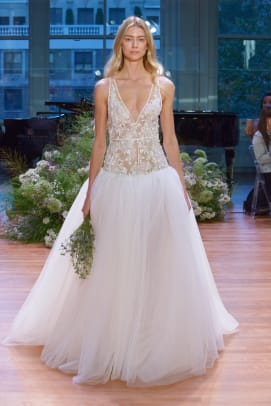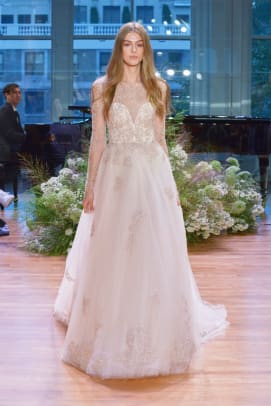 What did you do after you graduated?
I was working for a small company, a small French firm, that was doing high-end ready-to-wear. At the same time that I was doing that, I was also engaged to my husband, and I started looking for a wedding dress. I decided, because of that search, to then focus on bridal and start a line after I got married. That's how I got to the bridal aspect, because of my own personal experience. I was done with my wedding, and I thought there was a lack in the marketplace. 
How did you get the line started?
When I started, I really started from scratch. When I decided to start my first collection, it was with five dresses. Because I had worked in that other company before, I had met some seamstresses. They would help me put my first samples together, because I had worked with them in the past. I'd sketch and give them my ideas, and they would help me put samples together. I did a whole wedding scene, actually. I made a couple of bridesmaids and two flower girl dresses, and I went on my first trade show and I had my samples. We were excited, because at that stage, five stores [were interested], and then I realized I had to make everything and that I'm actually a business. It was jumping right into it, not really having a business plan. It was me being creative and putting something out there, but I didn't think it through, like how this was all going to work. It was more spontaneous.
I quickly realized when I came back I had to set up shop. At that point, I was still working out of my house; I was working with these seamstresses, but I didn't have an office space. I quickly negotiated to rent a third of the space from the ladies that were sewing. I designed, and had them right there to help me make everything. Then slowly, as we were shipping, I started thinking over how I could negotiate to get the whole space. It was small; there were few seamstresses in this place.
What was the moment you knew it was working?
I remember in the early days I would be in that space, working on the projects from Monday to Friday around noon, and then we would get on a plane and do all our functions on the weekend. We would go to different stores and visit firsthand with the customer. In the beginning, they couldn't say my name at all — they were like, "the Monique girl." I would say after about a year or so they would say "Lhuillier" right. I knew that we were onto something, because they would butcher my name before, and now they were getting it right. That was an early sign of things working. Also, just seeing how the orders were multiplying, we knew we had reached the customer.
How did you decide to expand into ready-to-wear?
I started in bridal because I was bride myself, and I wanted to be in the bride's life on the most special day of her life. Then I realized, why stop there? Why not be there in her life throughout all her special needs and just be part of her life? At that point, I was also burnt out from working with white and ivory, so this was just a natural progression to start with ready-to-wear. First, I did an eveningwear collection right after bridal; I started doing gowns in color, and in 2003, it became our ready-to-wear collection. I started doing separates; I wanted to start dressing my women earlier in the day. It was an organic unveiling of following her through the rest of her life, not just stopping at the wedding.
How do you decide which categories to expand into?
Everything I expand into has to make sense with where we are as a brand and following the stages in my customer's life. We started with bridal, and then we did the eveningwear, and then it became our ready-to-wear collection; then I launched shoes, because I wanted to dress her from head to toe. After you get married, the next thing you do is you start your home, so what does that look like? That's the lifestyle component. Then, after you start your home, what do you do next? You start a family. That was the reason I collaborated with Pottery Barn Kids, to show my vision of what that room looked like, when you walk home with that fresh, new addition to your house. 
I started the jewelry collection because there's no wedding without the ring. All these extensions, the stationary and so on and so forth, everything is really following her in the stages of her life. My focus moving forward is to open more retail stores. I see that in my own retail stores; you truly get to be in the entire world and vision of my brand, and that's how I would like it moving forward. Expanding internationally is also something I would like to do.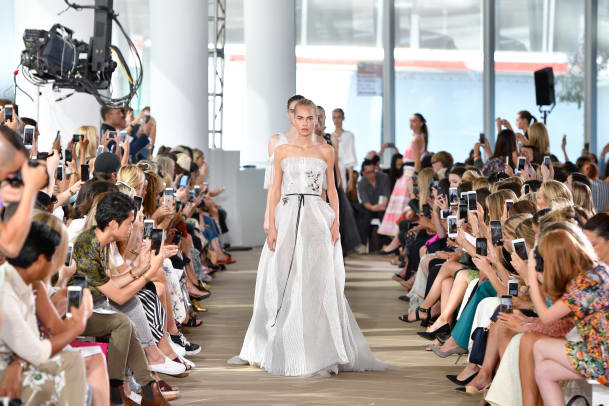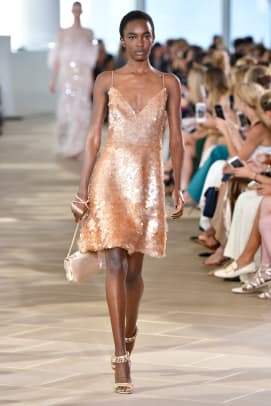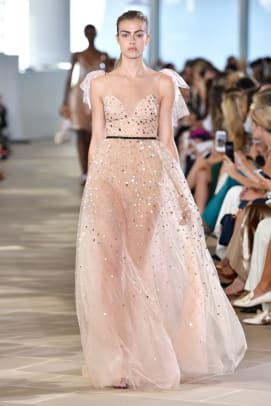 How did you build your celebrity clientele?
The funny thing is that my husband and I started this business from scratch. I didn't have a lot of experience, and he didn't either because he had just graduated from USC with his MBA, so we didn't know what we were getting ourselves into with the fashion world. We really focused on making sure the product was right and building a foundation of business, because it was really hard in commerce. The celebrity thing came by accident. We did not have a PR strategy; we didn't have any stuff in place. We started getting phone calls from celebrity stylists, managers, all that saying, "So-and-so would love to wear this dress to the Golden Globes." At first, you are like, "Oh, okay." We were really naive about it, and we gave them the dress that they wanted, and that's how it started. It was very organic, how it all started. In the very beginning, it was them picking up the phone and calling us saying, "We saw this dress, can we borrow it?" or if they saw a dress in white, asking me to make it in black. 
In 2001, we opened our first retail store here in Beverly Hills, and being that we were in Beverly Hills, it was a very visible store. Celebrities were driven to the brand because of that exposure; all of that combined, the following started very early on. Then I realized the power of celebrities as we were building our brand. We did not advertise, so really the celebrities wearing my dresses really helped build the brand and helped the public be able say the name right; to hear them say it, it was a great thing. Now, fast forward 15 years later, we have a VIP position that really manages that. 
Why did you decide to move your show to Paris?
After showing in New York City now for 15 years during fashion week and bridal week, we decided as a company that it was time for us to focus on our international clientele, to speak to the world and bring our brand to the forefront of fashion, which is in Paris. I am from a French background as well, and I've always been inspired by Paris. I've been going there since I was a child; I'd say I go four times a year. I just felt it was an exciting new chapter for me creatively. 
How has social media changed how you approach business?
Social media has definitely changed the landscape of business, because people see it instantly and you can have a direct conversation with your customer right away. It's made fashion go faster, because as soon as people see it, they want it. It's changed the delivery. Logistically, it's changed a lot of things, but at the same time, I also think it's great because I get a lot of direct feedback. When I put something out there, like a fitting where I give a sneak peek of something out there, I instantly get the feedback if people like it or don't, their reaction. You reach so many more markets with it. Fewer and fewer people are looking at magazines; it's more about social media these days and having that voice and that influence.
What advice would you give to somebody looking to start their own line?
Really create and focus on their product; you have to also be very picky about your life. Starting a business is so intense and time consuming, you can't stop. It's 24/7; you're thinking about what can you do next, how can you do it better, how do you move the product forward? My advice is to focus on the product, stay focused and determined, and be ready to roll up your sleeves and work hard. After you've established that, it's so important to have set up a very strong team, because you can't do it alone. It takes a village to do it and do it right.
What do you wish you had known before starting your line?
First of all, I wish I would have worked for somebody in this field before I started doing what I'm doing, because I would have learned so much before I started on my own. When we started, I didn't have a lot of experience, and we learned from our mistakes as we went along. Maybe if I knew it was this hard I would have been terrified to start, but I feel like I went in so naïve. When you're young and naïve, you think you can do anything; we went in with that mindset. I think that positivity made it possible to continue to move forward.
This was my path. To this day, I'm still learning so much every day. It has nothing to do with being in business for 21 years; fashion changes so fast, and with social media, you have to be creative even at a faster rate, because people see so much. We're busier than ever now, and I think we work just as hard now as we did then.
What is your favorite part of your business?
My favorite part is seeing the vision come to life; seeing the product from my idea to sketch form, then seeing it on the pattern table cut, and then on the model and finally seeing it backstage in the lineup before the show starts, or before the photo shoot, and I see everything come together. I love what I do. I think design is an expression of one's emotion and dreams, having that dream come to life. That's what I see it as, a creative outlet. I can't describe it — it was something that's moved me since I was a little girl, and I just couldn't get enough. That's how this passion started.
The second part of it is when I go to different events or places and I see people in my clothes. For me, that's a highlight, to see my clothes on real women and them feeling great in the clothes. So, there's really two parts to why I keep doing what I'm doing. It's part of that, where people share pictures and stories with me, and I feel like that's what keeps me going.
What is your ultimate goal for the line?
My ultimate goal is to have more stores around the world, and for people to always look at this brand and know it stands for: Beauty, femininity and making a woman feel really beautiful to be in the clothes. I want that to be the message, and I'd love for the brand to continue on and on, and maybe in the next generation onto my kids wanting to keep it going. 
Want the latest fashion industry news first? Sign up for our daily newsletter.
This interview has been condensed and edited for clarity.