Jeremy Scott Explores Americana, From Los Angeles to Vegas, for His Latest Moschino Collection
Including a collaboration with Playboy.
One year ago, Jeremy Scott made his first Los Angeles runway show for Moschino an unmistakable tribute to the city he calls home, so we arrived at Milk Studios on Thursday night wondering if and how the West Coast might play into his inspiration the second time around. First, there was the star-studded front row: Tinsel Town residents Tracee Ellis Ross, Fergie, Vanessa Hudgens, Kaia Gerber, Joe Jonas and his DNCE-mates, Serayah and Erika Jayne, were all there in flashy Moschino designs, taking photos in front of a giant Moschino step-and-repeat. Then — because Scott's shows always have a thematic set — the runway resembled a graveyard for broken-down, outdated signage from on and around the Las Vegas Strip. But as the VIPs took their seats and Elvis's "Viva Las Vegas" came on the speakers, the lights all began to light up, creating a colorful, sparkling backdrop for the equally loud and low-brow clothing.
Scott's starting point was a road trip from LA to Vegas that seemed to span various landmarks and eras, including homages to a wide range of archetypal American women and men. "From the pioneering grit and oil-streaked endeavor that helped make America great, to the sassiness, sparkle and sexiness that helped make America great — from shore to shining shore — this is a mixed-up celebration to the nation we all adore," reads a press release about the women's resort and men's fall collection. (Moschino began combining the two last year.) The runway was filled with personalities, too, from the recently elusive Miranda Kerr, to Victoria's Secret girls like Stella Maxwell (whose girlfriend Kristen Stewart was also on the premises) and Joan Smalls, to cool kids like Slick Woods and Cat McNeil, to Instagram stars and celeb offspring like Hailey Baldwin, Presley Gerber and Jordan Barrett.
Pin-up girls adorned retro dresses and cardigans, while riffs on cowboy boots and hats accessorized many women's looks; other Western motifs, like cowhide, snakeskin and patchwork denim were used throughout. Those not wearing cowboy boots were in what could most simply be described as stripper heels. Scott took some literal inspiration from hot rods, moto and biker culture, seen in studded leather motorcycle jackets and jeans, as well as a heavily employed flame motif — something Scott has used in many past collections for his own line and Moschino. The collection also included a collaboration with Playboy featuring different plays on the iconic Playboy bunny. Bunny-fied images of Olive Oyle and Betty Boop were also used as graphics on garments.
With the Vegas inspiration and general '90s-ness of the collection's aesthetic, we couldn't help but recall the campy 1995 film "Showgirls;" a few looks, from a turquoise metallic bodysuit to a couple of over-the-top feathered headdresses (of the showgirl, not cultural appropriation, variety) could have been plucked straight off an extra in the film.
"It's been fun and enthralling to play with so many different elements of American in what for me is a totally new way. I've tried to gussy up the earthy side a little, and to bring the glamorous side a little bit down to earth," said Scott in a statement. "That's reflective of me I suppose: I grew up on a farm, but I can walk the red carpet in Cannes."
Themes aside, the collection also had a certain late-'90s, early-2000s vibe with its sheer, bias-cut dresses and skirts, embellished and patchwork denim, cowboy boots and intentionally unsophisticated handbag shapes. A young Paris Hilton or Britney Spears would not have looked out of place in many of these looks, providing even further evidence that the early-aughts aesthetic is on its way back.
Browse the full Moschino women's Resort 2018 and men's Spring 2018 collection in the gallery below.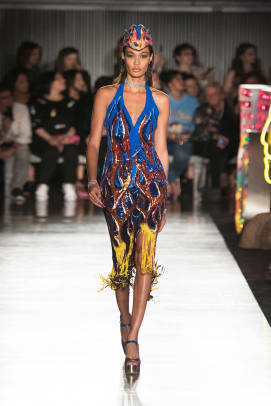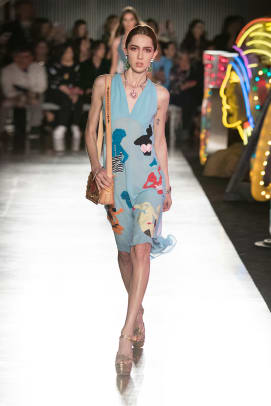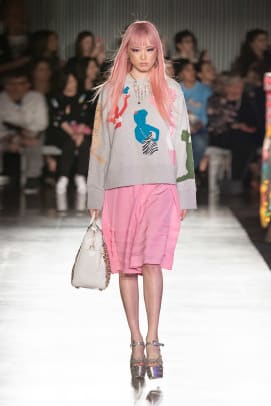 Want the latest fashion industry news first? Sign up for our daily newsletter.