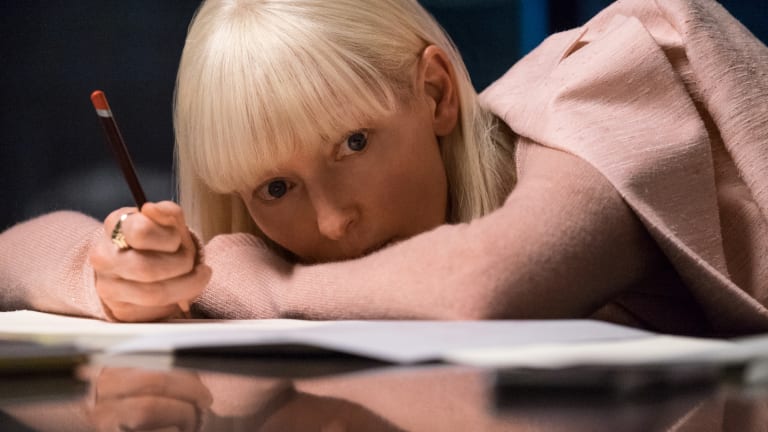 Chanel Custom-Made Tilda Swinton's Dress in Netflix's New Adventure Film, 'Okja'
Costume designer Catherine George found inspiration from the Resort 2016 runway show, where the actress, obviously, sat front row.
Visionary writer and director Bong Joon-Ho's latest socially conscious film "Okja" opens with a delicious close-up of a white and gold stilettoed Tom Ford pump. Sure to excite film geeks and fashion nerds alike, the visually stunning movie, which debuts on Netflix (and in select theaters) on Wednesday, is a black comedy, family drama, thriller and horror show, all in one.
The ambitious international project — shot in two languages (Korean and English) and spanning three countries (South Korea, the U.S. and Canada) — required two costume designers. Choi Seyeon, who worked with Bong on his 2009 mystery thriller "Mother," handled the Korea-based looks, and Catherine George, who recently jumped on the phone with Fashionista, designed for the North America-based cast, including fashion-beloved Tilda Swinton, who wears the aforementioned designer heel. 
As Lucy Mirando, CEO of her family's eco-friendly food tech corporation, Mirando, the actress wears a soft palette of whites and pinks, starting with a "spa-like" alabaster linen dress by Creatures of the Wind. The piece, which earned a nod of approval from Bong, helps establish the Mirando corporation's "pure and clean" messaging, while Lucy herself announces its latest project to help feed the world's ballooning population: a generation of genetically modified "super-pigs." Hence, the soft pinks in Lucy's wardrobe, like a tweedy Chanel jacket she wears in the floor-to-ceiling glass-walled board room.
Sent around the world to be raised and nurtured, the super-pigs don't handle a candle to the best and most beautiful one, Okja, who flourishes in the idyllic Korean countryside and is cared for by orphaned 13-year-old Mija (a very badass Ahn Seo-Hyun). But one day Jake Gyllenhaal's celebrity animal expert Dr. Johnny Wilcox arrives to bring the porcine star back to Mirando to fulfill Lucy's ultimate plan, and Mija sets off on a mission to bring her best friend home. Mija and Lucy come together for an elaborate Mirando PR extravaganza — and a sartorial convergence of Korean and Western cultures.
To outfit Lucy, George researched "a bunch of CEOs," both female and male; Sir Richard Branson of the Virgin Group made the biggest impression. "He sparked the idea that Lucy would wear a dress from the country of the winning animal," explained George, about the decision for the Mirando CEO to pay homage to the traditional Korean hanbok. "We found many pictures of him dressed up for different Virgin events around the world, which were really funny."
George pored over fashion inspiration and honed in on the closing look from Chanel's Resort 2016 collection, which took place in Seoul and where Swinton happened to sit front row. "She suddenly remembered: 'I saw that dress! Yes, of course it should be the one,'" recalled George of their aha moment. Then Swinton, who was the face of Chanel's Paris-Edinburgh Metiers d'Art collection in 2013, reached out to her contacts at the house, who then connected with George. Chanel agreed to custom-design a similar hanbok-inspired pink gown, but swapping out the black ribbon for a "Mirando-green" velvet one. 
"We loved the idea of the Chanel dress and the fact that Lucy is wearing Chanel," said George. "It's part of her stature." Next, along with Bong, she designed a coordinating pink hanbok-inspired top and pants set for Mija to reluctantly wear.
Swinton also plays the role of Lucy's nemesis twin and deposed CEO, Nancy, clad in dark hunter browns and forest greens. "She is playing a lot of golf in England and Scotland, and she imagines she's a distant relative of the British royal family," said George, in describing Nancy's imagined backstory. "She has an almost Theresa May-inspired look." Clearly, a reference to an iconic British designer was in order. "She travels with her Burberry [neck] pillow," said George.
While not couture-clad, Gyllenhaal's Dr. Wilcox sports a pretty spectacular aesthetic with his quad-baring cargo shorts, knee socks and safari hat. For him, George looked to a series of real-life famous animal experts, including Steve Irwin and Jack Hannah, as well as suit-jacket-wearing "Animal Magic" presenter Johnny Morris. 
"They all wear a similar safari type, animal expert wardrobe," said George. "So it's realistic to what they wear in a funny way." A particularly stunning look for Dr. Wilcox includes a double-breasted blazer layered over a Hawaiian shirt, with matching pocket square, by Eton Shirts (above). "In close up, there are tiny animals in the print, which sold it to all of us," said George. Of course, Dr. Johnny wears the business (sort of) on top with his signature cargo shorts, which seem to be a touch brief in length, but that's all part of Gyllenhaal's method acting.
"Jake had his hands in his pockets and was hitching up his shorts, so director Bong kind of loved that idea," said George. "That's just a Dr. Johnny trait."
Along the way, black-clad, ski-mask-wearing guerrilla animal rights activist group ALF (Animal Liberation Front) also pops up. But don't mistake leader Jay (Paul Dano)'s black suiting and skinny tie look as a tribute to "Reservoir Dogs." 
"[Bong] had always imagined Jay in a suit, and then when we started looking at animal liberation pictures, there's actually one reference picture where there's an animal being rescued by two guys, and one of them is wearing a white shirt, black tie and a black jacket," said George. "It kind of gave us license to go ahead with his outfit." She also imagined bios for the rest of the ALF, like "try hard guy" K (Steven Yeun) wears "tactical" jackets and hoodies, while eco-conscious Silver (Devon Bostick) is trying leave the smallest carbon footprint possible and would logically look like a bike messenger.
While George was in the the U.S. prepping for the stateside shoot, filming had already begun in Korea for the countryside scenes with Mija, her grandfather (Byun Hee-Bong) and an impressive CGI Okja. Choi, who also worked with Bong on "Mother," created Mija's earth-toned outfits that enhance the verdant countryside scenery. Her palette and silhouette transition to a bright, almost-superhero-like purple and red that makes the determined — and very resilient — 13-year-old stand out from the darker city crowds as she sets out to rescue Okja.
"We were emailing and Skyping — and the time difference was a little bit challenging — but we figured it out," said the U.S.-based designer about collaborating on the overall costume flow with Choi. "Then I went to Korea to shoot with Dr. Johnny and the ALF, so we worked together over there. It's great because [Choi] has the essence of Korea and it's all very authentic." 
George has also worked with Bong and Swinton on the class struggle drama "Snowpiercer" and the chameleon character actress on "Something About Kevin." 
"It's so much fun. The fittings just become a bit of a party," said George about helping Swinton become her characters. "Really, [she's] just a great actress to work with and we've built up a bit of a family now after these two films."
"Okja" premieres on Netflix and in select theaters on Wed., June 28. 
Never miss the latest fashion industry news. Sign up for the Fashionista daily newsletter.