Nanushka, Seen on Instagram's Most Stylish Influencers, Is a Label to Watch
The Hungarian brand has been around for a decade, but with social media, there are more eyes on it now than ever.
If you happen to follow — and covet the wardrobes of — María Bernard, Reese Blutstein or Marta Cygan on Instagram, then you're probably familiar with Nanushka. The decade-old, Hungarian-based brand has been dressing the minimally chic-and-stylish social media set over the last year or two, and its global presence has only grown because of it. "It was really an organic thing, and it wasn't a strategy back then or even when we joined Instagram," says designer Sandra Sandor over the phone from her studio in Budapest. She would reach out and send pieces from Nanushka's collection to women she intuitively felt were well-aligned with her as a designer and the brand, regardless of their follower counts.
"We don't search desperately for influencers," says Sandor. "They always come along, even though I myself don't look at my Instagram feed so much. But when I do, I always have someone who I start to like, and then I talk to my marketing team, and then they reach out to her." Life of Boheme's Cygan is a good example, notes Sandor, who started working with the blogger a few years ago. "I really love her style," she says. "Even now she doesn't have the biggest follower base, but we still really love to work with her because she shares the same values as us. We gift these girls, and we're hoping that they like it, and so far [we've had good luck] with that." According to Sandor, Cygan is working with Nanushka beyond just Instagram, including a collaboration project and additional exclusive content. 
Growing up while her mother ran a children's wear label, Sandor was surrounded by fashion from a very early age. "She always used to do the fittings on me, and I also modeled in her photo shoots during school breaks," she remembers. By the time Sandor was 17, she knew that her career would have something to do with clothes, so after high school, she enrolled at the London College of Fashion to study fashion design. Once she graduated, she moved back home to Hungary to start her brand Nanushka.
"I had such a strong feeling and enthusiasm to start my own label after my thesis that I said, 'I just want to try it,'" says Sandor. "I really had my mom helping me financially and also with her network, like pattern cutters and seamstresses. That's why I had the braveness to start my own thing."
Outerwear, novelty denim and knitwear are the standouts in her line, which is primarily made in Hungary and ranges between $100 and $600 in price. A big part of Nanushka's appeal stems from Sandor's ability to tap into trends in a seamless and subtle way. An oversize shirtdress from the Spring 2017 collection, for example, comes with a detachable collar and waist belt. A trench coat, slightly oversize with dropped shoulders, is made from a rich blue denim. "We like to think of ourselves as a bridge between intuitive and functional design," says Sandor, who points out that this mantra was a part of her senior thesis in college as well. "We really like versatile design and pieces that mix and match. But at the same time, we always like to have something special about an item."
Over the last decade, Sandor has been able to balance the evolution of Nanushka's aesthetic between conscious market analysis and a continuation of the brand's longtime inspiration: the traveler's state of mind. "I think it's interesting when someone is abroad," says Sandor. "When you travel, you become much more curious, receptive and alert — almost like a child. Also, comfort becomes essential; versatile items and easy-to-care fabrics are very important."
As Nanuskha's international interest grows — thanks to social media and its online store that ships worldwide — its business strategy is also focused on expanding globally, specifically in the United States, as well as Japan and the UK. But this year, Sandor also wants to bring attention back to the city that helped her launch her brand in the first place. In the heart of downtown Budapest, the Fifth District, Nanushka will open a concept boutique featuring a coffee shop, items by the brand, as well as curated pieces, such as stationary, jewelry and lingerie, from surrounding areas.
"We want to feature brands from around Hungary and within Eastern Central Europe," says Sandor. "It's going to be really nice for people who are visiting from abroad because they'll have a glimpse of local talent."
See the Nanushka Fall 2017 collection in the gallery below.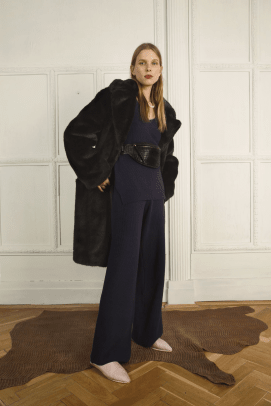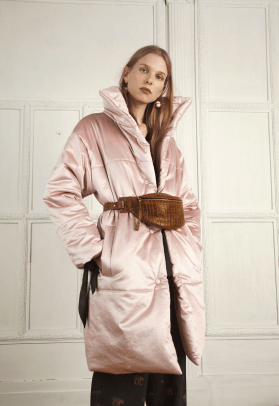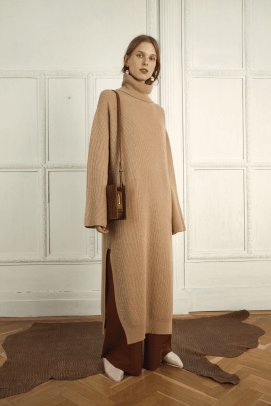 Want more Fashionista? Sign up for our daily newsletter and get us directly in your inbox.