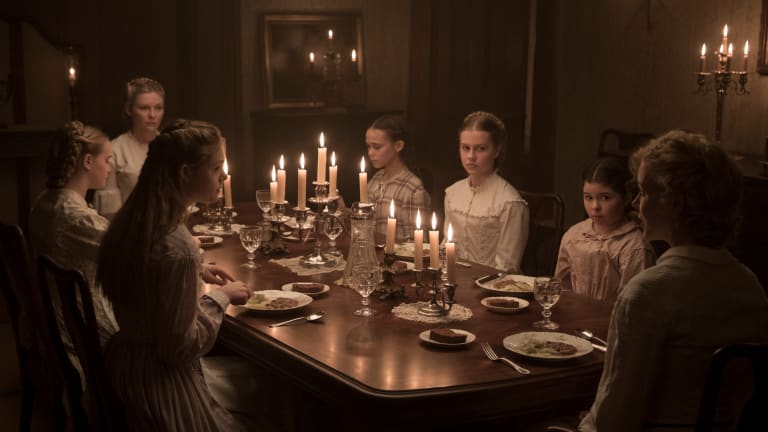 The Civil War-Era Costumes of Sofia Coppola's 'The Beguiled' Tell Their Own Story
We chatted with costume designer and frequent Sofia Coppola collaborator, Stacey Battat.
Oscar winning writer, director and ultimate fashion icon Sofia Coppola returns to the period costume drama genre and reunites with her talented muses Kirsten Dunst ("Virgin Suicides" and "Marie Antoinette") and Elle Fanning ("Somewhere") for "The Beguiled," which also stars the supreme Nicole Kidman. The atmospheric thriller, which opens in select theaters on June 23, made waves at the Cannes Film Festival premiere and won Coppola the prize for best director, the second female ever to receive the honor.
Based Thomas Cullinan's novel of the same name (and a remake of the 1971 film starring Clint Eastwood), the story begins in 1864 and centers around a Southern girl's boarding school overseen by a tightly wound Miss Martha (Kidman) and fragile spinster schoolteacher Edwina (Dunst). Almost marooned in this giant, and near desolate Virginia plantation house (it's mentioned at one point that Miss Martha sent the slaves away), the adults and students — snooty Jane (Angourie Rice), tomboy Amy (Oona Laurence), Emily (Emma Howard), adorable Marie (Addison Reicke) and Fanning's Alicia — remain, bored, listless and restless. One day, Amy stumbles upon wounded Union soldier John McBurney in the forest and brings him back to the mansion, thereby changing the already tense dynamic in the all-female household with a slow burn. Think: a Southern Gothic "The Bachelor" meets "Misery."
True to Coppola's oeuvre, the aesthetic is gorgeous and dreamy; you almost feel like you're watching it through faded, sun-washed sheets or gauze (the term "gauzy" was used in the production notes). Costume designer Stacey Battat worked closely with her frequent collaborators, production designer Anne Ross and Coppola to create the seamless and stunning visuals.
"The three of us have a great working relationship," Battat tells Fashionista over the phone. "We communicated about pretty much every detail on the set and in the costumes and the way they relate to each other."
The late-19th Century costumes, which are 90 percent custom-made, help tell the the girls' backstories before they ended up stranded by the war in Miss Martha's house and subtly reveal their evolution as charmingly roguish John skillfully manipulates their feelings for his own personal gain. No spoilers, but Miss Martha and her ladies aren't exactly wilting Southern flowers in the face of mansplaining adversity, even when its done in a sexy Irish accent. 
So let's focus on the costumes by Battat, who also worked with Coppola on "The Bling Ring," "Somewhere," and "A Very Murray Christmas." Here are the highlights:
How did you research, and where did you look for inspiration for the costumes?
I went to the Metropolitan Museum of Art, and I looked through their fabric swatch books from that time frame, and I also looked at the clothes that they have in the Costume Institute from the era. I looked at a lot of books, including one about manners.
We don't know as much about each of the characters' backstories as I assume the book explained. So how did you tell each woman's story and personality through wardrobe?
I wanted Miss Martha to feel stern and like she was in charge, because she was the head of the household, so I chose to use more streamlined silhouettes on her. She didn't wear a lot of color. She wore a lot of white, ivory and black. I also gave her a silhouette that seemed a little like a vest, which is indicative of that time frame, but is also something that to the modern eye seems authoritative. With Kirsten [Dunst, as Edwina], I wanted her to feel romantic, so I chose to use light fabrics that light would pass through, and her clothes felt billowy and diaphanous. With Elle [Fanning as Alicia], I wanted her to feel flirty, so she has a lot of ruffles and pastels. She was the flirtiest character.
Each character had her distinct prints and textures, like Amy (Oona Laurence) in plaid, snooty Jane (Angourie Rice) in gingham, Marie (Addison Reicke) and Emily (Emma Howard) in florals. How did palettes help define each girl/woman?
One of the things that was indicative of style in the Civil War was [that] women would mix prints in one garment a lot. Sofia, Ann and I had just talked about the idea of all of these fabrics — flower prints and plaids and stripes and polka dots — looking nice together [in a scene]. And they all had this feeling... like a Marni dress. Like when they were all together, it told its own story.
Miss Martha, Edwina and the girls are basically marooned in this old house three years into the Civil War. I'm imagining they haven't had the opportunity to go shopping. How did that play into the design of each costume, especially with the formal ballgown dinner scenes?
Well, they obviously didn't have a chance to go shopping and we never really talked about the options of where their fabric came from, but I just decided or we assumed that the fabric was there from before. They had their dresses made from a time when they were more affluent and that was something that could be done. Their dresses were nice day dresses of that time frame.
In the production notes, Sofia Coppola mentions that you both decided not to have the women wear hoop skirts, which made "the dresses look like ones that could be worn today" and the silhouettes "relatable." Could you tell me more about that decision?
We chose to not have them be in hoop skirts for other reasons, too, and the main reason wasn't because it's more relatable. The main reason was because [Miss Martha, Edwina and the girls] were working and they no longer had anyone to impress. All of a sudden these women, who had spent their days learning French, being served dinner and getting dressed for lunch and whatnot, started having to tend to their own garden and get each other dressed in the morning, and do each other's hair, so the hoop skirts seemed impractical for them. That's mainly why we chose to not use the hoop skirts, but as an effect of not using them, it did look a little more relatable for us today, and I do think that's a goal that's not conscious. There's something nice about being able to make something that appeals to someone's eye today.
The cast also wore real corsets under their dresses — what was that process like?
The thing about the corsets and the undergarments is that they really give the body the foundation, the base of what the clothes are going to look like over it. The corsets and the petticoats changed the shape of the body, like you're taking in the waist and cinching in that middle section; you're expanding the top part of the chest; and the petticoats give volume to the hip. That changing of the silhouette is really important because it's what makes it look old and or like a different time frame so, yes, the period undergarments are a huge part of creating that look of the costumes.
Did you use vintage ones?
No, we custom-made all of the corsets actually, because a) they have to fit well. I don't want to give you too many specifics, but you can't really buy a corset for a 12-year-old anymore, so that proportion of the bust and the torso is different than it would be for an adult. The other women obviously have very different body types. Nicole is very tall and Kirsten is busty, so I wanted them to b) be to be comfortable, and I think if you have something made for your body, it's much more comfortable than wearing a rigid piece of boning that doesn't fit you well. 
I didn't realize the little girls wear them, too.
Mainly because it changes the way people stand and it affects the posture, and I don't know, maybe you can fake it, but it's hard to fake what the clothes look like without that structure underneath.
When John (Colin Farrell) comes into the fold, it changes the dynamic in the household and how the women and girls present themselves. How did you show that through the costume?
They did get dressed up when Colin came, and they wore more jewelry, just little bits because they didn't have a lot. It's not like they had an extra closet full of clothes that they could just pull out whenever they felt like. They would borrow. The character of Marie, she borrows Edwina's earrings and Edwina wears her pin from Christmas, which was in the script, both of those things were in the script. But other little details, [like] the ribbons, it was just trying to think about ways they could try harder without having much.
One costume backstory that was never really explained in the dialogue, but I imagine you thought about: How did Miss Martha and the ladies find men's clothes to dress John?
Well, it didn't use to be a house that was only them. They used to have slaves that lived there, and Miss Martha says at some point that there were parties and her father had the house joyous and festive. We did talk about it, actually, but we just said that they were there, like they were [from] Miss Martha's boyfriend. Like, she had had a boyfriend or husband, we never say who it was, but she had someone before the war and they were just left behind in the house, like the women. 
'The Beguiled' opens in select theaters on Fri., June 23 and nationwide on Fri., June 30.
This interview has been edited and condensed for clarity.
Want the latest fashion industry news first? Sign up for our daily newsletter.