You Thought the DHL Logo Trend Was Over? Vetements Says Think Again
The Zürich-based brand presented its Spring 2018 collection of revamped signature pieces with a "No Show" during Men's Fashion Week in Paris.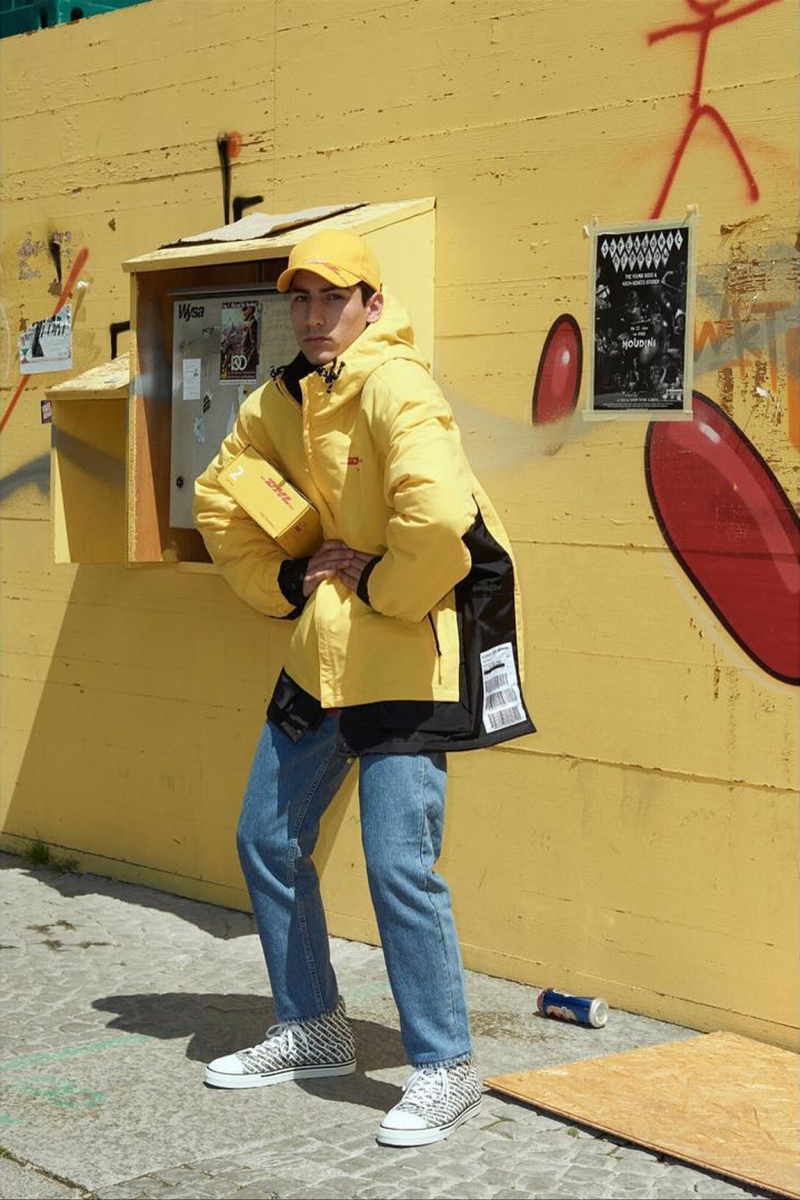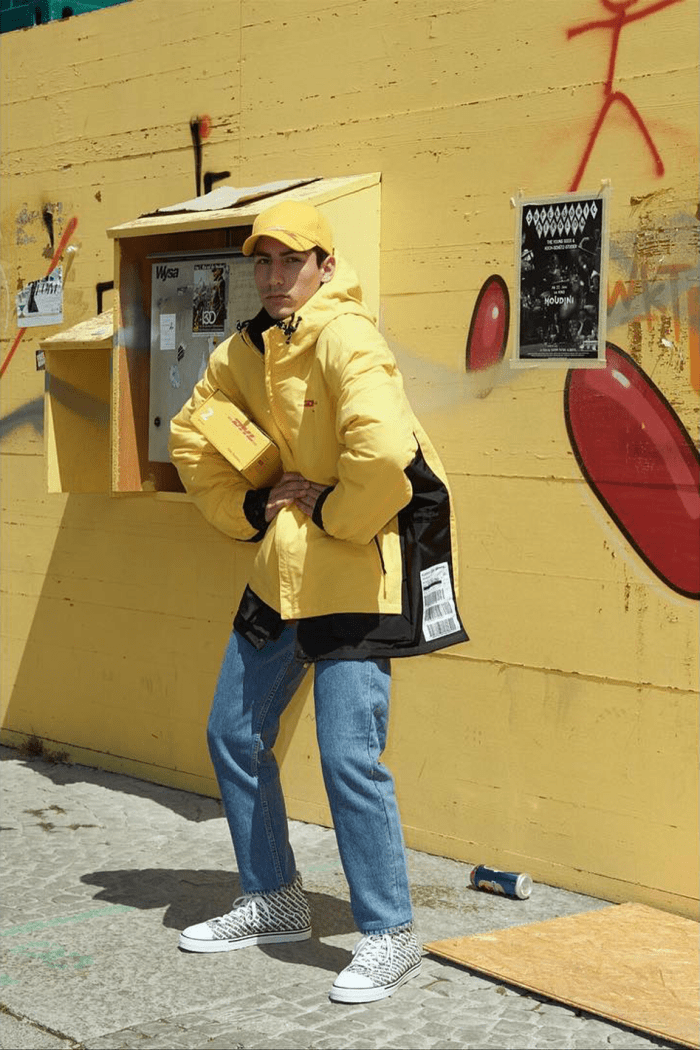 Just when you thought Demna Gvasalia had moved on from his DHL-inspired design days, the designer brought back the red-and-yellow logo in a bigger way at Vetements's "No Show" on Saturday. The Zürich-based brand stuck to its newly implemented "no runway show" rule and presented its Spring 2018 collection as a photo series in a parking lot during the last days of Men's Fashion Week in Paris.
Gvasalia told WWD that "No Show" debuted "a collection of, basically, carryovers," which includes the once-coveted DHL garment. To refresh your memory, the designer and his team sent designer Gosha Rubchinskiy down Vetements's Spring 2016 runway wearing a high-end take of DHL's logo shirt, putting the courier company on the fashion map. In April 2016, Lyst received more than 30,000 search inquiries for the Vetements piece in just one week; the demand was so high that Lyst even staged a gimmicky fake kidnapping as an attempt to restock the shirt.
Now two years later, Vetements has added a hat and parka jacket that also feature the DHL logo. The new look was modeled by a real person (i.e., not Rubchinskiy) whom Gvasalia had handpicked in Zürich, where the label relocated earlier this spring. Gvasalia roamed the streets of his new hometown to photograph Swiss locales of all ages wearing the new collection, which include collaborations with Umbro, Reebok and Tommy Hilfiger. While Vetements's previous collection in January covered every available aesthetic, this Spring 2018 imagery was able to tap into the real people behind those sartorial stereotypes.
According to Vogue.com, Gvasalia showed his subjects a book of different fashion poses "and then we asked them to do their version of them" for the 50-plus photo series. A clear favorite stance among residents-turned-models was a hands-on-waist, elbows-out and curved-back pose, invented by Irving Penn in the '50s but popularized by Tyra Banks in a 2008 episode of "America's Next Top Model." The supermodel gave her contestants the "biggest modeling secret trick tip that you can get," and it looks like her advice has traveled all the way to Switzerland.
Visit Vetements's Instagram page to see the Spring 2018 collection in full.
Want more Fashionista? Sign up for our daily newsletter and get us directly in your inbox.