How Anna Sheffield Is Building a Nontraditional Jewelry Empire With Responsibility at Its Core
The New Mexico native fell into jewelry design by accident; now, she regularly sells five-figure engagement rings via Instagram DM.
In our long-running series, "How I'm Making It," we talk to people making a living in the fashion and beauty industries about how they broke in and found success.
You may not recognize Anna Sheffield if she were to walk into a room, and you may not even know her by name, but if you're any part fashion-aware in 2017, you almost definitely know her work. The jewelry veteran and Instagram extraordinaire has carved out a plum spot in the jewelry world — that is, at the top of the social media pyramid — communicating her brand fluently to her nearly 90,000 followers on the photo-sharing platform. I've followed Sheffield at @annasheffield for years, as have many of my friends and colleagues. When a friend recently got engaged, I recognized her ring immediately as being one that Sheffield designed; she, too, had discovered Sheffield via Instagram.
Sheffield is far more than an Instawhiz, though, and she deserves to be recognized as such. She stumbled into her career almost by accident while an art and sculpture student in San Francisco, where jewelry-making became her creative outlet. With no formal training, she learned the ropes as she went along, later founding the Bing Bang jewelry brand in 2002 before launching her namesake line. Today, Sheffield's eponymous business is more booming than ever; her finest fine-jewelry collection, called Flying Flowers (pictured in a gallery below), recently launched to much acclaim, and she'll be opening her first Los Angeles pop-up this fall.
But throughout our conversation, what I found most impressive was not necessarily Sheffield's nontraditional artistry, which certainly speaks for itself — it was her personal sense of responsibility. "Every tiny thing counts," she told me over the phone from LA, explaining how consciousness and sustainability truly do affect every wrung of her business.
I spoke to Sheffield about all that, from how she chooses the artisans with whom she works to the customers who now slide into her DMs to buy engagement rings.
When did your interest in jewelry begin?
It was kind of an odd and accidental adventure. I started in fine art and sculpture; that's what I studied in school. But I studied jewelry and learned a lot of the techniques. When I would be stuck on a sculpture or something big and gut-wrenching, I would take some time to decompress — let my creativity wander — and I would make a piece of jewelry.
I started by using these pieces of steel that I would find in the shop of my welding teacher. He had this really cool metal punch that would punch out steel and bronze holes in things, but what was left was this kind of confetti. I would use silver and make these rings and pendants to take the edge off of being in my studio making art. I would, of course, wear them or give them to friends or make them for my mom for Mother's Day. It evolved into this thing where people would ask about them, and sometimes I'd make them for people and sell them.
Did you always know this was going to be a career for you?
Eventually I started putting them in a store. That was the birth of the Bing Bang. It was the first time that I ever considered that maybe I could make jewelry for a living and do that instead of welding or making furniture on the side. It wasn't like I set out to make jewelry.
I've always loved jewelry. I grew up in New Mexico, so jewelry was very omnipresent. Especially for Native American cultures, their jewelry is such a part of their artisanship. I grew up thinking that jewelry is such a magical mode of operation and creation, but I never considered myself that kind of person, so it was really fun to actually become one of those people. The beginning was just me in my studio hammering and soldering stuff and being like, "I wonder if someone will want to wear this."
What challenges did you face when you were first getting started?
Well, I didn't have a fashion or merchandising degree; I didn't have any experience. In some ways, it really worked out well for me, but then in some ways it was really just an odyssey. I didn't know what a masthead was. I'd open up a magazine and be like, "How do I get in this magazine? Who is this person? Oh, the jewelry editor. I should probably send her my line sheets." I was coming at it from such a different angle. I was like, "Oh, a showroom. I should probably be in a showroom." I just reached out and figured things out as I went. Stores would be like, "Can you make a loan form for the things I'm going to take?" And I'd be like, "Loan form… Let me just make one of those real quick." It was a lot of spit-balling. I think in many ways it was to my benefit, because I didn't really have as many doubts or constraints; that came later.
How do you discover the artisans from whom you source your materials?
For one, I want to work with people I get along with, who I think are good people, who I respect and feel the same about me — which has been an interesting avenue of approach for the diamond industry. But I have actually found really amazing people I work with now, through putting that out into the universe, I guess. I try to work with as many sources that are single origin as possible. With regards to anything that comes from the Earth, or goes through multiple hands through multiple countries, I think the closer you get to that source, the more transparency you have all along that chain — how people are treated, how the Earth is treated and how this material is delivered to you from a quality perspective, but also from a vibrational perspective.
You don't want something that's made by somebody who's poorly treated and in a miserable environment. You want something made by someone who has done this with care and love and is being appreciated and paid well. Finding those people has been like a needle in a haystack, but it's also really fulfilling because then you have this wonderful relationship and you know that this product is coming from a meaningful and well-tended place.
In terms of the rest of the materials, we do the bare minimum, which is trying to be as sustainable as we can with our product and packaging and everything we do at the company. But I feel like those things are a given; the extra effort comes when you really try to push the boundaries above and beyond what happens in your industry.
How would you say that you differentiate your work from other jewelry designers?
With my fine jewelry, we're doing something, I think, that's kind of exceptional in that I came from a designer background so I make designer jewelry, and I make fine jewelry, but then my perspective on that is to mix unconventional materials and to design in an unconventional way. I still make fine jewelry — and I make things that you could buy for yourself — then I make things that are a little bit on the red carpet tip. It's in a weird little satellite area; there are other amazing brands that make ceremonial jewelry, and I think there's amazing brands that make fine jewelry, but I feel like we're in this in-between, which is inspiring. I like to be in a place that's off the map, as much as I can. If we find ourselves on the map, I usually push us off the map again.
You have customers who will buy an engagement ring from you via Instagram DM. What kind of role does that platform play in your business?
Oh, it's incredible. It's such an incredible mode of communication because people can really get in touch with us there, and they can share their stories with us. There's so many times when he comes in and buys the engagement ring and we haven't met her yet, and when I meet her she's like, "Oh my God! He bought me the Anna Sheffield ring that I've been wanting for so long!"
To get those stories directly is just unfathomably beautiful and fulfilling. Also in terms of showing things that we're doing and storytelling about the brand and what it means to us, it's great to be able to share that information so candidly, so quickly and so directly with people that are interested in it.
When I'm with a vendor or I'm having a meeting with my team, and I'm like, "Look how cool this amazing marquise shape is," I can show that on Insta Stories and somebody can say, "Me, me, me! I want the one at the top! I've been waiting for you guys to have a black diamond that size. I want that one! Make that for me." That's really cool, too, because how else would we do that with people who aren't able to come into the store? And even if they are able to come into the store, they don't always know what we have in stock or what interesting stones I've found lately.
How has social media changed how you approach your job?
My job is like the many-hats job. I guess everybody in a small company wears many hats, but particularly because my name's on the door. Social media is an important part of it because that's where I can make sure that the ideas are being conveyed, and it's wonderful to be able to plan that out in advance. There's also this amazing capacity to react in the moment, when something political is happening or when there's something that we believe in that we can share.
I think that's a powerful thing, particularly lately — to be able to make people aware that you're on the same page as them. To be able to say that we believe in this, we stand behind this, that kind of stuff is amazing and powerful. Particularly with jewelry, people are going to wear every day for the rest of their lives, for them to be able to give you a little arm-up emoji being like, "Hell yeah, me too." It's so, so, so fulfilling and radical and wild, and totally of this era, like no other time in history. It's a wonderful challenge, and it's also an incredible asset to the voice of the brand, and to me personally.
What do you think is the best part of your job?
I mean, the ability to sit down and design is such an immense luxury. It's so rare for me to just sit down and work out ideas, or look at unique gemstones we have on hand that I'm like, "I've been meaning to draw a ring that would go with that diamond." It's just so rare, so I feel like that is the cream. 
The more the company has grown and the more my responsibilities grow, it's really fun for me to consider the marketing aspect, and tying that into what we can do in the store — talking to friends that I'm dying to collaborate with — and how we can put those into action. To be able to think holistically and tie all these incredible things together, that is the dream. I can't believe it's what I get to do. I wish I didn't email quite as much so I could do that a little bit more, but at the end of the day, that's what I do. It's a wonderful luxury.
What's the worst part?
Email would classify. It's similar to social media, where Instagram can show you a window into the world, but it can also be the most ridiculous time suck. Email's one of those things, too. In our office, we're all sitting at our desk like, I'm 17 emails deep in this conversation. We should have just turned around and started talking about it. Let's talk this out. Delete. And it's like my inbox goes from 100,046 to 100,030. I'm making progress!
You recently launched your Flying Flowers collection, which I understand is quite a milestone for the brand. How did that range come about?
It's really the most fine jewelry that I've ever made; it's the finest on the scale. I love some little diamond earrings; that's how I shop. If I didn't make jewelry, I don't know if I'd go out and buy a giant fancy earring, but maybe I would if I was compelled. 
That's been cool because I really pushed it to the next level. That stuff is all brand-new, and we're releasing little editions of it. It's been fun because I put all kinds of new gemstones in it that I'd never worked with before, trying to emulate these weird color palettes. It's very heavy on the reclaimed melee. It's all reclaimed, so they're all different sizes. My setters are like, "You're so annoying. Why does it have to be a .08 next to a .09?"
What's your ultimate career goal?
This might sound emboldened, but the ultimate goal for me is to find ways in what we do as a company, and what I do as a person, to really make change in the world. I'm trying to do that on a scale that's measurable so I feel like it's a little bit more attainable. In the long run, I would like to see it become a bigger part of what I do on the daily and to have it making change and effecting change in the world.
I'm sort of a dork when I want to design something; I read every single thing about it. When I was working on the Flying Flowers collection, I was just freaking out, reading all this information about how people view butterflies and how we started to recognize their process of evolution from a grub to a caterpillar to a beautiful flying flower. In studying all of that stuff, I was like, God, this is — pardon my French — fucked the way that we've treated this planet. You start to look at these beautiful, incredible things that have evolved in this magnificent way, and then you're just like, "The numbers are down 90 percent." How is that possible? Not in my world will there be no butterflies! Not in my world will there be no bees! Enough! That happens inside me, and I'm like, "How can I do something, a little tiny something, to change this?"
To make a long story long, that's what I want to be doing. "She helped save the butterflies!" You know? It's not like I want to have a sign on my door that says, "She's a good person," but at the end of my life, I want it to be like, I didn't just make a bunch of stuff. I made a bunch of meaningful stuff that brought beauty and happiness to people, but I also took that incredible position of privilege and did something really good with it and acted from the heart. At the end of the day, that's what I really want to do more of.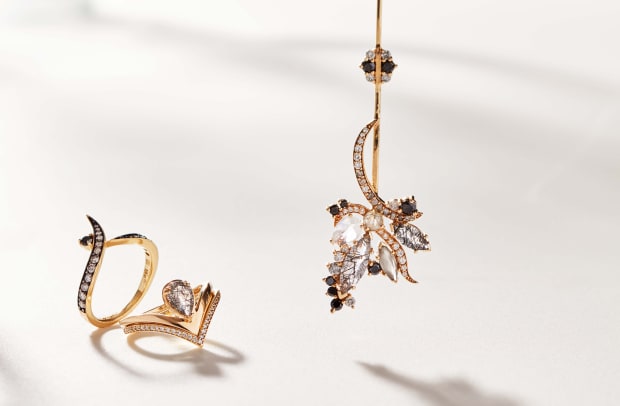 This interview has been edited and condensed.
Never miss the latest fashion industry news. Sign up for the Fashionista daily newsletter.