Karl Lagerfeld Custom-Built an Eiffel Tower Replica for Chanel's Fall 2017 Couture Show
Well, why not?
Was it only last season, just four months ago, that Chanel constructed a functional spacecraft as the centerpiece for its Fall 2017 show? When that rocket physically took off in the middle of the runway, we felt confident that this, indeed, was the Chanel pinnacle; Karl Lagerfeld simply wouldn't be able to outdo this.
While the French house's latest couture show, held on Tuesday morning in Paris, didn't exactly have a working shuttle to launch into space, Lagerfeld did pull out all the stops — namely, a replica of one 984-foot wrought iron lattice structure named after engineer Gustave Eiffel. Which means, yes: Chanel custom-built a proportional duplicate of the Eiffel Tower within the brand's traditional show venue, Grand Palais.
The collection's 60-plus looks served as homage to the house's 1930s-era Parisian roots, with no shortage of tweeds, each with their own coordinating flat-brim sailor hats, and adorning everything from wide-shouldered coats to feathered minidresses. Halfway through the runway lineup, models transitioned to its eveningwear segment, complete with a number of strikingly architectural gowns — something of a departure from Chanel's midi-length style we're accustomed to seeing on the red carpet. French model Camille Hurel, who only made her runway debut with Givenchy's Fall 2015 show, was this season's bride, wearing a soft, voluminous gown embellished with white rose detailing along the hem and at the sleeves.
In all, it was a very Parisian way to celebrate the Fourth of July here stateside. Before going all red-white-and-blue, why not make yourself an espresso, prepare your best petit déjeuner and see Chanel Haute Couture's full Fall 2017 collection below.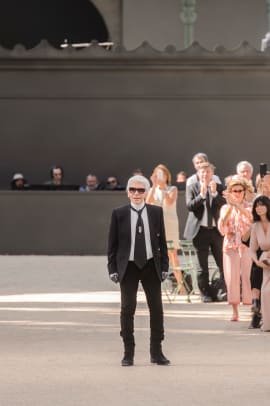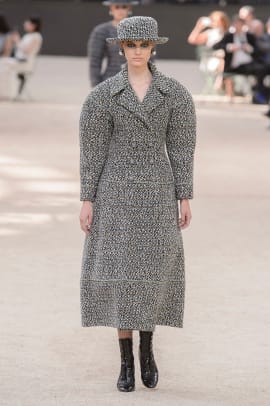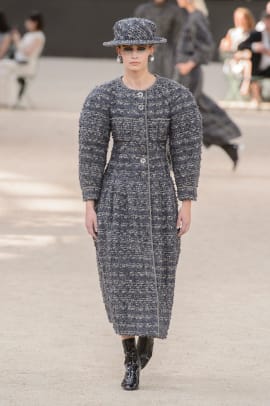 Homepage photo: @fashiontomax/Instagram
Want more Fashionista? Sign up for our daily newsletter and get us directly in your inbox.