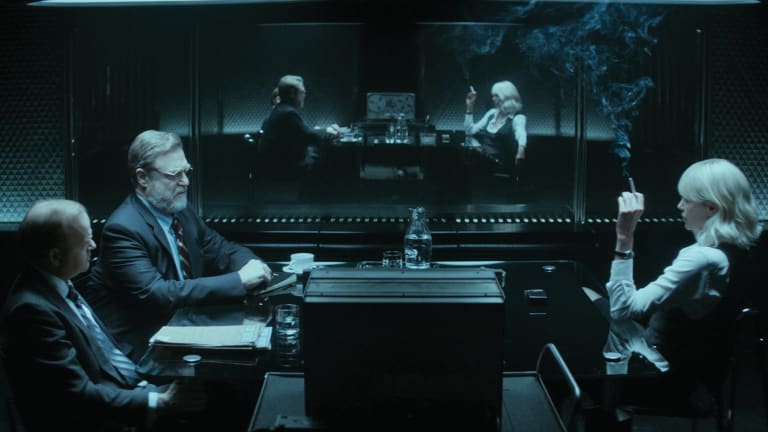 Charlize Theron Kicks Ass in 'Atomic Blonde' While Wearing Dior, Saint Laurent and Burberry
"'Cool' was our mantra on this film, and it became very empowering," says costume designer Cindy Evans about the stylized '80s costumes.
Badass women continue taking names this summer as Charlize Theron's action spy-thriller, "Atomic Blonde," hits theaters on Friday. Set in 1989, right before the fall of the Berlin Wall, the movie follows Theron's ass-kicking MI6 agent Lorraine Broughton as she travels to the divided German city to retrieve a missing list of double agents after the murder of a fellow spy. The period setting provides a now-timely opportunity to revisit Cold War-era spy-craft and intrigue, a good excuse to enjoy to a particularly excellent '80s soundtrack (New Order's "Blue Monday" opens the movie) and another reason to appreciate the era's iconic fashion — especially on Theron, who juxtaposes her character's gorgeously stylized (and mostly '80s-referencing) designer aesthetic with the brutally balletic stunts she performed on her own.  
"'Cool' was our mantra on this film, and it became very empowering," explains costume designer Cindy Evans via email. Fashion nerds might recognize and should definitely keep an eye out for notable items: a black double-breasted long cashmere coat by Max Mara, Burberry trenches, Stuart Weitzman Lowland over-the-knee boots for an especially brutal fight scene, lots of Dior (more on that in a bit) and a fabulous John Galliano white vinyl trench (below), which rightfully happens to be Theron's favorite wardrobe item from the movie, per Evans. In fact, at one point, the character resourcefully uses a pair of red patent Dior pumps to help herself out of a nasty situation. 
Evans did include authentic '80s vintage in the movie, especially on the oft-Day Glo-mohawked East Berlin punk kids (think teddy bear coats, worn-in leather motos and hip-hop-inspired track suits); in one scene, Lorraine lounges in a throwback Boy London T-shirt, a streetwear mainstay of the era. "It was always a priority to show the cool details of the '80s," she adds.
The costume designer, who previously worked with Theron on "A Million Ways to Die in the West" and "The Burning Plain," was game to answer all of my burning questions about the sublime costumes, including sharing lots more fashion credits, working with the house of Dior and dressing James McAvoy's East Berlin-embedded agent, Percival, in sweater vests sans shirts. Read on for the highlights.
Where did you look for inspiration to create Lorraine's costume color palette, silhouettes and textures? 
I looked at a lot of Helmut Newton's work from the '80s and couldn't help but be drawn into his photographs and how they imbued strength and sensuality in such a graphic way. I used texture to elevate mood and style and to keep her in a heightened stylistic state.
The movie is set in 1989, but Lorraine's silhouettes also speak to contemporary times — especially with her pinstriped bustier flared pantsuit (below) when she arrives at the Tempelhof Airport in Berlin. Could you tell me more about that that?
I'm not sure that was a conscious choice on my part ... with Lorraine in particular, I tried to ground her style in a sartorial timelessness, all the while adding in subtleties that evoked the '80s. The Tempelhof outfit was Margiela — black cashmere and thick chalk pinstripe — and the bustier was an upside-down jacket. You gotta love John Galliano.
Lorraine wears mostly black and white, like the graphic novel "The Coldest City," on which the movie is based. But her Dior pumps, worn with the Margiela outfit, are red. Why did you decide on using color for that moment? 
I feel like I got lucky with that one. I had always planned on using them and it just seemed like the perfect choice for that outfit and fight sequence. Then for a moment, it seemed like an absurd and dangerous choice, but Charlize is game like that, and said, "fuck it, let's do it." The rest is history.
Lorraine wears a good deal of Dior in the movie and Theron is a face of the brand. What was the collaboration for the movie like and how did it come about?
Yes, Dior was very instrumental in supporting us on this film, and I am so grateful to them. I had reached out to them early on, and they really wanted to support Charlize and the film — honestly, they were a lifesaver. "Atomic Blonde" in actuality was made as an independent film, so we relied heavily on any designer support we could garner, even if it was at a discount only. They truly upped our game. The red coat Lorraine wears was from the Dior archives; the black and white sweater was Dior, as well. The studded ankle boots were Saint Laurent, and they, too, were generous.
There's the scene in the trailer when Lorraine says something like, 'if I knew, I would have worn a different outfit,' and a fight scene ensues. What was the inspiration behind the cream coat, sweater, skirt, garters and over-the-knee boots look?
Again, paying homage to Newton, but this time through an Ellen Von Unwerth image that I came across of a girl in a white coat looking fierce with garters exposed — looking very Newton-esque. I knew I wanted to parlay that somehow and that costume is what I came up with. I think what makes "Atomic" so fun to watch is her unapologetic reverence for style set against the savage brutality of her missions in Berlin. Her sweater is Dior, the coat is Massimo Dutti, the skirt is Wolford and the boots are Stuart Weitzman.
That fight scene was especially intense — what allowances did you make to the costume to make it fight-friendly? 
Everything had some stretch to it. The coat was very light and had a nice '80s drop shoulder, so she wasn't constricted. Charlize came up with the idea of attaching the skirt to the sweater, which helped enormously. She really loved fighting in that costume because it allowed her to move with ease. Originally, she was meant to scale a rooftop, and that's initially why I wanted to use a white coat with white hair. The anti-cat burglar, so to speak.
In some action scenes, Lorraine wears flat boots and in others, very high heels. What was the decision to go practical versus glam for fights? Did you apply any tweaks to the high heels for the action sequences?
We had to find the right scene for her to wear the higher [heel] boots, and that one seemed (almost) appropriate enough. Charlize felt comfortable fighting in them, as they were actually quite stable. The better, safer choice is always going to be a flatter shoe or boot for fighting, but for this film, style almost always won. Ironically, the only time she hurt herself a little was when she was walking up three steps in heels. The heel caught in the pant leg and she twisted her knee. She's a tough girl. She bounced back.
I noticed that in one scene in the hotel, Lorraine wore a black and white-striped sweater, which matched the design of the lamp on the desk. What was the meaning behind that design moment? 
[Production Designer] David [Scheunemann] and I call that 'our black and white moment.' There were so many other black and white details on that set. I stood behind my decision to keep her in that Saint Laurent mohair sweater. It was our nod to Debbie Harry. David's awesome '80s table lamp is by Mario Botta. One of my favorite collaborations ever!
What was the inspiration behind Percival's (James McAvoy) costumes, especially his knit tank top and vest, sans shirt look?
Percival lived in the Berlin underworld for so long ... a lot of his style emanated from his shifty trade business dealings and, mostly being in the East, he swung a touch more '70s, clashing with a bit of '80s.  
What research did you do to create the looks for the East Berlin punk kids? Also, what was it like creating costumes re-enacting the fall of the Berlin Wall? 
I did an extensive presentation book for this film and found some incredible images of the punk scene in Berlin, as well as the Berlin Wall at that time. It also helped immensely to be able to thrift and pull the clothing in Europe. My assistant Maja Meschede and I scoured Angel's in London, Bablesberg Studios in Berlin and savaged a tiny thrift store in Budapest called Humana. It was quite a feat to pull it all together, and we found incredible clothing in the end, hoping to strike a balance between what was historically correct and what would make this a stylistic and visceral experience for the audience. 
Atomic Blonde opens in theaters on Friday, July 28.