With Justin Bieber and Four Pins Co-Signed Menswear, Death to Tennis Is a Label to Watch
The Woolmark Prize nominees don't actually have anything against the preppy sport, but their wacky brand name has helped to pique the interest of all the right industry insiders.
There may be other occupations (aside from fashion designer) that abide by the concept of faking it 'til you make it, but creating and selling your own clothing certainly ranks high on the list. Old ideas are frequently repackaged as new ones, enigmatic professional personae can be crafted from thin air and pricing schemes are often based on little more than creating an illusion of exclusivity.
So, in a way it was refreshing to hear William Watson of New York label Death to Tennis refer to himself as an also-ran at a recent dinner celebrating the U.S. regional Woolmark Prize winners. "Death to Tennis," he announced jokingly upon arrival at the Public Hotel on Manhattan's Lower East Side. "This week's losers!"
Watson and his co-founder, Vincent Oshin, had learned only minutes earlier that Christopher Bevans of DYNE would be the recipient of this year's American Woolmark Prize — and the 70,000 Australian dollars that come with the title — instead of them. Their presentation that day before the panel of Woolmark judges that included Andre Leon Talley, Thom Browne, and InStyle Editor-in-Chief Laura Brown had been a source of low-level anxiety for Watson and Oshin; it came on the heels of their first on-site New York Fashion Week: Men's show that had already applied some pressure on the duo. Such is the life of emerging fashion talent — a distinction that is also somewhat illusory.
"We're supposed to be five [years old] in August," Oshin noted in a moment of calm in the Death to Tennis showroom a few days before the Woolmark ceremony. Half a decade in business is a notable feat in this difficult, ever-changing fashion climate, but also allows the duo to still catch a ride on the newbie wave. The Woolmark nomination gave Oshin and Watson an exposure bump, and a relatively sparse NYFW:M calendar also worked to their benefit, providing enough blank space on the schedule for the industry to take particular notice of a brand that's flown relatively under the radar thus far. Among those whose interest has just been piqued is veteran fashion editor, street style icon and Woolmark judge Kate Lanphear.
"I was particularly interested to suss them out," Lanphear said, admitting the brand's name was a talking point prior to the Woolmark deliberations. "We all were wondering, 'What do you have against tennis? What did tennis ever do to you?'"
For the record, the name is intentionally provocative — a sign that fashion's smoke and mirrors may be unavoidable. "Obviously, with a name like Death to Tennis, you know you're going to constantly be asked, 'Why is it called Death to Tennis?'" Oshin says. "But then you say, 'Think about it.'"
The pair do have a wacky explanation laid out on their website if you want to dive into it, describing a utopian-seeming dystopian England and two fictitious characters by the names of Dr. Death and Mr. Tennis who are looking to escape imprisonment by raising cash through gambling and arms dealing. It's fun, but the real lives of Oshin and Watson actually provide a better context for understanding the clothes they create.
Both natives of Northern England, the pair met in New York after working in and around the fashion industry for some time; Oshin was an editor and stylist with a client list that included several Michaels with initials (J. Fox and K. Williams), and Watson did time designing at Umbro, Ralph Lauren and Donna Karan. A mutual friend tipped Oshin off to the avant-garde leanings of Watson's designs, and eventually, they came together to make a three-piece collection that was picked up by New York shop C'H'C'M'. It was then that the late, great menswear site Four Pins caught wind.
"They wrote a really nice article," recalls Oshin. "From then, [Manhattan boutique] Odin came to play, and then the rest is history."
Soon, Oshin and Watson, now both 40 years old, left their day jobs behind. "One day, I was just like 'F it,'" Oshin says. "Why waste time and energy running around when you have something that's starting to gain traction?" Now sold on their own site, Opening Ceremony, United Arrows and Ron Herman, among other retailers, Death to Tennis is a well-oiled machine; Oshin serves as the de facto creative director and Watson as the designer who sketches ideas. Much of their output is understated, relying primarily on a trademark boxy fit, discreet branding, and high-quality fabrication from Japan, Peru, and Italy.
"It takes a confident man to wear stuff like this without big logos that say, 'I spent X amount of dollars on this, because it says XYZ on it,'" Oshin says of the label's elevated mindset. "We're not necessarily changing the game. What we're trying to do is create timeless pieces. If one is to take care of them, they're never going out of style."
Despite the storytelling, it's that clean and well-crafted aesthetic that is ultimately better positioned to win over new fans than any imagined backstory. Lanphear, for one, says she appreciates the pragmatism apparent in Death to Tennis's designs. "I'm always intrigued when someone's actually thought about who's wearing it," she says, adding that newer brands are more likely to remain impervious to fickle trends. "We all get swept up in the commerce [aspect] of this. Sometimes in younger designers, they haven't quite figured out that formula yet, so it becomes about those bigger, broader ideas, which get really interesting."
Famous fans have come knocking, too: Chloe Grace Mortez, Mick Jenkins and Justin Bieber have all worn Death to Tennis. Whether they were drawn in by the plight of Dr. Death and Mr. Tennis — or any of the machinations working overtime to anoint labels on the cusp — is a mystery. Oshin and Watson can't even say how Bieber, for example, got his hands on Death to Tennis garb in the first place. "To this day, we still don't know," Oshin says. "But we're glad he paid for it."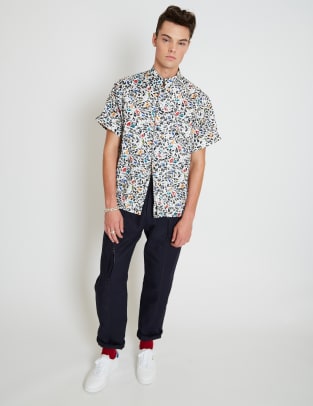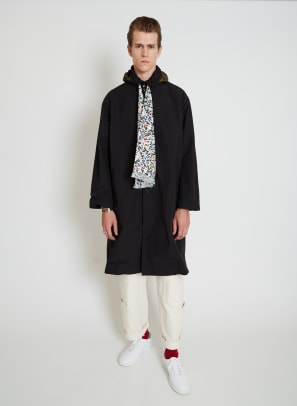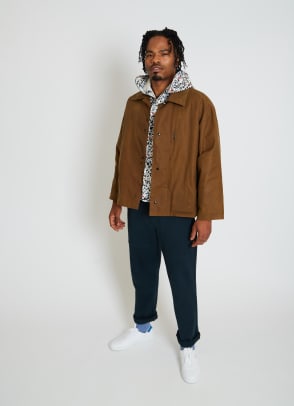 Homepage photo: Imaxtree
Sign up for our daily newsletter and get the latest industry news in your inbox every day.