Gucci Is Launching a Décor Line [Updated]
Now you can give your home that Alessandro Michele touch.
For those obsessed with Alessandro Michele's vision at Gucci — and these days, that's just about everyone — life is about to get a lot more, well, Gucci: The brand announced on its Instagram on Wednesday that it would be launching a line of décor in the fall. 
Featuring illustrations by Alex Merry Art (that we hope will also be available for purchase for a truly meta moment), Gucci has added its signature motifs to wooden chairs, throw pillows and scented candles. And because this is Michele we're talking about, it looks like there are dramatic folding screens and incense burners in the mix for that genuine Renaissance touch. 
According to Gucci's Instagrams, the line will officially debut in September and will be available through Gucci.com, as well as select Gucci and specialty boutiques. No word yet from Gucci on pricing, but we'd wager a guess that for mega-fans of the brand, no number is too high to have a couch bedecked in Gucci throw pillows. 
UPDATE, July 12, 2:30 p.m.: Gucci has sent further information and images of the Gucci Décor collection, which includes the items mentioned above as well as metal trays, folding tables, and a range of wallpapers in fabrics like silk, vinyl and paper. The porcelain pieces are produced by Richard Ginori, a Florentine company founded in 1735. 
The scents for the candles and and incense have been developed by Michele, and per the release include: "Inventum (a delicate note of ancient damask rose, blended with voluptuous and distinctive Taif rose); Fumus (the dark and intense scent of birch, mingled with that of orange leaves and beeswax); Herbosum (the fresh, intense scents of tomato leaves and aromatic plants, mixed with the fragrance of long grass peppered with basil and lemongrass); and Esotericum (the bitter aroma of Seville oranges, intricately intertwined with notes of jasmine, leather and salt)." 
Gucci notes that the décor collection will not have its own dedicated floorspace, but be spread throughout the boutiques "to emphasise Alessandro Michele's notion that these pieces are simply another way to dress in Gucci." Chic. 
See the complete Gucci Décor collection now: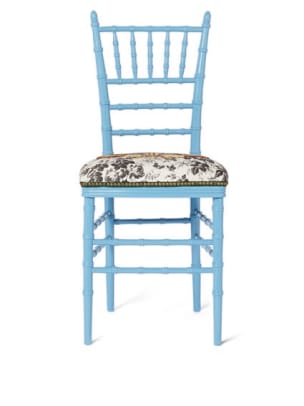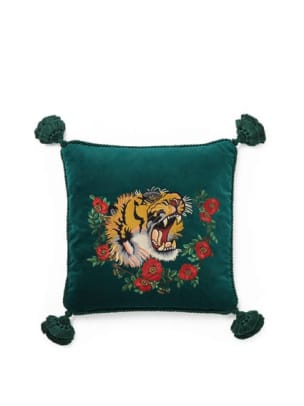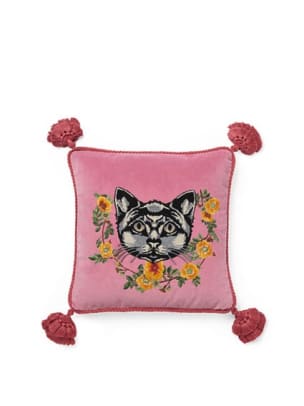 Want the latest fashion industry news first? Sign up for our daily newsletter.