Happy Socks Built a $100 Million Sock Business — and It's Coming for Women's Fashion Next
The nine-year-old Swedish sock label is introducing more styles, fabrics and patterns to brighten up your underwear drawer.
A decade ago, shopping for socks was a bit like shopping for house paint. Sure, some pairs were thinner and some were thicker and some were precisely the right shade of black or white, but ultimately, you were choosing between a bunch of things that looked almost exactly the same. Fast forward to 2017 and options range from pineapple-printed tube socks to pinstripe knee-highs to fishnets in every color of the rainbow — and even, if you're feeling really fancy, Gucci versions with velvet bows up the back.
If you had to pinpoint ground zero for this transformation, Swedish brand Happy Socks would be a good place to start. The company launched in 2008 and has since sold more than 40 million pairs of socks to customers worldwide, distributing its colorful, playfully patterned styles to 90 countries and 12,000 retailers worldwide (including, by the end of 2017, 50 company-owned stores). According to co-founder Mikael Söderlindh, at the time he and co-founder/creative director Viktor Tell hit upon the idea for the brand, the only bright, printed socks on the market were sold as gag gifts, often covered in Bart Simpson's face and hardly appealing to the kind of design-conscious customer they hoped to reach.
Of course, that's no longer true today: There's Stance, the American company best known for inking deals to become the official sock brand of the NBA and MLB, as well as for collaborations with big-name stars like Rihanna; Bombas, the buy-one-donate-one startup that's on track to reach $50 million in revenue this year; and a wide variety of smaller labels (including one notoriously headed by a Kardashian) staking their claim on the industry.
But Söderlindh argues that the increasingly crowded playing field has only improved Happy Socks' game. "I think competition has grown the business; without the competition, it would not be where it is," he says. "You have a lot of brands now that are out on the market, and I think our brand stands for the creativity, the art, the design and the fun, also. We have a very clear position where we are." That clarity might come from consistency. As much as the company has grown, the ethos has remained the same — make an accessible, stylish product that makes people smile.
"It's self-expression and an emotional feeling," explains Söderlindh. "I think you wake up in the morning and you look in your sock drawer like, 'Am I red? Am I blue? Am I dots?' It's a small moment of joy."
Now, the brand has set its sights on a segment of the market it hasn't quite conquered yet: women. While the classic combed-cotton, mid-calf sock has been unisex from day one, Happy Socks' women's styles currently reflect only 30 percent of the overall business, which now includes underwear, kids' socks, athletic socks and dress socks for men.
This fall, however, the brand is launching Hysteria, an offshoot women's line with a more fashion-forward point-of-view. The initial collection features a wider range of fabrications — slinky viscose, printed nylon, mercerized cotton, soft blend — most of them ankle-length and thin enough to wear with heels and narrower shoes, and in colors and patterns that are easier to style with womenswear. (Men, after all, can pair just about anything with jeans or a black suit.) Importantly, says Hysteria's Head of Design, Paula Maso, the line has its own communication, including a separate Instagram, unique retail displays (featuring the requisite dash of millennial pink) and a campaign shot at the Italian Cultural Institute in Stockholm (whose architect, Gio Ponti, also served as an inspiration for the collection).
Where Happy Socks' marketing and social media may have felt "perhaps a bit too unisex or too male-oriented or too streetwear" for some female consumers, says Maso, Hysteria's will present "more of a lifestyle, curated, high-end experience." The brand's commitment to color remains as strong as ever, but rather than mixing five brights on a single, polka-dotted sock, it might offer a pair in royal blue with merlot accents at the toe and heel, or in pale peach with painterly, multicolored swirls. The finishes, too, differentiate them from the flagship style: Some have a subtle sheen, while others are half-sheer, half-opaque. In coming seasons, Maso hopes to introduce embellishments, along with seasonal styles like fishnets and tights.
Collaborations have been a cornerstone of the Happy Socks brand since its early days, with partners running the gamut from Iris Apfel to Snoop Dogg. (Guess whose socks featured weed leaves and whose featured bunny rabbits?). In most cases, the brand provides the canvas — or, more accurately, a booklet with blank sock patterns — and leaves the collaborator free to design, afterwards turning it over to the factory to produce. It's teamed up with photographers (Ellen von Unwerth, David LaChapelle), designers (Karen Walker, Giles Deacon), DJs (Miike Snow, Steve Aoki), retailers (Opening Ceremony, Barneys New York) and dozens of others — some on product alone and others on mixed-media projects, such as the short film "Sin City"'s Robert Rodriguez produced to accompany his collaboration.
If that seems like a laissez-faire system, well, that's kind of the point. "We will do whatever—it's more that we want to find someone that stands for something or that sticks out or is at the forefront of something," says Söderlindh.
"I see our brand of socks [as] being like a person," he muses. "If you're a social and nice and outgoing person, you're always going to find new people to go and have dinner with, and that's what a collab is for us."
Not all these companions stick out for the right reasons these days, however: Terry Richardson, who shot a guerilla-style campaign for the brand in 2011 starring A$AP Rocky, Sky Ferreira and a crew of downtown cool kids, has since notoriously been the subject of a slew of sexual-misconduct allegations, while YouTube star PewDiePie, whose collaboration came out in December, came under fire in February for a pattern of anti-Semitic and racist comments on his channel.
Future collaborations seem less likely to run this risk, as, per Söderlindh, the brand plans to move towards bigger partnerships with well-known names. The first of these is a collectors'-edition six-pair box set that pays tribute to The Beatles' animated 1968 film "Yellow Submarine"— a deal which, needless to say, was negotiated through foundations and licenses rather than simply a booklet.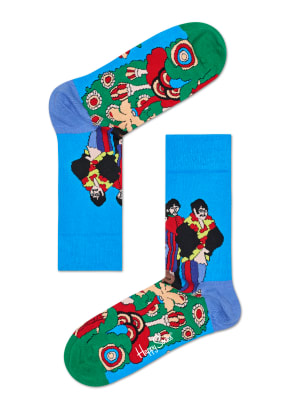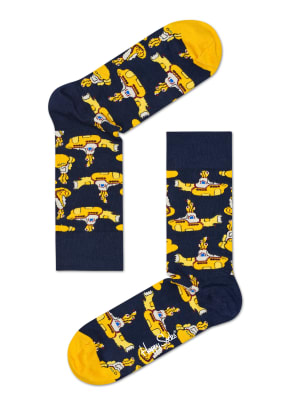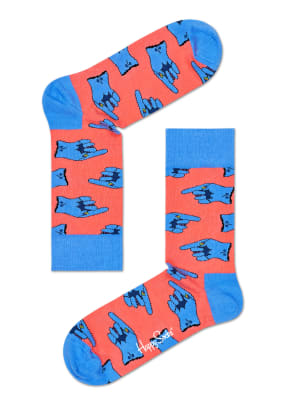 For now, Hysteria is treading cautiously into collaboration territory. For the first few seasons, says Maso, the brand plans to stick to smaller projects with female artists and creatives on social media, asking them to interpret and style the socks rather than design them. "I think it's important for us to stand on our own two feet and not rely so heavily on collabs at the beginning," she explains. "We want to have this very recognizable style at first." Promoting self-expression, however, is still paramount, both as a marketing strategy — the more black-sock converts, the better for business, after all — and as a central belief of the company.
Söderlindh, for his part, doesn't think the shift from socks-as-commodity to socks-as-accessory is a passing fad, arguing that they fill the void left by ties as the latter become increasingly rare in the workplace. For men, at least, the logic holds: Last year, The New York Times heralded the "end of the office dress code," citing, among other things, the city's new municipal human rights law barring employers from requiring men to wear ties if they don't require the same of women. Investors, too, are betting on the trend sticking around. In January, investment group Palamon Capital Partners acquired a majority stake in Happy Socks for SEK 725 million (approximately $81.2 million), following nine straight years of growth for the company and, last year, retail sales of €100 million, or $106.4 million. (Söderlindh says they have been profitable since month three.)
Now, it just remains to be seen whether women will embrace Hysteria with the same enthusiasm — and whether our sock drawers are about to get a lot more colorful.
Homepage photo: Happy Socks
Disclosure: Happy Socks paid for my travel and accommodations to visit the brand's headquarters.
Never miss the latest fashion industry news. Sign up for the Fashionista daily newsletter.