Raf Simons Brought 'Blade Runner' to Chinatown for His Spring 2018 Show
From the wet, steamy runway to the set lit by neon signs and the glow of paper lanterns, the scene could have been straight out of a movie.
If we had to guess how frequently Raf Simons, who's only been a full-time New Yorker for about a year, hangs out deep in Chinatown, we'd likely say never. But on Tuesday night, the designer invited the fashion crowd and many of his famous fans — A$AP Rocky, Julianne Moore, Jake Gyllenhaal, Ashton Sanders, Marc Jacobs — to stand around inside a steamy Chinese supermarket at the base of the Manhattan Bridge. 
The damp, dimly lit alley that doubled as the runway felt like the coolest (if not the sweatiest) spot in town, with guests grabbing ice-cold canned beer from street carts and smoking so much that a lingering fog hung over the crowd — only adding to the dystopian ambiance. The space also had Simons's signatures all over it; from the paper lanterns printed with New Order and Joy Division graphics by Peter Saville (the same artist Simons enlisted to redesign the Calvin Klein logo) to the scrolling neon signs that read "Replicants" as a nod to the science fiction film "Blade Runner," the designer's inspirations for Spring 2018 were crystal clear. 
"The main message is the cultures coming together," Simons said of the East-meets-West collection after the show, over the quintessentially New York racket of subway trains passing by every few minutes. "That's what the streets are about; that's what's inspiring to me. Living in New York, I think, you feel that very, very strongly." 
For Spring 2018, Simons looked to his past — particularly the new wave music and graphics with which he grew up, as well as elements that influenced his earliest collections, like schoolboy uniforms — but after 22 years in business, he didn't want any of the references to feel too literal. The outerwear-heavy range took elements from mid-century couture, a skill he likely honed during his time at Dior, as well as strong references to Asian culture, particularly monks, as seen in the ample draping. To make the juxtaposition more extreme, these pieces were done up in bright colors or with oversized graphic prints, many of which could have been pulled straight from the Raf Simons archives.
The 10 p.m. show allowed Simons to really take advantage of his "Blade Runner" fascination. Models walked carrying umbrellas with glowing neon handles, lit-up Chinese lanterns and, in a couple of cases, backpacks with small scrolling LED panels that matched those hanging in the empty market. "This was very much considered," Simons said of the film-like set. "We changed things, but a lot of things are authentic. In an ideal world, it would have been full of the people [who have] the market here during the day, but I think it was important to have an evening show to refer to [Blade Runner's] dark dome." And he certainly succeeded: Tuesday night, as the cool teens and hypebeasts say, was a movie.
See every look from the Raf Simons Spring 2018 collection in the gallery below.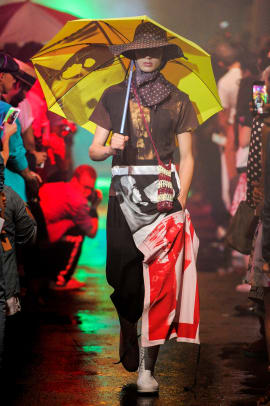 Homepage photo: Craig Barritt/Getty Images 
Want more Fashionista? Sign up for our daily newsletter and get us directly in your inbox.